Why Demi Lovato And Mariah Carey Don't Get Along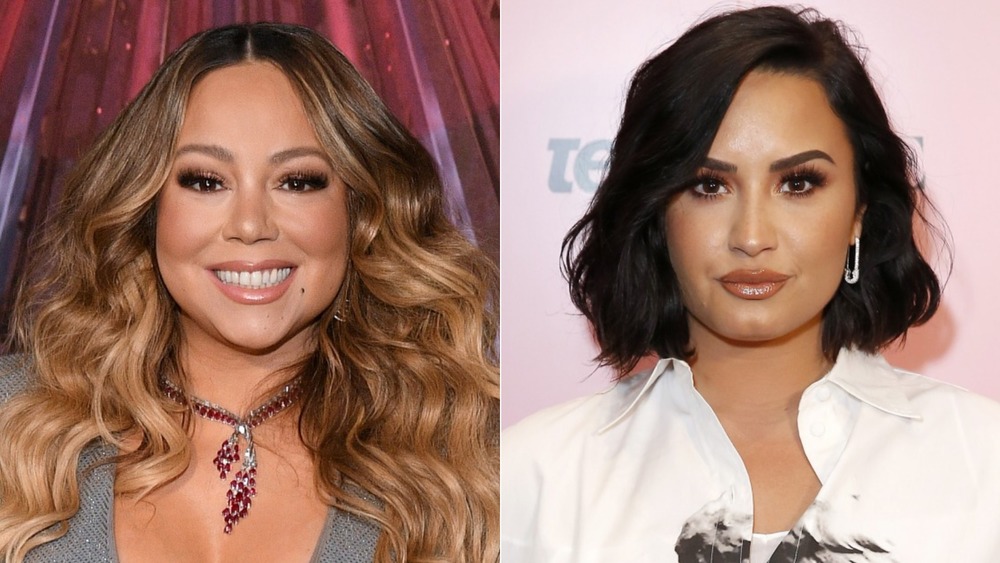 Dia Dipasupil, Rachel Murray/Getty Images
Mariah Carey has been in the music industry for a long time, and she has a list of feuds to match. The diva has mastered the art of mudslinging without actually getting her hands dirty, throwing unmistakable shade while retaining some plausible deniability. The most famous example of this came during an interview in the early '00s. After breathlessly heaping praise on Beyoncé, the elusive chanteuse was asked about Jennifer Lopez. Carey simply replied,"I don't know her," and years later, a legendary meme was born.
Not everyone is a fan of Carey's shade, however. Demi Lovato, for one has never been shy about sharing her feelings about Mimi. Such was the case in 2016, when someone took the "When you order it online vs. when it arrives" meme format and put Carey beside a similarly posed Ariana Grande. Lovato quickly chimed in, commenting (via Page Six), "You got it the wrong way around honey." Point taken; maybe Lovato just prefers the music of Ariana Grande to Mariah Carey's! However, Lovato didn't stop there.
Demi Lovato thinks Mariah Carey is 'unnecessarily rude'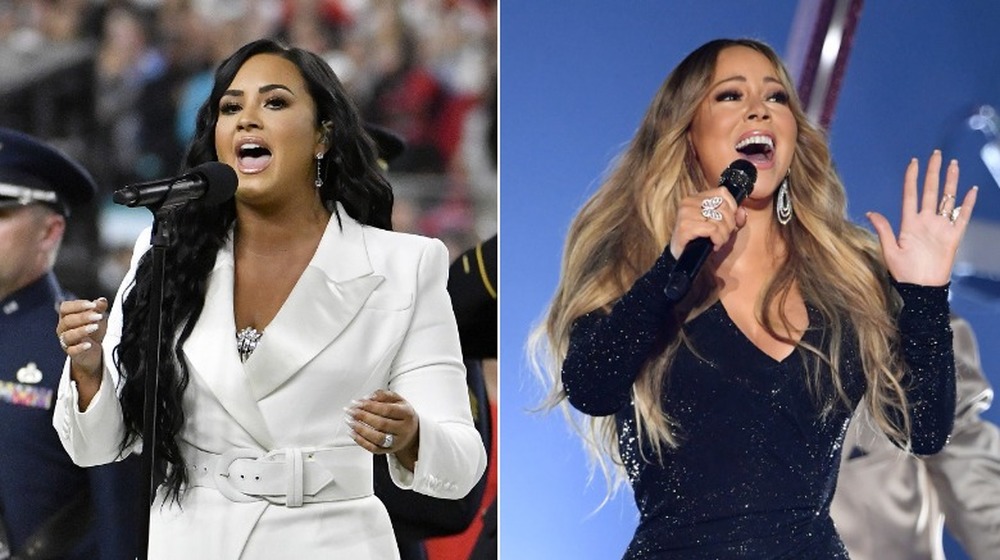 Focus On Sport, Ethan Miller/Getty Images
Continuing to comment on the same Instagram post, Demi Lovato dragged Jennifer Lopez back into the mess, writing (via Page Six), "Mariah is a legend and so talented but constantly disses people. It's nasty the way she treats Jennifer. Ari did nothing wrong." Then, for reasons we may never fully understand, the "Sorry Not Sorry" powerhouse commented a third time, saying, "This is why I posted what I did. Jen keeps it classy but I'm not afraid to say s***. The woman is mean for no reason. Extremely talented? Yes. Superhuman? Possibly. Unnecessarily rude? Absolutely." 
Of course, Mariah Carey is pretty unflappable when it comes to social media feuds. When she appeared on Watch What Happens Live later in 2016, Andy Cohen asked the diva what she would say in response to Lovato. Carey's answer was predictable: "I don't know her either, so I wouldn't say anything to her." She could've left it at that, but instead, Carey expanded her answer. "She should come up, introduce herself to me, say, 'Here's my opinion, what do you think about it?'" she told Cohen. "That's how you handle s***." 
Carey has a point, but it doesn't seem like that has happened. Until that day comes, Demi Lovato and Mariah Carey will remain as good as strangers, at least as far as Carey is concerned.