The Regular Job You Didn't Know Nick Offerman Had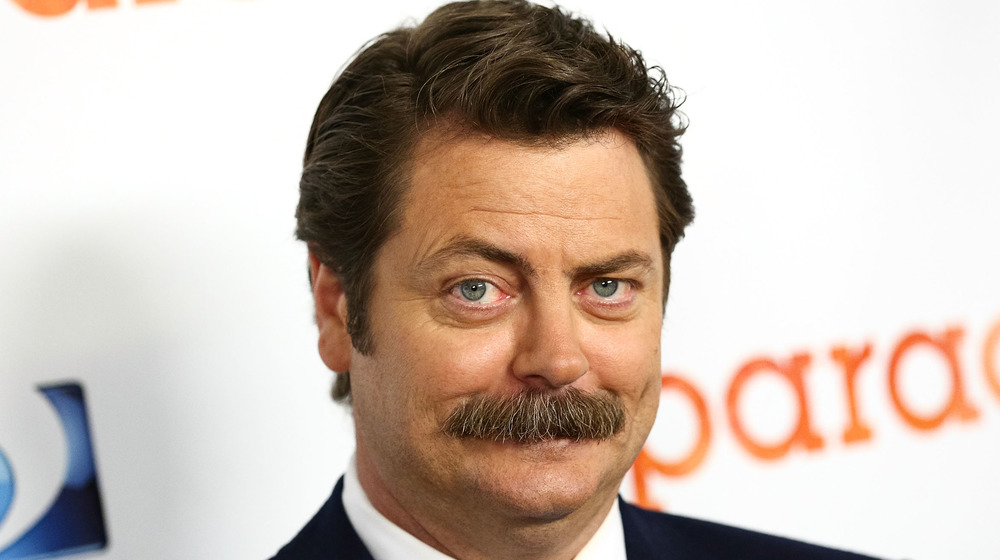 Imeh Akpanudosen/Getty Images
We may receive a commission on purchases made from links.
As it turns out, there are more Hollywood stars with secret side hustles than fans might think! Steve Buscemi spent years as a New York City firefighter before he went on to appear in films like Fargo, and even bravely sprung into action to assist the FDNY during 9/11, according to The Independent. Jeremy Renner has been quite successful, flipping dilapidated multimillion-dollar houses around Los Angeles, HGTV-style, per Bloomberg. And Dylan Sprouse, one-half of the Sprouse twins, runs his own "Meadery" (essentially, a brewery, but you have to twirl a handlebar mustache while saying it). Jokes aside, his Brooklyn-based business seems pretty successful! And another star who has dedicated a sizable part of their life to a side job is actor Nick Offerman.
Offerman achieved mainstream fame as the lovable curmudgeon, Ron Swanson, á la Parks and Recreation. The gruff, mustached figure started as Leslie Knope's (Amy Poehler) — boss on the beloved show, and by the series' finale in 2015, Offerman became a bonafide fan-favorite. Since then, Offerman has gone on to star in the TV series Fargo and The Founder, to name a few projects. 
When the actor isn't charming audiences on screen, he stays quite busy with this other job — it even was a plot point on Parks and Rec! So without further ado, here's what Nick Offerman is up to when he's not acting.
Nick Offerman enjoys this creative side job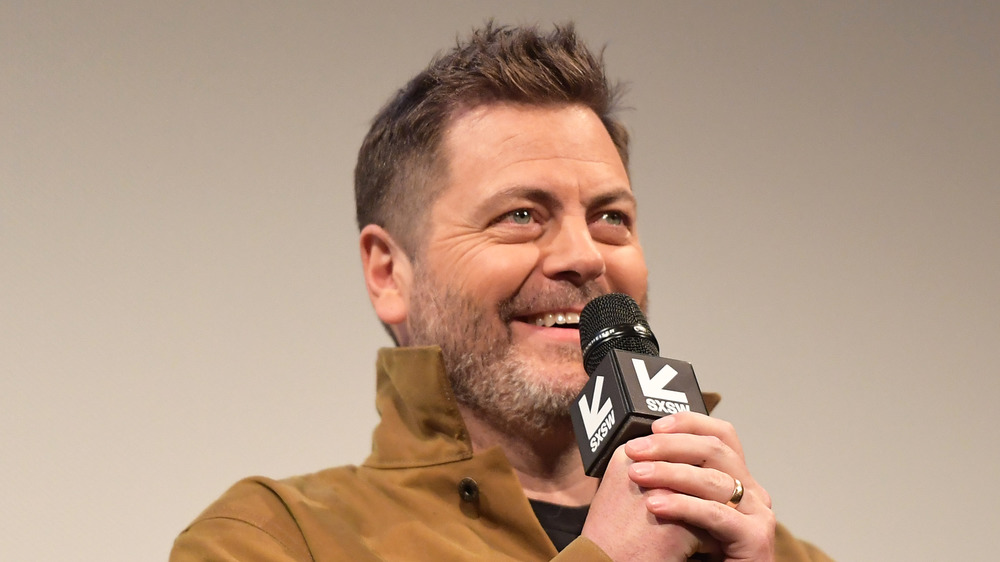 Matt Winkelmeyer/Getty Images
If fans could picture Ron Swanson having one job, it would be woodworking, right? Well, surprise, surprise: That's exactly what Nick Offerman does. The actor has been a woodworker and carpenter for years, even running his own Los Angeles-based co-op and store, Offerman Wood Shop. He also wrote a book on woodworking and has graced many YouTube channels offering advice. The star has "carved out" quite a niche! 
According to his website, Offerman grew up learning woodworking skills from his father, and then he combined his love of the craft with his study of theater to open his set-building shop. That's how he found his way into acting, later moving from the Midwest to Los Angeles. But Offerman maintained his love of woodworking and opened a new, modest shop (he sells everything from beautiful dining tables to mustache combs) while pursuing acting. Now, his shop isn't so modest! "For years it was just me, alone, knocking out commissions between acting jobs," he told Vanity Fair. "When Parks and Rec rolled around, I had a feeling it would be well-received enough to seriously curtail my shop time, and thankfully, I was right."
So it seems fitting that Offerman and Amy Poehler teamed up for Making It, a reality competition series featuring skilled crafters. "I received many handmade, beautiful things from him," Poehler joked to USA Today about the actor's craftiness. "And from me, he's received a couple of Bed Bath & Beyond coupons, a candle, a couple of great phone cards."