Prince William Shares Surprising Strategy For Combatting Anxiety
Richard Stonehouse/Getty Images
For anyone who's obsessed with royal life (or binges Netflix's The Crown), you'll know a key part of the monarchy is maintaining an aura of mystery. Thankfully, this hyper-secrecy is something that the younger generations of royals have been able to avoid. Case in point: Prince William, Kate Middleton, and Prince Harry launched a mental health program called Heads Together in 2016. The program was designed to start conversations and break stigmas associated with mental health, according to the Royal Foundation. How refreshing!
It doesn't stop there, though. In 2019, Kate, William, Harry, and Meghan Markle launched Shout, a mental health service offering free text messaging support for people in a crisis, according to the BBC. They donated £3 million from their Royal Foundation (close to $4 million USD), and William even met with Lady Gaga to speak about mental health. 
It's clear from their active histories that mental health is a priority for the young royals, especially William. So when the documentary Football, Prince William, and Our Mental Health was released, the Duke of Cambridge took the opportunity to speak candidly about his own anxiety, plus a surprising trick he uses to deal with it.
Prince William's trick for public speaking anxiety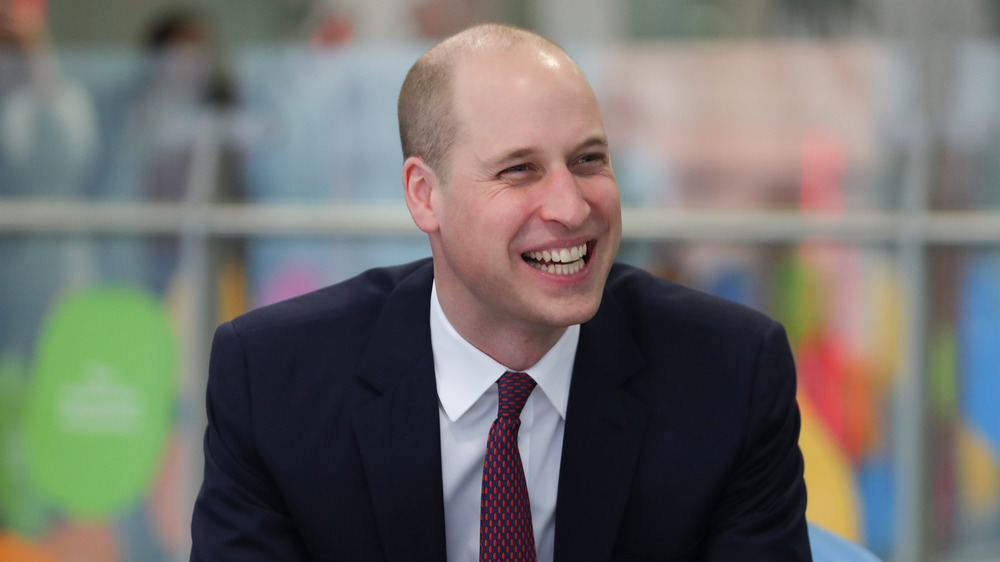 Wpa Pool/Getty Images
In May 2020, the BBC released a documentary called Football, Prince William, and Our Mental Health, according to Radio Times. True to form, Prince William was candid in the feature, sharing a hilarious trick he uses when he feels anxious about speaking in front of audiences. His method is simple: he chooses to forego his contact lenses.
"My eyesight started to tail off a little bit as I got older, and I didn't used to wear contacts when I was working. So when I gave speeches I couldn't see anyone's face," William explained (via Vanity Fair.) "It helps because it's just a bit of a blur of faces, and because you can't see anyone looking at you. I could see enough to read the paper and stuff like that, but I couldn't actually see the whole room. Actually that really helped with my anxiety."
Williams's advice goes to show that in 2020, sometimes not having 20/20 vision can actually alleviate anxiety!