The Truth About Luann De Lesseps' New Man, Garth Wakeford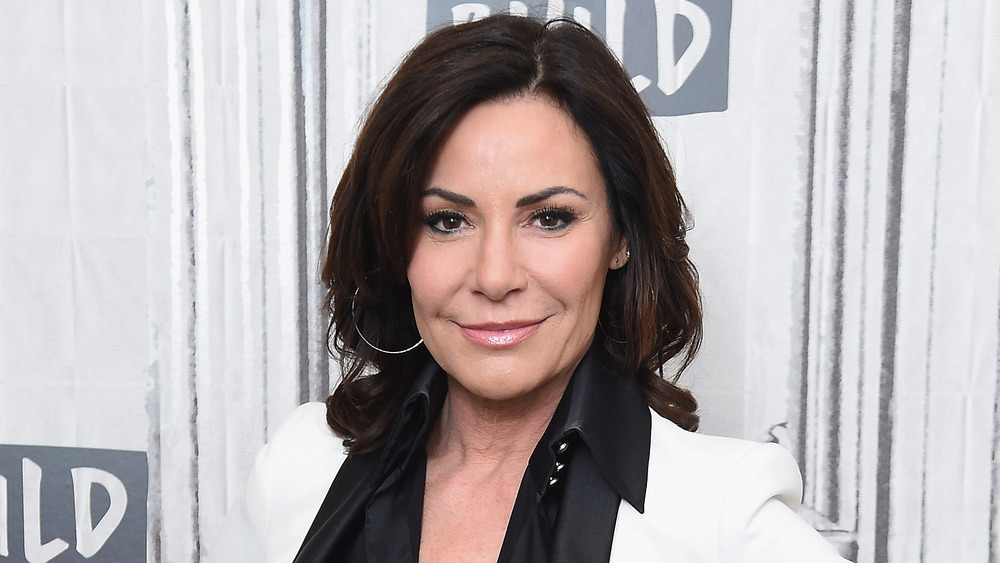 Gary Gershoff/Getty Images
Real Housewives of New York star Luann de Lesseps isn't known for her ability to forge strong relationships. She has been married twice, with her second marriage only lasting seven months, according to People. After her sudden split from Tom D'Agostino Jr. in 2017, she was rumored to have moved on right away with her agent, Richard Super. However, nothing significant came of the alleged fling.
Luann shared an upbeat update about her dating life in August 2020, telling Hollywood Life's TV Talk, "I started this dating app called Hinge. So anyway, for the moment I'm just window shopping. I haven't decided to take anybody out on a date yet. I'm just like checking it out. I've never dated online in my life. It's not just the way I've met men before in the past, but you know, I'm trying new things. Lu and improved!" 
During a November 2020 appearance on the podcast Ex Appeal, the reality star revealed how her positive attitude has paid off. Here is the truth about Luann de Lesseps' new boyfriend, Garth Wakeford.
Luann de Lesseps met Garth Wakeford online
Despite it being difficult to date during a pandemic, Luann de Lesseps continued with dating apps like Raya and Hinge, with the help of her niece. "I've had a couple of dates here and there, you know with the pandemic in place it's just been so hard to meet people," she said on Ex Appeal. "It's so much fun to date but with COVID it's hard to date, so I feel like flirting is the next best thing."
Apparently, cupid was on her side because she matched with a 6-foot-6-inch South African athlete named Garth Wakeford, and she thought it was "too good to be true." After some flirting, the pair decided to meet up for some coffee (with masks on, of course), and the date was successful. Luann revealed her first thought when she met Garth, noting how she was shocked that he physically matched the photo on his profile. "He's tall, he's handsome, he looks like a Viking," Luann gushed. 
Although they are serious enough for Luann to have made a public comment on their relationship, she still considers herself single. "I'm just a girl who's looking to date really," she added. So, who is the man on Luann's radar? We've you covered.
Garth Wakeford is a fitness and wellness coach
Garth Wakeford is a dedicated fitness and wellness coach, as one can easily see from a glance at his Instagram page. He loves sharing his passions with his 1,400 Instagram followers, which include kayaking, hiking, rugby, running, paddle boarding, and basically any outdoor activity that gets his blood pumping.
He is also very open about his holistic approach to wellness, often sharing insight about how nature can help heal the body (such as cold water therapy). He also practices mindfulness, which he talked about in a post that detailed the relaxing sensation of cooking stew on an open fire. "For an over thinker like me, it's a wonderful process in mindfulness and letting go," he noted. "I just breathe and let go and understand that I'm at the mercy of the wind and the optimal temp and trust in my process," he added. 
Maybe Garth's mindfulness can help Luann de Lesseps in her hectic life since that has not deterred him from pursuing the mom of two. When talking about dating as a reality star, she did admit she knows her lifestyle isn't for everyone. "A guy is either like 'I can handle that' or 'I can't,' so it weeds out a lot of people," Luann said on Ex-Appeal.