How Fans Really Feel About Miley Cyrus And Dua Lipa's Prisoner Music Video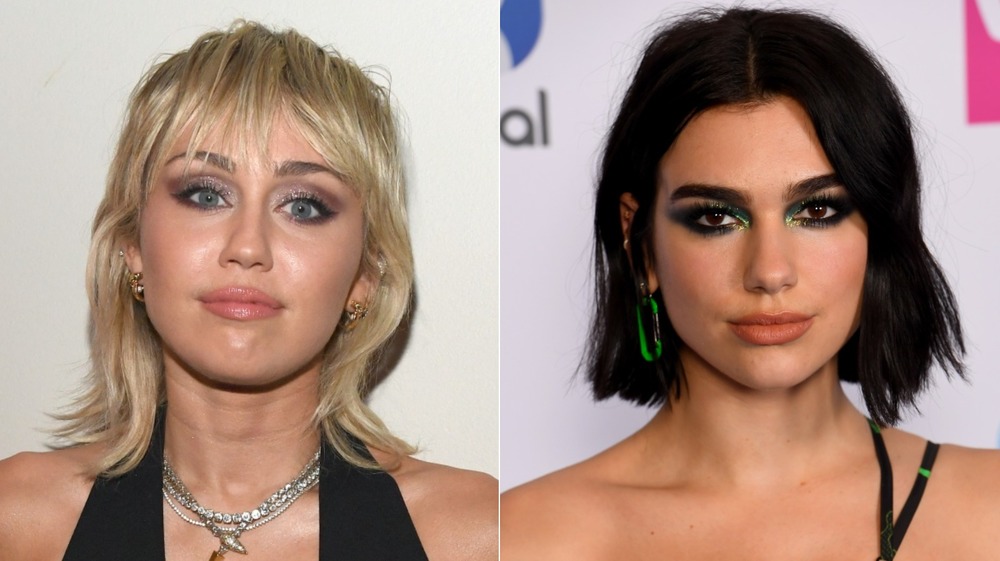 Kevin Mazur, Dave J Hogan/Getty Images
It's always a delight for music lovers when two powerhouse pop stars collaborate to create a song together. And, indeed, fans were beyond thrilled when Miley Cyrus and Dua Lipa teamed up for their tune "Prisoner," which can be found on Cyrus' seventh studio album, a collection of new releases she called Plastic Hearts. "Prisoner, prisoner, locked up / Can't get you off my mind, off my mind / Lord knows I tried a million times, million times, oh woah," Cyrus and Lipa both sing in turn and together before asking, "Why can't you, why can't you just let me go?"
Listeners couldn't seem to get enough of the song when it came out, taking to Twitter to share their various enthusiastic reactions. "I'm LIVING for everything," one person wrote, noting the "rock vibes," and after claiming that it's "one of the best releases in recent memoryyy," admitted that they'd already "streamed [it] at least 67 times." Another social media user pointed out that "@MileyCyrus and @DUALIPA's 'Prisoner' debut[ed] at #38 on the Spain Spotify chart with 150K streams," meaning it was "Miley's biggest career debut" in that particular country. That's pretty darn impressive!
While plenty of fans were clearly loving the song itself, they also seemed to freak right out when the video for "Prisoner" was released in November 2020. Why did people have such a strong reaction to what they saw? Well, read on to find out!
Miley Cyrus and Dua Lipa's 'Prisoner' video had fans locked in
If you haven't seen the video for Miley Cyrus and Dua Lipa's "Prisoner," then you'll definitely want to. But first, you might be interested in what others are saying about it. Directed by Cyrus along with Alana O'Herlihy, per Pitchfork, the video which has "an almost Rocky Horror vibe," according to People, "finds the superstars recklessly driving... in a tour bus before they head to the back for a messy, campy, shamelessly sexy party," Billboard explained.
While that accurately describes what happens in the video, it doesn't fully capture what you'll see. That's because the two stars spend the majority of the video within inches of each other or even closer, often grabbing and licking each other while covered with red cherry juice that looks like blood. It's... a lot, which means that fans had a lot to say about it.
"THE F**KING TEASE OF THE KISS IN THE PRISONER MUSIC VIDEO !!!! @ MILEY AND DUA IM GOING TO THROW A FIT," one person admitted on Twitter. Someone on YouTube left a comment confessing, "I'm scared of the video, but I love the song... What's wrong with me?" Beyond that, someone else shared that Lipa and Cyrus "practically saved 2020 with this collaboration," which is surely the best praise of all.