The Untold Truth Of Sidney Powell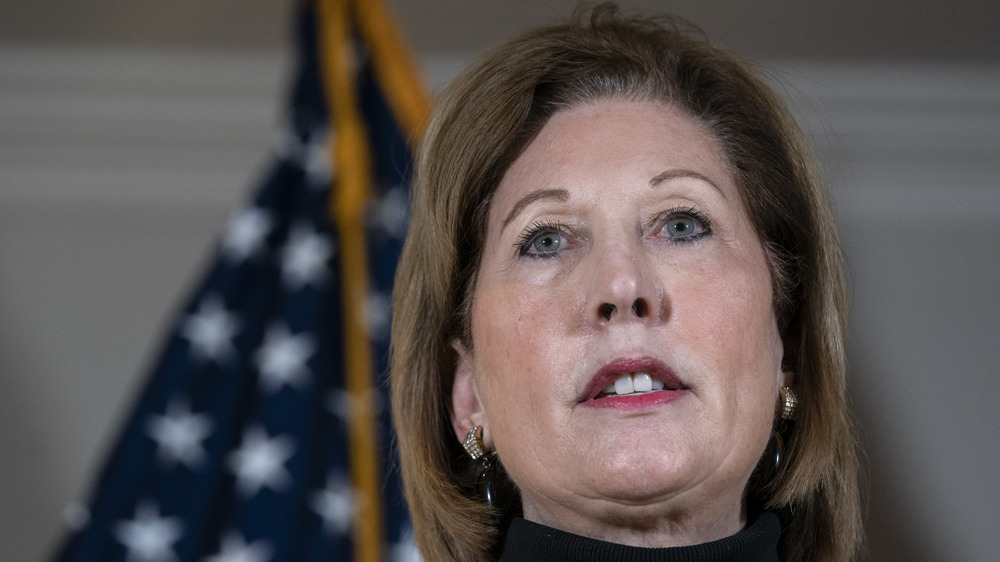 Drew Angerer/Getty Images
In a last-ditch effort to prove the results of the 2020 presidential election were influenced by voter fraud on a level never before seen in the United States, Rudy Giuliani gave a press conference in November 2020 with hair dye dripping down the side of his face. Standing slightly behind him and receiving slightly less attention, however, was Sidney Powell.
Powell came into the political spotlight for her efforts to change the results of the election, citing numerous conspiracy theories but no concrete evidence. The lawyer claimed, according to The New York Times, that Hugo Chávez, the Venezuelan politician who died in 2013, was involved with rigging voting machines made by Dominion Voting Systems.
While Powell sure seemed like she was directly working for Donald Trump — in addition to the press conference beside Giuliani, Powell had been a frequent guest on political programs defending the president and had earned high Twitter praise from the man himself — but the day after the press conference, the administration publicly disavowed her help. On Nov. 22, Jenna Ellis, a legal advisor for Trump, tweeted, "Sidney Powell is practicing law on her own. She is not a member of the Trump Legal Team. She is not a lawyer for the President in his personal capacity."
Other than her involvement in Trump's lame-duck period, what is Powell's story? Keep reading to learn more.
Sidney Powell has started a legal defense fund to contest the 2020 presidential election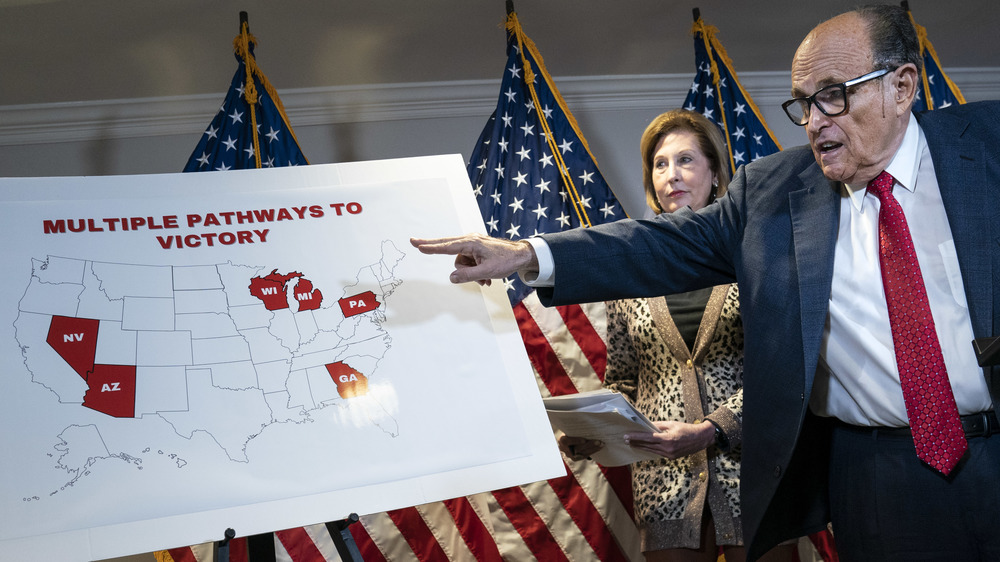 Drew Angerer/Getty Images
Sidney Powell first gained widespread attention outside of conservative circles when she defended Michael Flynn. Following the inauguration of Donald Trump, Flynn was the president's first national security advisor who went on the plead guilty to lying to the FBI, only to withdraw his plea later, as per NBC News. According to The New York Times, the Flynn debacle was evidence for Trump supporters who believe in a "deep state" conspiracy. Powell literally wrote the book on the topic, with her 2014 book, Licensed to Lie: Exposing Corruption in the Department of Justice.
According to November 2020 tweets by Powell, the lawyer continues to debate the outcome of the election, which saw Joe Biden nab the title of President-Elect. She's even gone as far to accuse social media platforms like Facebook and Twitter for "suppressing our freedom of speech" when it comes to challenging the election results.
Additionally, according to the Daily Mail, Powell has started a legal defense fund to raise "millions of dollars ... to defend the Republic as these lawsuits continue to be filed to ensure victory" of the election.