Why Lily James And Matt Smith Couldn't Make It Work
Dimitrios Kambouris/Getty Images
British actress Lily James got her first taste of Hollywood after nabbing the role of the titular character in Disney's 2015 live-action remake of Cinderella. More high-profile roles soon followed, with the star appearing in Darkest Hour, Mamma Mia! Here We Go Again, and Yesterday. However, in October 2020, James made headlines for more than just her performances after The Daily Mail published bombshell photos of the actress kissing and canoodling up to her married co-star, Dominic West, during a weekend in Rome. The fallout soon sent West hurrying home to do damage control, while James canceled two scheduled TV appearances intended to promote her psychological thriller, Rebecca, which hit Netflix in September 2020.
The tabloid scandal occurred just a week after James ended a five-year-long relationship with The Crown star Matt Smith. Looks like the romantic drama isn't exclusive to the big screen! While the couple had briefly broken up in 2019, they were working on rekindling things during the coronavirus lockdown, according to The Sun. So, was James harboring feelings for West prior to the pair's romantic rendezvous, and did that contribute to her split with Smith? Or did things between the two just naturally run their course? Here's everything we know about why James and Smith couldn't make things work.
Was Matt Smith involved with The Crown co-star Claire Foy?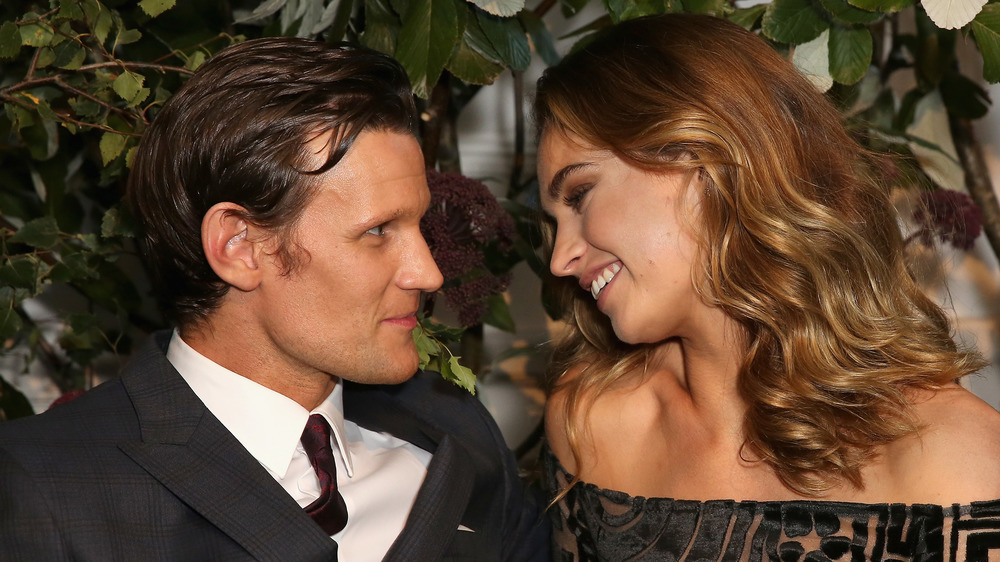 David M. Benett/Getty Images
When Lily James and Matt Smith parted ways in December 2019 after five years together, they pointed the finger at in-demand schedules that prevented them from spending time with one another. However, rumors swirled that their romance had hit roadblocks over Smith's close relationship with his The Crown co-star, Claire Foy. According to The Daily Mail, James allegedly struggled to cope with Smith's friendship with Foy, which developed as the pair played Queen Elizabeth and Prince Philip on the series. 
Per Marie Claire, the longtime friends also starred as husband and wife in the 2019 play Lungs, throughout which they exhibited "intense chemistry." "We're friends," Foy told The Guardian of the project in June 2020, "and after The Crown we said, 'Wouldn't it be fun if we did something together again?' I didn't know if anyone would let us and then we independently read this play and went, 'Shall we just do it?'" The outlet reports that it's clear from the pair's "exuberant banter" that they spark just as well off the stage as on it. In fact, "they joke, tease and even finish each other's sentences." While neither Foy nor Smith have confirmed reports of a romance, time will tell whether or not their relationship is purely platonic.
Lily James is looking to date someone out of the spotlight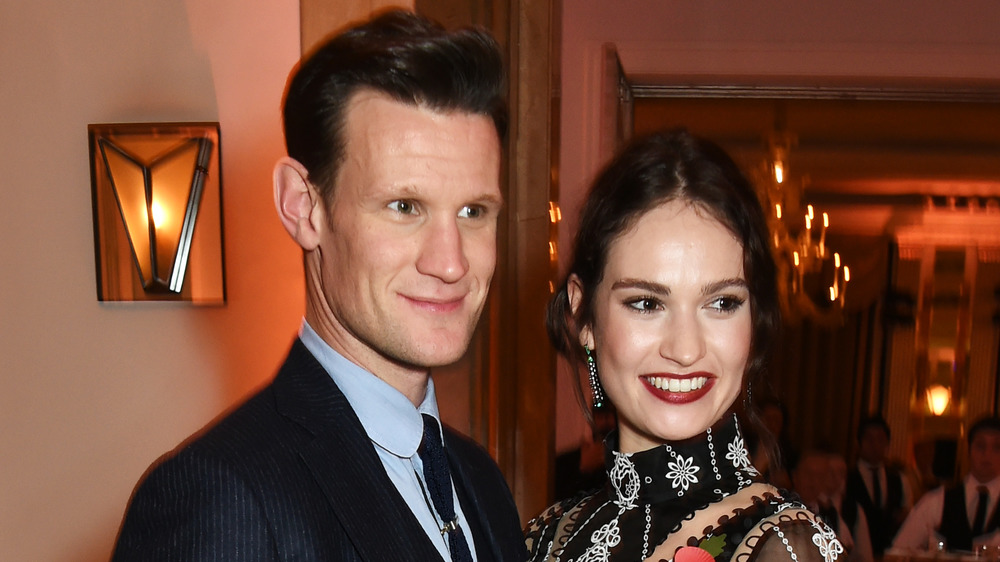 David M. Benett/Getty Images
After initially splitting in December 2019, Lily James and Matt Smith got back together in 2020. According to a source at The Daily Mail, "They have gone back and forth this year trying to sort things out between them because they both have so much love for each other." Despite spending lockdown together, a happily ever after didn't seem to be in the cards for the famous pair, as an insider told The Sun that James and Smith quickly realized they'd be better off as friends. "They have mutually decided to just close this chapter of their lives," the insider added. "Now Lily just wants to find a normal guy who's not in the spotlight because she found it quite tough being with another celebrity."
Since ending things for good with Smith, James was spotted looking cozy with Captain America star Chris Evans on July 4, 2020, before jetting off to Rome with Dominic West in October 2020. So maybe she isn't quite following her own advice, but then again, the heart wants what the heart wants.