Details You Didn't Know About Catherine O'Hara And Eugene Levy's Relationship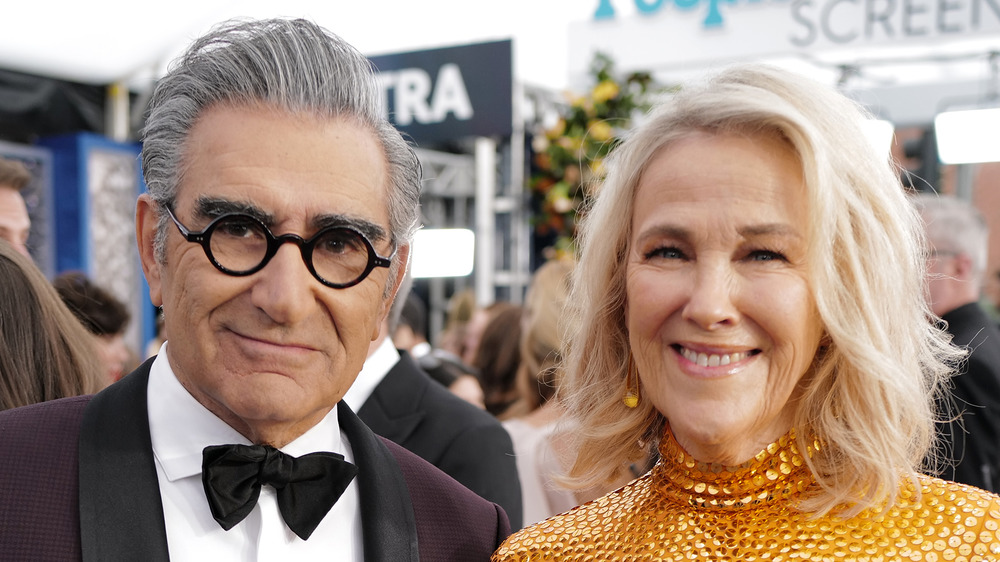 John Shearer/Getty Images
Anyone who watched Schitt's Creek during its impressive six-season run (or enthusiastically streamed it afterward) probably already knows that Catherine O'Hara and Eugene Levy are a formidable duo. Both hilarious in their own right, the pair — along with their co-stars and onscreen (and in one case, real-life) children Dan Levy and Annie Murphy — Catherine and Eugene delighted fans with their quirky and beloved characters.
When playing Moira and Johnny Rose from 2015 to 2020 (and perhaps in a Schitt's Creek movie?), Catherine and Eugene portrayed a married couple who were once wealthy but had lost everything and were forced to settle down in a place that isn't exactly Los Angeles or New York City. Although it might be hard to believe following the show's massive success, it turns out that Catherine wasn't sure she wanted to be a part of it at first simply because of the timing. "Eugene called and said, 'Catherine, we've got a deal with CBC.' That's so great, that's so great. 'And we're going to shoot in the summer!' [I said,] 'Eugene, do you even know me?' Because I have a cottage that I like to be at in the summer with my family," she recalled during an interview with Variety in 2020. After adjusting the schedule, he called back saying they'd shoot in spring and Catherine was on board.
As it turns out, Schitt's Creek is far from the first time that these two comedic stars have teamed up together to makes audiences laugh.
Catherine O'Hara and Eugene Levy have a long history
Throughout the years, you've likely seen Eugene Levy as the dad in the American Pie films as well as in movies like 1984's Splash, 1991's Father of the Bride, and 2004's New York Minute. He also appeared on shows like The Drew Carey Show and Mad About You. As for Catherine O'Hara, before her time on Schitt's Creek, she nabbed roles in 1990's Dick Tracy, 1994's Wyatt Earp, and 2002's Orange County, and on 30 Rock, Modern Family, and A Series of Unfortunate Events, just to name a few. And, yes, she did play the Home Alone mom as well as the super-stylish homeowner in Beetlejuice. Although both stars can obviously hold their own, they're also an undeniably dynamic duo, which is surely why they've worked together so often in the past.
The pair "have been collaborating for more than 40 years, first at Second City, the comedy theater troupe that evolved into the sketch television show SCTV," according to Variety. Among their other shared credits, you definitely can't forget about that fact that "[b]etween 1996 and 2006, they shared the screen in four Christopher Guest comedies — Waiting for Guffman, Best in Show, A Mighty Wind, and For Your Consideration — each co-written by Guest and Levy." Anyone else still swoon over their sweet "A Kiss at the End of the Rainbow" duet at the Oscars?
However, it turns out that at one time, these two were more than just onscreen partners.
Wait, Catherine O'Hara and Eugene Levy dated?!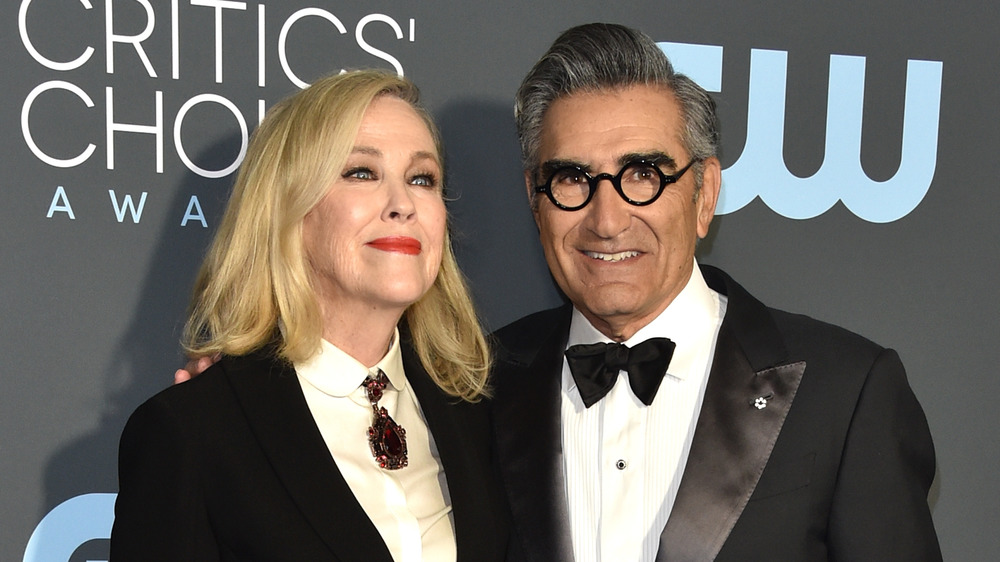 John Shearer/Getty Images
Although audiences are well aware of the fact that Catherine O'Hara and Eugene Levy are performing powerhouses when they get together, did you know that they used to date? They're both married to other people these days, but back in the '70s, Catherine "got a job as a waitress at Second City Theatre in Toronto and Eugene was in the cast," she told Studio 10 in November 2020 when talking about first meeting her friend and co-star. Saying that she "enjoyed him first from the audience," she also "auditioned a couple of times and finally got in to work with him." Granted, they did more than just perform together on stage.
"We tried dating a couple of times," Catherine admitted. Although that makes it sound like they hit it off in a special way, she also noted that "everybody in the cast and everybody around Second City dated..." Why is that? Well, according to the star, "there's nothing more attractive or sexy I think than making each other laugh."
Things "didn't work out" when it came to a lasting romance between Catherine and Eugene. However, she said, "that's a good thing because we've had a wonderful friendship since and he really is a fine gentleman, he's a great writer, a great actor." Just when you think it's not possible to adore these two anymore, they have to come along and prove that they're just as lovable in real life as they are on the screen!