Here's What Tiffany Trump Looks Like Without Makeup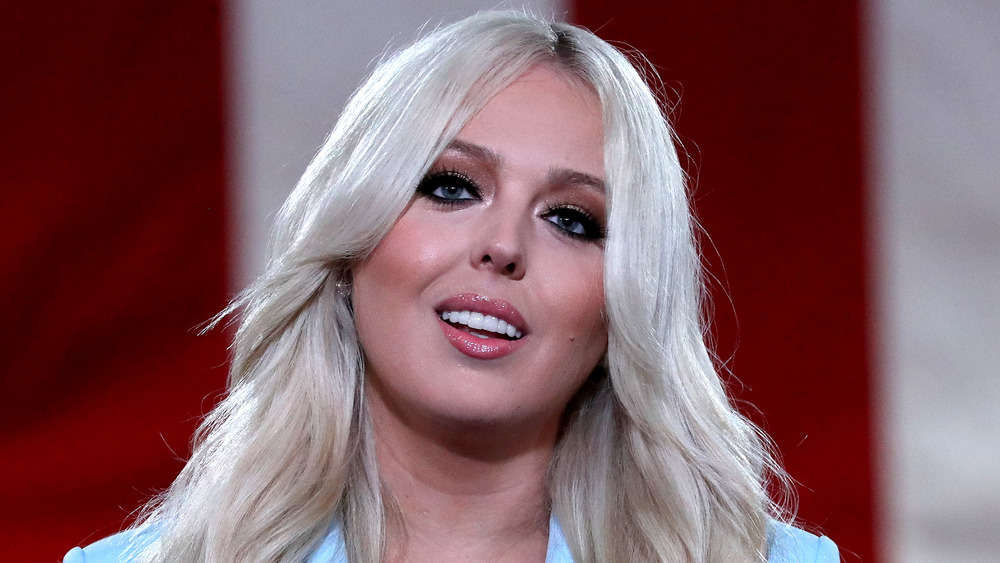 Chip Somodevilla/Getty Images
Tiffany Trump is not quite as ubiquitous in the media eye as her siblings Donald Jr., Ivanka, Eric, or even the youngest Trump, Barron. As the only child from Trump's marriage to his second wife, actress and model Marla Maples, for the most part, Tiffany leads a relatively under-the-radar existence. Yet, while she's nowhere near as keen to do interviews or make public statements as her brothers and sister, Tiffany's hardly a shrinking violet. If her high-glam look is any indication, she has the same unshakable addiction to bling, glitz, and glamour as her dad. 
Although she grew up on the laid-back West Coast — California, to be precise — and did not quite inherit the same approach to life that her New York-based siblings did, the former member of the now-defunct "Rich Kids of Instagram" account and one-time Vogue intern still knows how to pull a look together, and how to get her face beat with the finest cosmetics and tools money can buy. 
Of course, Tiffany is not a girl who can hop up out of bed and quote Queen Bey by saying, "I woke up like this!" Achieving the pitch-perfect mug she's usually seen with requires skill, expert hands, and — oh, yes — a whole lot of pricey products, if she's to appear as flawless as she looks on television and Instagram. Without makeup, though, it's a different story. If you have ever seen Tiffany's face without makeup, you know the truth: the president's daughter is hardly recognizable. 
Tiffany Trump's look isn't considered 'natural' by any means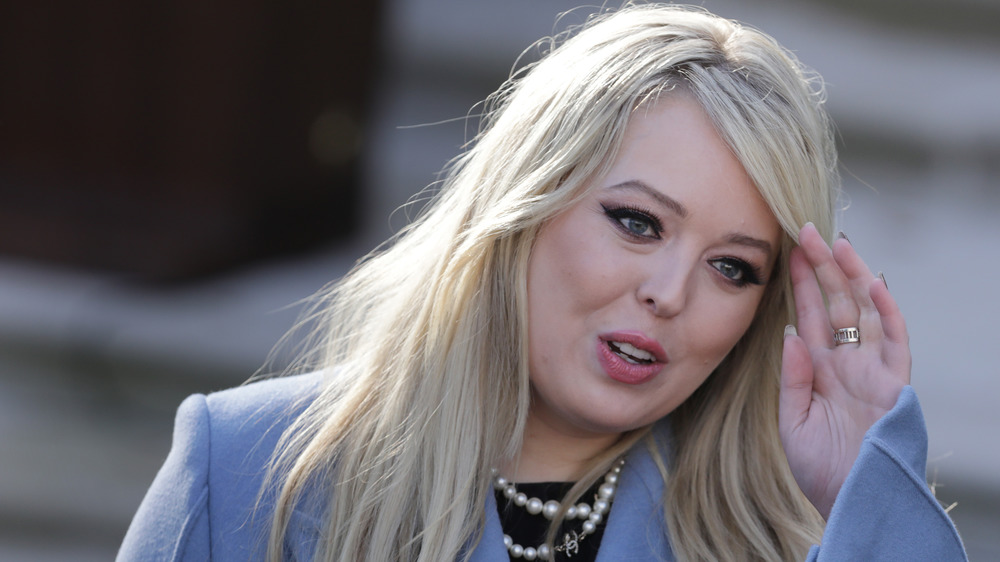 Chip Somodevilla/Getty Images
Tiffany Trump is not the type who favors a pared-down look for her public appearances. Most often, Donald Trump's youngest daughter tends to gravitate toward heavily lined eyes, luscious lashes, and a lipstick that draws attention to her plump lips. Yet despite her polished visage, Tiffany may not be all that savvy when it comes to employing her own glam squad. Back in 2017, Tiffany and her mother Marla Maples made headlines when, according to the Washington Post, they reportedly asked a hair stylist named Tricia Kelly to prep their hair and makeup for Inauguration Day. 
Typically, this kind of high-pressure job, which would mean millions of eyeballs on the professional's work, would cost several thousand dollars, but mom and daughter offered Kelly the job in exchange for "exposure" — another way of saying "no pay." Astonishingly, they had only budgeted $300 for hair and makeup. Whether Tiffany's lowball offer was something she learned from her dad's notorious negotiation tactics, or her own naiveté about the celebrity styling world, it's clear that she was not quite used to dealing with makeup artists in the big leagues. 
However, judging by the glossy look Tiffany has grown into, that has since changed. But, as photos of her without makeup show, there is a major difference between camera-ready Tiffany and Tiffany au naturale. Pictures of her without makeup are not abundant, but they are out there, and one such glimpse of her fresh face came via an artsy video she shot in 2015. 
Tiffany Trump uses makeup to enhance her best features
In 2015, Tiffany Trump bared her soul — and makeup-free face — for an art project named Confessional, from photographer Scott Nathan. More than 100 other women took part in the series, including Tiffany's mother, Marla Maples. In the black-and-white video, Tiffany stares into the camera while jazz plays in the background. The idea was to strip away artifice and foster empathy, but it also offers a clear, crisp look at what Tiffany looks like without all the help of beauty enhancers. 
As it turns out, all the powder, eyeliner, lipstick, and shadow she typically piles on covers up an attractive face. Like the rest of us, Tiffany has some dark circles and bags around her eyes that mercifully get whisked away with the help of a good concealer, but she has got a gorgeous pair of eyes to work with. Likewise, plenty of people pay good money to get the bountiful lips she has been blessed with, and her strong jawline gives her a natural contour that's like a playground for a makeup artist who usually has to invent one with brushes and lots of effort. 
But we should not get used to the sight of Tiffany Trump without her beauty regimen. As evidenced by her 27th birthday celebration in Miami, during which People reported she partied for a week, the Georgetown Law School grad hit dinners, clubs, and Miami beach with her signature high-maintenance look on — because that's how this Trump girl rolls.