The Truth About Henry Cavill And Russell Crowe's Relationship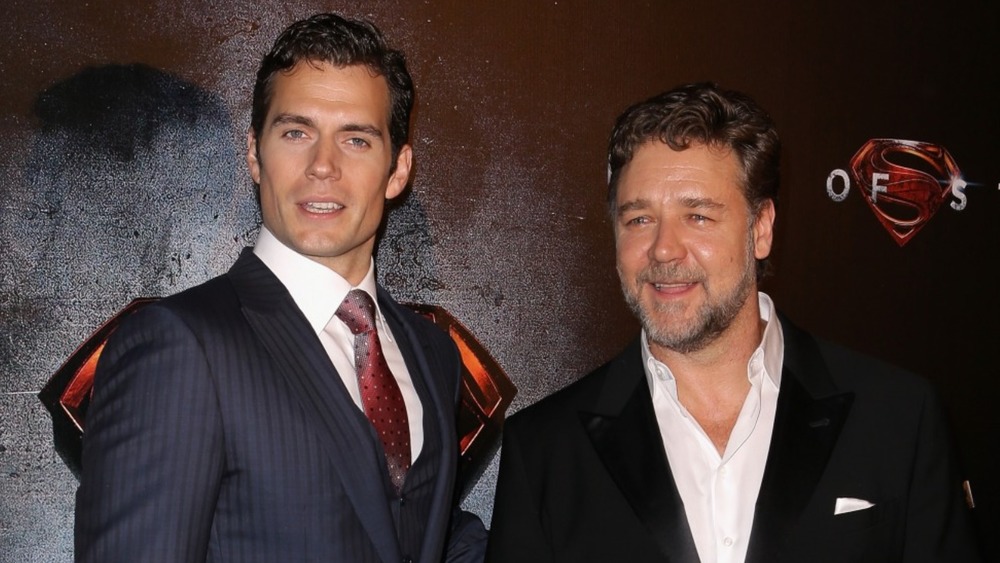 Brendon Thorne/Getty Images
The relationship between Henry Cavill and Russell Crowe began at a U.K. rugby match. In 2000, Crowe was filming Proof of Life at the Stowe School in Buckinghamshire. Cavill was a 16-year-old student who was asked to be an extra, playing rugby in the background while Crowe shot a scene, per GQ.
According to CNN, Crowe is a big rugby fan. The actor said that one player stood out from the rest: "There was a rugby match being played in the background and there was one kid on that field who was quite dominant and fluid and so he caught my eye. And in between shots that kid came over and talked to me but all his questions were about acting."
The teen rugby player was Cavill, his future co-star in the $250-million Superman reboot, Man of Steel. When Cavill met Crowe, the Australian was one of Hollywood's top stars due to his work in Gladiator. Crowe starred in Ridley Scott's box-office hit in 2000, and his role as Roman general Maximus resulted in an Oscar for Best Actor.
Cavill discussed his first meeting with Crowe in a 2013 CNN interview: "I walked up to him, stuck my hand out and said 'Hi my name's Henry, I am considering becoming an actor, any tips? What's it like?' and he said, 'well you know the pay is great but sometimes they don't treat you so good — and I'm paraphrasing!'"
Keep reading to find out more about The Witcher monster-hunter and the Master and Commander star's friendship.
Russell Crowe inspired Henry Cavill for years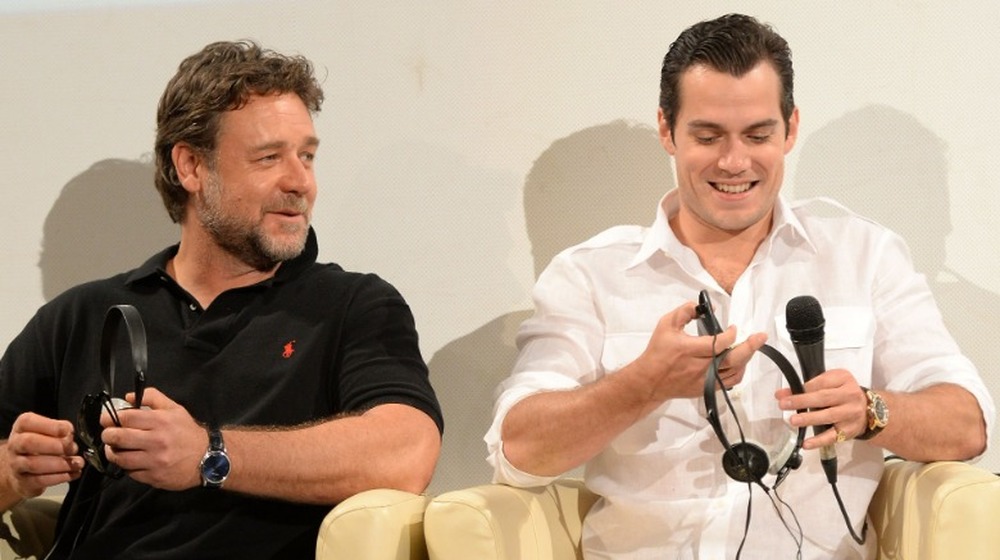 Photo by Venturelli/Getty Images
Henry Cavill made an impression on Russell Crowe and even sent the teen a gift when he returned home. In an interview with CNN, Cavill remembered, "I received an Aussie rugby jersey, some Aussie sweets, some Vegemite, a band CD and a picture of him in Gladiator saying 'Dear Henry, a journey of a thousand miles begins with a single step. Russell."
Fast-forward 12 years, Cavill was training at a gym, preparing for his breakout role as Superman in Man of Steel. One day, Russell Crowe walked in to train for his role in the superhero film, since he'd been cast to play Cavill's on-screen father, Jor-El. The co-stars shared a trainer to get in shape. Cavill never said a word about their first meeting.
But the Gladiator star finally asked Cavill if they had met before, and the story came out, Crowe told CNN, "He said 'do you remember a kid that came and talked to you?'... I said yes I do remember that, what did I say? And he said 'well they pay you pretty well but they treat you like s**t and I said yes Henry I did say that, good to see you! So it's an amazing little karmic circle."
We can assume the two have remained friends. In an interview with Preferred, the note and gift Crowe sent to Cavill inspired him during his early acting career: "I was getting turned down for roles, I'd look at it and say, 'Okay, keep on plugging.'"