Melania Trump Reveals Her Final White House Christmas Decorations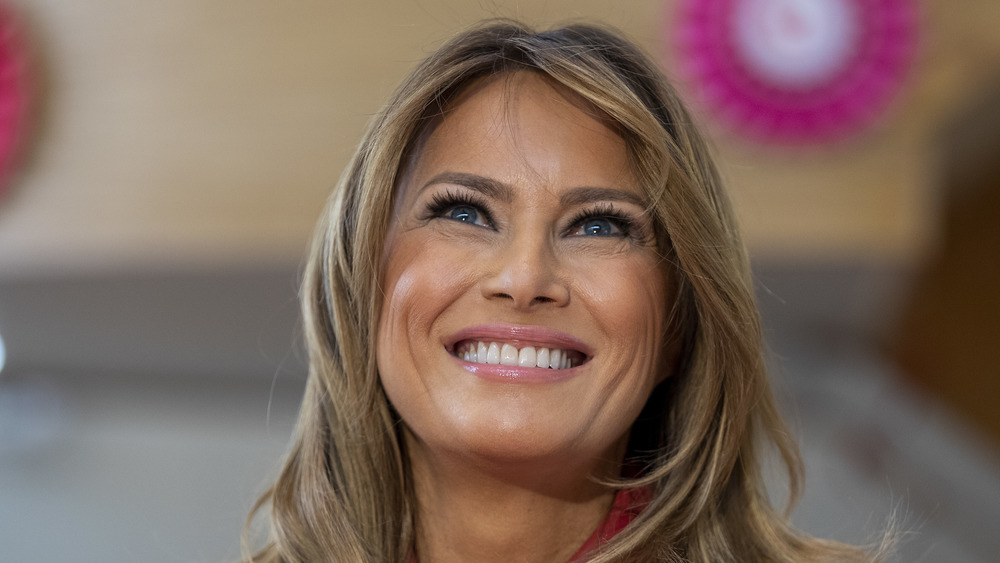 Tasos Katopodis/Getty Images
"Last Christmas" may be a popular holiday song by Wham!, but this year, it's what the Trumps are gearing up for at the White House. On Nov. 30, 2020, Melania Trump took to Instagram to unveil the first glimpse at the 2020 White House Christmas decorations. In a series of posts, the first lady surveys the ornaments, some of which read "Be Best," her public awareness campaign, and generally relishing in Holiday cheer.
Christmas decorations are a time-honored White House tradition. In 1909, President William H. Taft was the first president to have a tree in the public portion of the White House, per Washington.org, and that's where it's proudly stood ever since. In 1961, First Lady Jacqueline Kennedy began the tradition of choosing a theme, which that year was "The Nutcracker Suite" (a classic). Decking the halls at the White House is now a part of the job, with visitors able to enjoy the decorations, too.
Of course, as the 18-foot customary Christmas tree was unveiled, per People, things aren't all "cheer" for Melania or President Donald Trump. The president admitted on Nov. 26, 2020, that he "certainly will" leave office come Jan. 20, 2021, to make way for President-Elect Joe Biden, though he is still spouting false claims of election fraud, according to CNN. But in the meantime, let's take a look at 2020's White House Christmas theme!
Melania Trump's Christmas theme honors America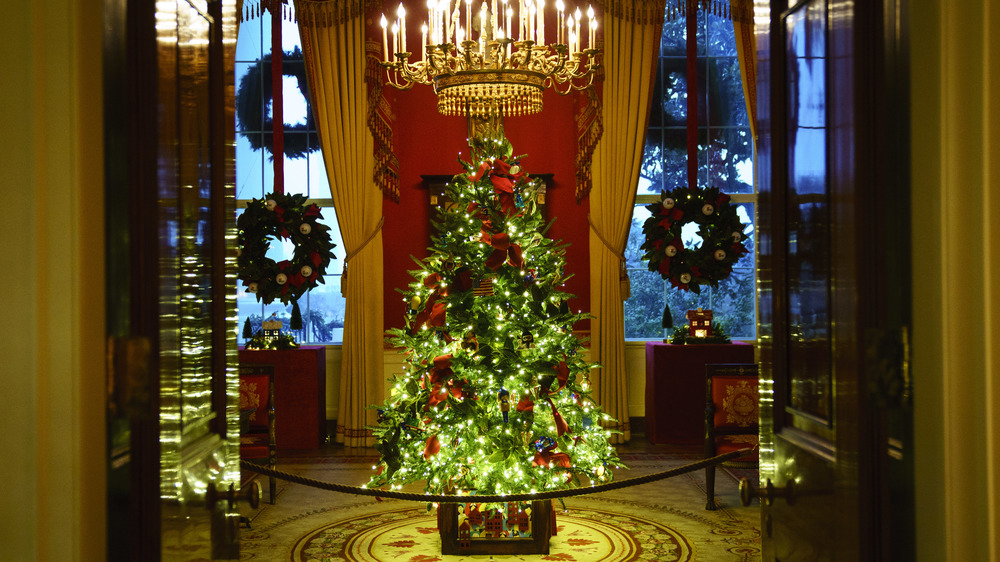 Drew Angerer/Getty Images
So what is the theme for the 2020 White House Christmas decorations (pictured above)? "During this special time of the year, I am delighted to share 'America the Beautiful' and pay tribute to the majesty of our great Nation," she wrote on Instagram alongside her gallery of decor-admiring snaps. "Together, we celebrate this land we are all proud to call home."
In a press release about the holiday decor, Melania Trump elaborated, per People: "Over the past four years I have had the honor to travel to some of our nation's most beautiful landmarks and meet some of the most compassionate and patriotic American citizens. From coast to coast, the bond that all American's share is an appreciation for our traditions, values, and history, which were the inspiration behind the decorations this year." The first lady also thanked her staff and volunteers. 
Some might find these well-wishes ornamental (no pun intended) given Mrs. Trump's Christmas controversies — In 2018, Melania caught flack for her starkly minimalist, Handmaid's Tale-esque decor. And earlier in October 2020, audio of Melania dismissing Christmas traditions at the White House got released. "Who gives a f**k about the Christmas stuff and decoration?" she was recorded saying during a July 2018 conversation about migrant children. As for 2020, it looks like Melania has managed to celebrate the season without any drama — at least for now.