The Truth About Ellen And Portia's Wedding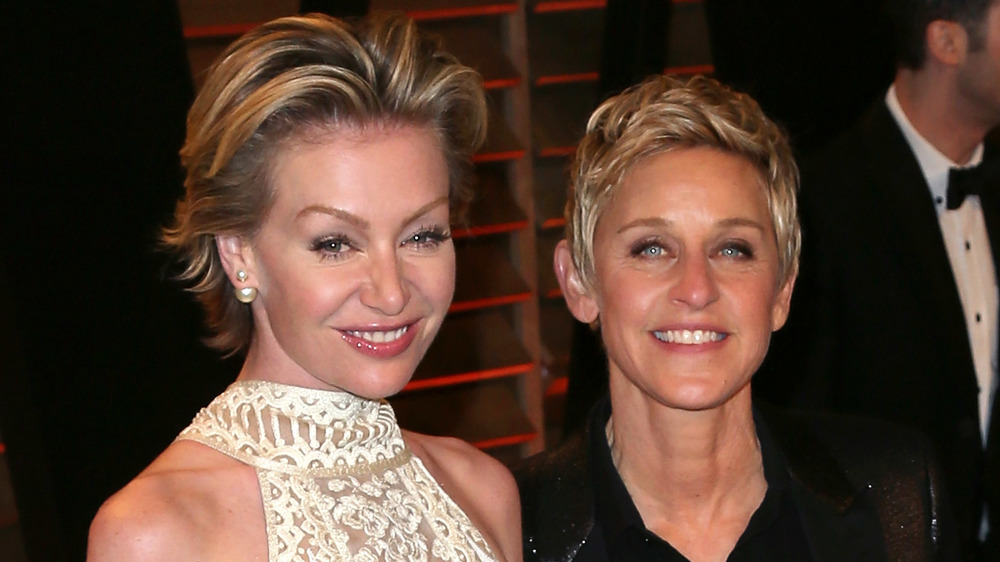 David Livingston/Getty Images
When same-sex marriage was finally legalized in California in June 2008, most assumed that comedian and talk show host Ellen DeGeneres and actress Portia de Rossi would tie the knot in a grand ceremony with a guest list a mile-and-a-half long. But instead, the couple surprised everyone with a much more intimate ceremony.
As reported by The Telegraph, the couple opted to say their vows during a small ceremony in front of 19 guests in August that same year. They also opted to keep the wedding venue simple and tied the knot at their palatial Los Angeles home. There's no place like home, right?
According to DeGeneres, however, the reason for the pared down ceremony and reception was simple. Planning a wedding "just got to be too big and stressful," Ellen told People. But that's not to say the couple skimped on their special day. According to De Rossi, the decision to use their home was a no brainer. "It's where our hearts are," she gushed. Keep reading to learn more about the famous couple's intimate I do's.
Ellen DeGeneres and Portia de Rossi did not take getting married for granted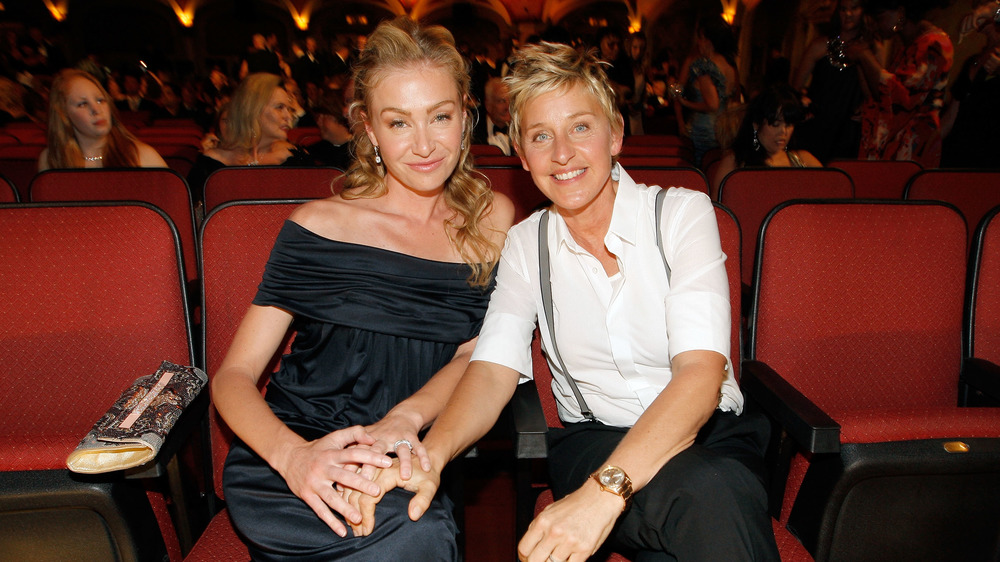 Chris Polk/de/Getty Images
As reported by People, Ellen DeGeneres and Portia de Rossi's wedding fare included an all-vegan menu complete with vegetable spring rolls, miniature "beef" sliders, and red velvet wedding cake for dessert. YUM! After dinner, the couple celebrated their special moment as newlyweds while dancing along to Stevie Wonder's "Ribbon in the Sky." And, as far as the wedding attire went, de Rossi chose an elegant cream and pink wedding gown, while DeGeneres donned a matching suit. Both ensembles were custom created by acclaimed fashion designer Zac Posen.
The pair also opted to exchange handwritten vows, which made the already intimate ceremony even more special. Getting married "is not something we've ever taken for granted," de Rossi told People. "That we get to do this, it means a lot." DeGeneres echoed the same sentiments, "I was already planning on spending the rest of my life with her. But until you're married, you just don't know. It feels wonderful." We wish the couple a lifetime of happiness together!