How Hugh Hefner Ripped Off Marilyn Monroe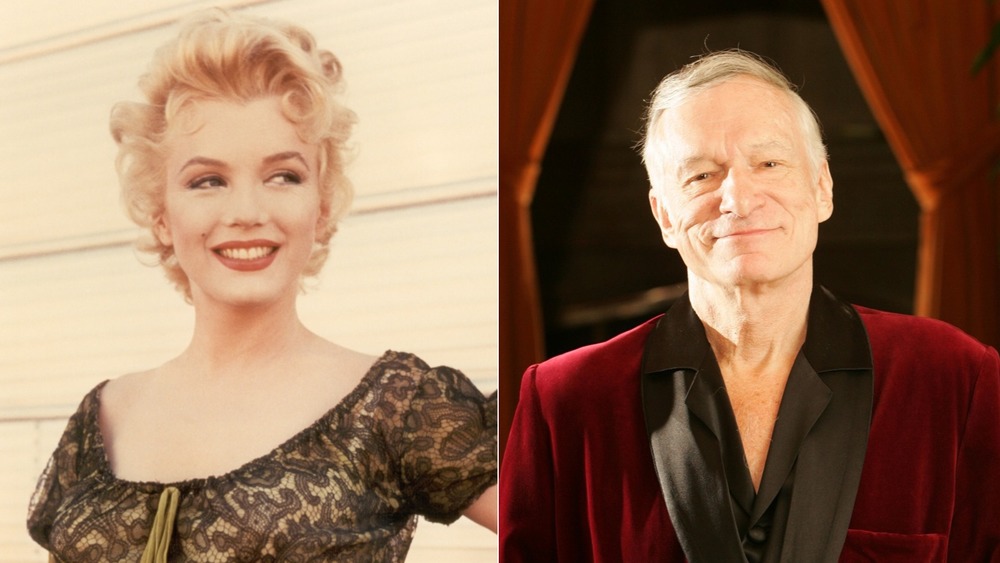 Michael Ochs Archives, Dan Tuffs/Getty Images
Iconic actress Marilyn Monroe may have put Playboy on the map before her death, but the magazine's founder Hugh Hefner seemingly just ripped her off in return. The blonde bombshell was the legendary magazine's first cover star in 1953 after Hefner bought the nude photos she had previously shot during her early days as a struggling actress. According to the Washington Post, before making it big in Hollywood, Monroe was in desperate need of cash, so she agreed to pose nude for pinup photographer Tom Kelley. She was so embarrassed about doing the photos that she even signed the release as "Mona Monroe." She explained in her memoir Marilyn: Her Life in Her Own Words, "I was nervous, embarrassed, even ashamed of what I had done, and I did not want my name to appear on that model release."
Kelley later sold the photos for $900 and they eventually appeared in a pinup calendar, which went on to make millions after Monroe became famous. As for the Gentlemen Prefer Blondes star, she said, "All I was ever paid for that nude calendar photograph was the fifty dollars Tom paid me as the original modeling fee." Four year later, Hefner bought a couple of those photos for $500, before he slapped them on the cover of Playboy's inaugural issue with the headline: "First time in any magazine, FULL COLOR, the famous MARILYN MONROE NUDE." However, Monroe never received a dime for appearing on the Playboy cover, nor did she ever even consent to those photos appearing in the magazine.
Hugh Hefner leaked Marilyn Monroe's nudes without her consent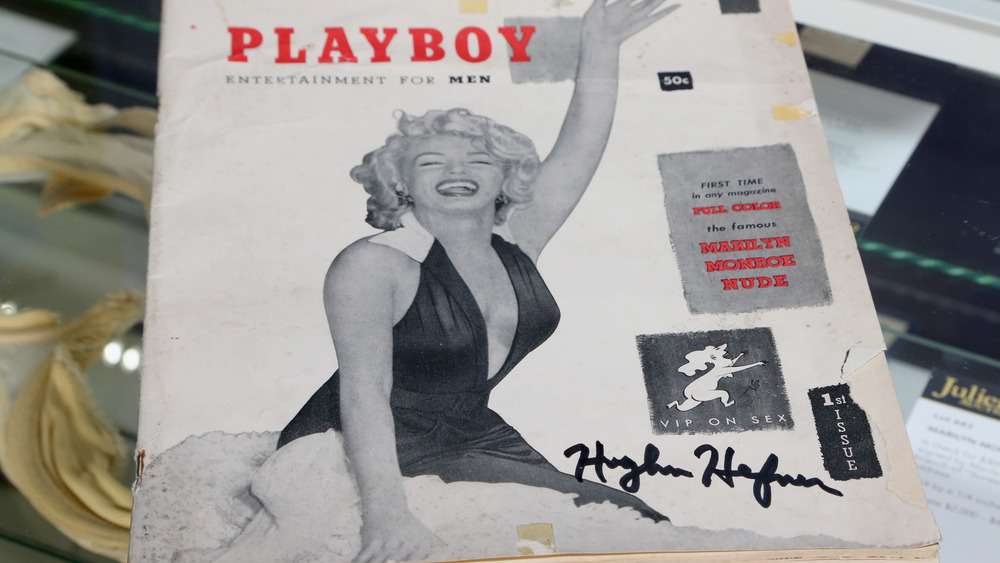 Gabe Ginsberg/Getty Images
Playboy's Hugh Hefner always loved Marilyn Monroe — so much so that he even paid thousands to be buried next to her after she inadvertently helped launch his career. "I'm a sucker for blondes, and she is the ultimate blonde," he told CBS Los Angeles, via Marie Claire UK. Yet, the Girls Next Door star never got to meet the Some Like It Hot actress, saying via the Washington Post, "She was gone, sadly, before I came."
For someone who loved The Seven Year Itch actress so much, he never asked for her permission to print her nude photos in Playboy, nor did he compensate her in any way. In Marilyn: Her Life In Her Own Words, Monroe revealed, "I never even received a thank-you from all those who made millions off a nude Marilyn photograph. I even had to buy a copy of the magazine to see myself in it." And while the photos would become iconic, Monroe was once told they would ruin her career. She said, "I admitted it was me who posed for that nude calendar even when the Fox executives became nervous and believed this would cause the ruination of any films I would appear in and also the end of my movie career."
Of course, that did not happen. Hefner may have ripped off Monroe, but she admitted, "The fans, my public, cheered when I admitted it was me, and that calendar and that Playboy first-issue publicity helped my career." How Monroe and Hefner ended up linked does seem sketchy, but the two will forever remain in our memories as Hollywood legends.