The Truth About Charlize Theron And Angelina Jolie's Feud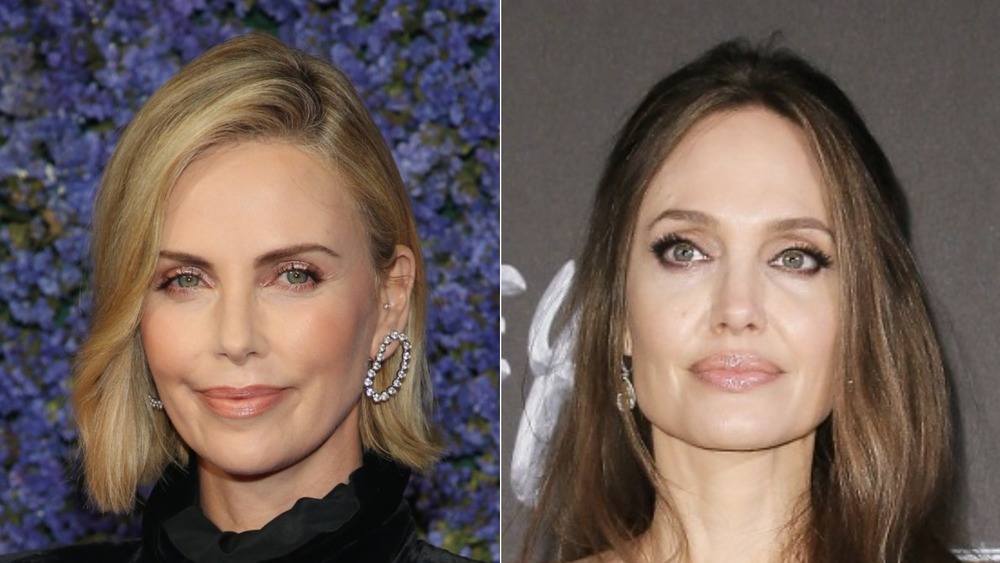 While it's no secret that legendary actress Angelina Jolie is not exactly chummy with Hollywood's golden girl, Jennifer Aniston, it may come as a shock to learn the she's reportedly also feuding with fellow actress Charlize Theron. But there's no a handsome Hollywood hunk (ahem, Brad PItt) to blame for this rivalry. Instead, coveted acting roles are at the center of the dueling diva drama. 
As reported by Radar Online, a "hate fest" developed between the two women after they went out for the same roles in Bride of Frankenstein (2019) and Murder on the Orient Express (2017). A source told the outlet that the feud between the actresses "started a long time ago and just won't stop. It's as though directors are getting a buzz out of playing them against each other, by dangling a script to both of them then leaving them to b***h and slug it out," the source explained. YIKES.
But what do Theron and Jolie have to say about their rumored beef? Keep reading after the jump to find out!
Charlize Theron denies any beef with Angelina Jolie
On an episode of Watch What Happens Live! with Andy Cohen, Charlize Theron was quick to address the rumors and put the kibosh on any whisperings of a feud between herself and fellow actress, Angelina Jolie. When asked whether or not the stories about their supposed animosity were made up, Theron quickly responded, "Oh, 100 percent" (via Daily Mail). Theron went on to say, "I don't know her very well — I know her from events — but she's always so lovely...." Theron continued on, saying, "We're not friends or hang out, but she's never been nothing but gracious and lovely and warm."
The denial of any drama between the actresses also came on the heels of speculation that Theron had secretly been dating Jolie's estranged husband and fellow A-lister Brad Pitt.
Comedian Seth Rogen, who appeared on the WWHL episode, then stepped in and diffused the moment with a bit of humor, joking that he was actually the one feuding with Jolie, per HuffPost. "Me and her f*****g hate each other," Rogen joked. "F**k you, Angelina Jolie."