The Untold Truth Of Rebecca Ferguson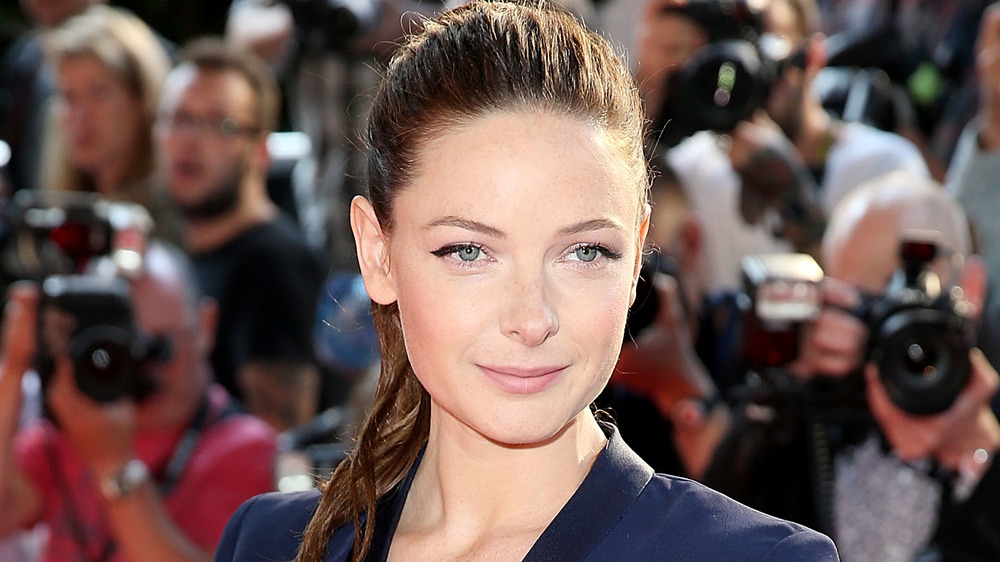 Mike Marsland/Getty Images
Rebecca Ferguson can certainly consider her career a success thanks to the fact that she's landed roles in numerous major movies and worked with plenty of A-list stars. Along with appearing in films like 2016's The Girl on the Train with Emily Blunt, 2017's The Greatest Showman with Hugh Jackman and Zac Efron, as well as 2019's Men in Black: International with Chris Hemsworth and Tessa Thompson, Ferguson can also be seen in the Mission Impossible franchise with Tom Cruise.
Working alongside massive celebrities might seem daunting, however, when Ferguson first met Cruise, she apparently "forgot to be nervous." She explained to People that when she was called in for a meeting with Mission: Impossible Rogue Nation director Christopher McQuarrie, it turned out that he wasn't alone. "I thought I was going to sit down and breathe into a paper bag or something, but bam! There [Cruise] was in front of me," Ferguson recalled. 
Although that may have thrown some people into an immediate panic, she explained that Cruise — who is, you know, undeniably one of the biggest stars in the world — made her feel at ease because he was so chill himself. "He's just a man who loves doing what he does." The fact that Ferguson was able to keep her cool around Cruise surely would have impressed her teenage self who first started in show business far away from Hollywood.
Rebecca Ferguson starred on a Swedish soap opera as a teen
Rebecca Ferguson didn't launch her acting career in Los Angeles or New York. Instead, the star grew up in Stockholm, Sweden, which is somewhere that she still obviously adores. "It's very organized, clean and safe," she pointed out while talking to People. "I love traveling and having it as the place I come back home to."
While growing up in Sweden, Ferguson's favorite movie was The Usual Suspects, which was directed by Mission: Impossible Rogue Nation's Christopher McQuarrie. She noted, "I've been so lucky and fortunate to work with many of the people who I have adored to watch." Indeed, Ferguson has certainly come a long way from where she started out in show business. When she was 15, and at her mom's prompting, the teen auditioned for a Swedish soap opera called Nya Tider (or New Times in English), and scored the leading role. According to The Guardian, "almost everyone in the country tuned into" the show, making Ferguson famous in Sweden. 
When the series ended after a year and a half run, Ferguson admits, "It was one of those moments of, 'Yes, you're a famous soap actor in Sweden, what now?'" While she reveals she was somewhat naïve when it came to finding her next opportunity and worked a few other jobs outside of the industry, it seems pretty clear that she eventually found her way and is doing pretty darn well for herself these days.