The Bachelorette Accidentally Spoils Next Week's Rose Ceremony
Viewers of The Bachelorette got a major cliffhanger during the Dec. 1, 2020, episode after Tayshia Adams asked Bennett Jordan, "What's in the box?" during a tense two-on-one date with Noah Erb. Before Tayshia joined the guys, Bennett presented a book about emotional intelligence as a "gift" to Noah, along with an ironic lecture about how Noah lacks self-awareness. 
Tayshia made it clear that she's not down with the nonsense, so one of these men has to go. But it's not just Bennett and Noah who are on the chopping block, as Zac Clark got a rose on his solo date with Tayshia, and she gave Ben Smith a group date rose. Then there are the rest of the guys who are hoping to get a rose as well. 
Obviously, Bennett and/or Noah are going home, per the rules of the show's two-on-one date setup. Even so, The Bachelorette fans won't know for sure who got the boot until the next episode on Dec. 9, 2020. Well, that was the intention, at least. The Bachelor Nation account, which is an official account affiliated with the series, posted a photo that seemingly spoiled the show. Warning: Spoilers ahead! 
Inside The Bachelorette's potential spoiler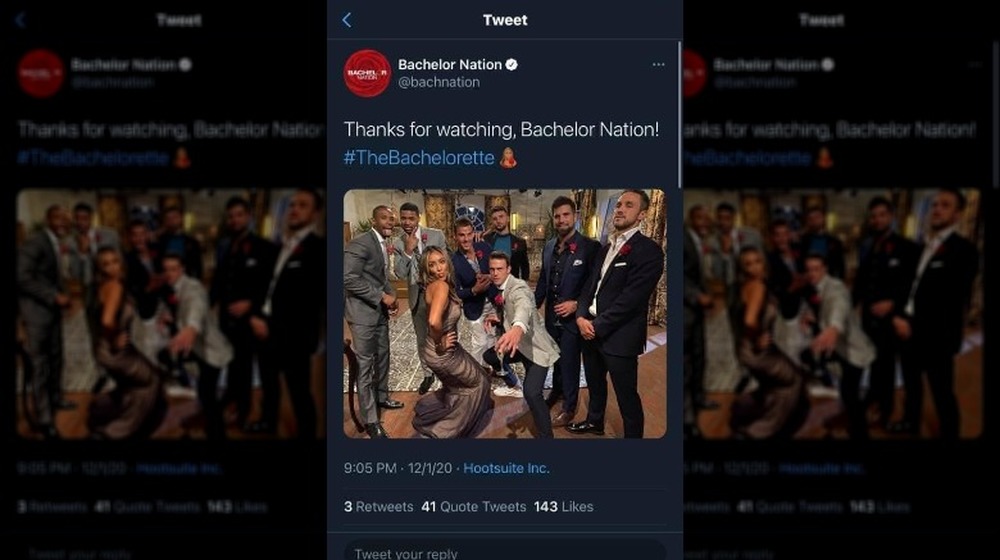 Bachelor Nation/Twitter
The Bachelor Nation Twitter page is a verified account that has "The official Twitter from the producers of The Bachelor Franchise" in its bio. It has become a trusted source for Bachelor exclusives, including interviews and cast member relationship updates. However, it seems like one post got scheduled in error after the Dec. 1, 2020 episode of The Bachelorette.
The tweet in question is a picture of Tayshia Adams, wearing the same dress that she had on during that cliffhanger ending along with seven of her contestants, wearing roses on their suit jackets. It's fair to say this photo was taken after a rose ceremony, arguably making it obvious who left the Palm Springs resort. Noah Erb was smiling with that rose pinned to his jacket, indicating that Bennett Jordan left after that two-on-one. Additionally, it appears Demar Jackson, Ed Waisbrot, and Spencer Roberston got sent home.
The tweet got deleted soon after it was posted, but this is 2020, and screenshots are a way of life (especially for a fandom that's been looking for spoilers). Oops.