Why Southern Charm's Madison LeCroy And Shep Rose Aren't Friends
Southern Charm viewers met Madison LeCroy during the Season 6 premiere, which aired in May 2019. Almost immediately, fans learned about the tension between Madison and Shep Rose. She thought Shep was a bad influence on her on-again-off-again boyfriend Austen Kroll, per Bravo's The Daily Dish. Austen told the outlet, "They just don't get along. People don't really go up against Shep much." However, Madison isn't like most people, with Austen explaining, "She's very like, 'You come at me, and I'll take your legs out from under you.'" Austen added, "No girl I've ever dated has liked Shep."
However, it's not that simple. Shep and Madison have a confusingly unclear history. During a June 2020 episode, Madison shared that Shep hit on her before her relationship with Austen, while she was married to her ex, per Bravo's The Daily Dish. Madison remarked, "I don't know if he's still bitter from me declining him when I was married and I wasn't interested." However, Shep denied putting on the moves, stating during the Southern Charm After Show, "She came out to our beach house and I mean, cute blonde, I was like, 'what's up, baby.' I never had her number once, never texted her once. I mean, I like whispered some s–t in her ear, big deal." He insisted that he "definitely" did not make a pass at Madison.
However, he's thrown plenty of insults her way ever since she joined Southern Charm. And, the animosity is mutual.
Inside Shep Rose and Madison LeCroy's low blows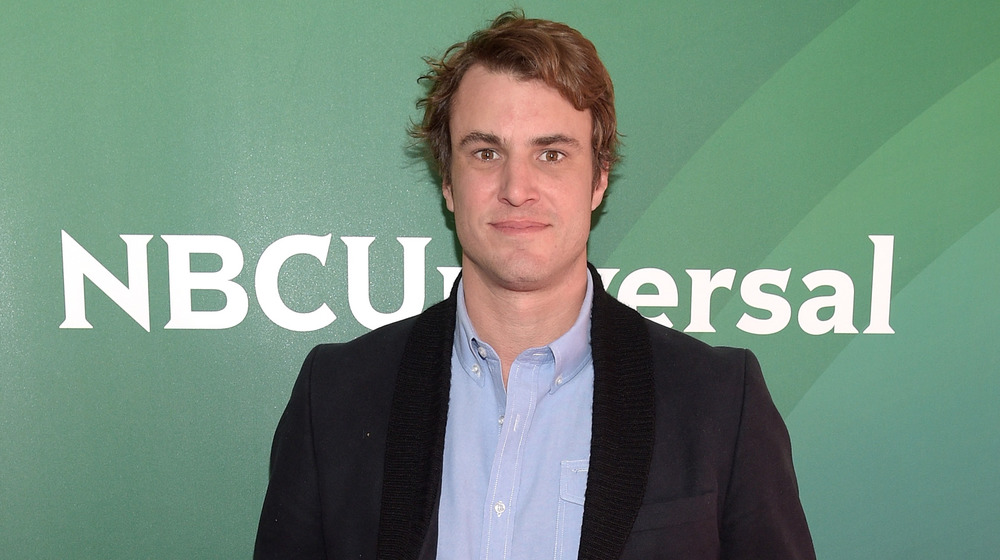 Jason Kempin/Getty Images
Even though Madison LeCroy and Shep Rose will probably never agree about what happened during their interactions before she appeared on Southern Charm, there's plenty of drama to unpack from the show. During a July 2019 episode, Madison claimed that Shep gave his ex-girlfriend and fellow cast member Danni Baird chlamydia, which they both immediately denied right then and there. Soon after, Shep got back at Madison by bringing the two women that Madison caught Austen Kroll with (on video) to the season finale party. Somehow, that spiteful gesture led to Madison apologizing to Shep about the chlamydia claims, but it didn't end there. During the Southern Charm After Show, Shep said, "She was like, 'I just want to apologize,' and I was like, 'I'm sorry, too. I'm sorry I brought the two girls over here.'"
Shep alleged that Madison muttered "F–k you" under her breath and that he told her, "You are unable to be a classy person. It's impossible for you.' She proved what I called her the whole time." That was about when Shep said Madison is "white trash."
Although they don't get along, Madison said of Shep during the, "I actually think he's funny" on the Southern Charm After Show. She said she'd hang out with him "if he could eat a gummy and be around me, I'm down for that. I mean, I don't want to say he's gotta be high, but I definitely don't want to hang out with Shep drunk."
Shep Rose isn't thrilled about Austen and Madison's romance
In November 2020, Shep Rose insisted, "I did not come in with my dukes up," when he spoke to ET about filming Southern Charm Season 7. He admitted that a delay in shooting the season did put some pressure on him to come through with good content, but he maintains that he didn't intentionally invite Madison LeCroy's former fling to his party to start drama, which was a story that Madison and Austen Kroll didn't buy during the episode. Shep remarked, "At a certain point, is it Madison or is it Austen? It takes two to tango. So, yeah, she might have him wrapped around his finger, but he's the idiot that's wrapped around the finger."
He also hinted that he learns something about Madison this season, which he shares with Austen, and that leads to more drama, obviously. Shep explained, "I think a real friend tells, but Austen doesn't even know if he wants to be told. It might just be [a] rumor, right? But if people are talking about it, what do you say?" He claimed that he didn't "want to get involved," but he did. Shep even described Madison as a "dangerous" and "fascinating" person who doesn't own up to her faults.
The origin of Shep and Madison's feud will probably remain unclear forever, but will their beef ever end? Southern Charm fans are on the edge of their seats just waiting to find out.