The Real Meaning Behind The Famous Princess Diana Crying Image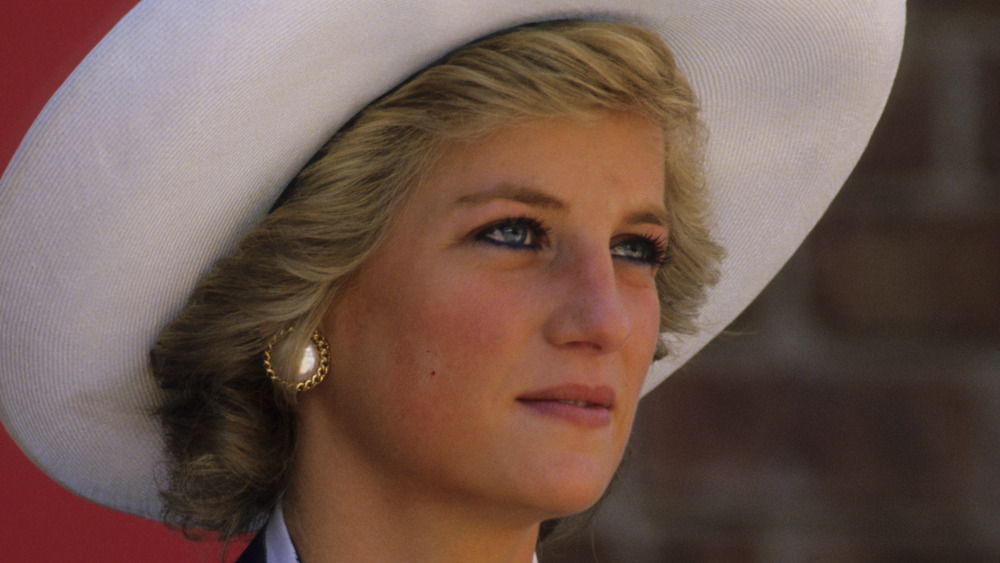 Georges De Keerle/Getty Images
The public has always been fascinated by Princess Diana, from the moment she got engaged to Prince Charles in 1981 to her tragic and untimely death in 1997. In recent years, shows like The Crown, The Royal House of Windsor, and Diana: In Her Own Words have demonstrated that public interest in Diana hasn't waned one bit in the years since her death. If anything, viewers are more intrigued than ever as new information continues to come out about Diana's mysterious inner world. 
Royal fans now have more insight and perspective into some of the events of Diana's hey-day — including one infamous 1981 photo of Diana crying at the airport as Charles got onto a flight for a five-week trip. At the time, fans assumed that Diana was crying because her then-fiancé was leaving her behind to attend to his royal duties. But an archival clip of Diana's own words revealed that the true story is quite different.
Princess Diana said she was crying over Camilla
National Geographic's 2017 series Diana: In Her Own Words features archival footage and personal recordings from Diana, Princess of Wales herself, offering an intimate look at the princess's inner thoughts. In one clip from the film, Diana explains the famous image of her crying at the airport, revealing that what newspapers then called a "tender farewell" was anything but.
"You may recall seeing a picture of me sobbing in a red coat when [Prince Charles] went off on his aeroplane," Diana said. "That was nothing to do with him going. The most awful thing had happened before he went."
At the time of the photo, Diana was just 19 years old and still Charles's fiancee. Her life was about to change forever, and she was already the public's darling. But behind closed doors, she was struggling with Charles' relationship with Camilla Parker Bowles.
"I was in his study talking to him about his trip," Diana recalled. "The telephone rang; it was Camilla, and just before he was going for five weeks. So I thought, 'Shall I be nice, or shall I just sit here?' So I thought I'd be nice, so I left them to it. And it just broke my heart, that."
While Charles was gone, Diana and Camilla had lunch together. Soon after, Diana discovered that her soon-to-be-husband had gotten a bracelet made for Camilla. "Rage, rage, rage," she said. "Why can't you be honest with me?... He absolutely cut me dead." Unfortunately, she said, it was too late to back out of the marriage by then.