The Truth About Armie Hammer And Timothee Chalamet's Relationship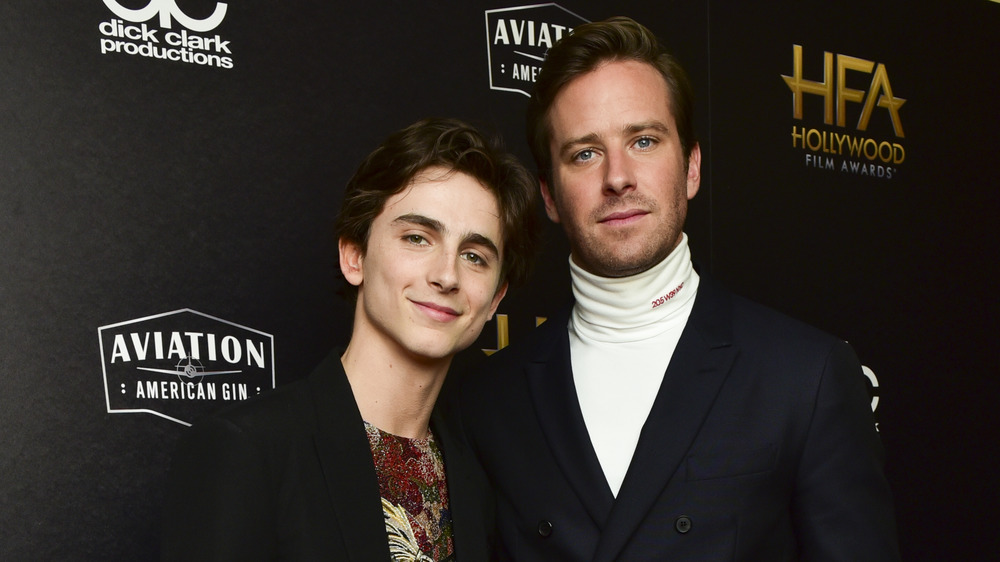 Rodin Eckenroth/Getty Images
The relationship between Armie Hammer and Timothee Chalamet has created a great deal of social media buzz, but what's the truth about the friendship between the Call Me By Your Name costars? According to Chalamet, the two actors hit it off right away. In an interview with Variety, the young actor said that he and Hammer shared a "genuine bond" since they met.
The star of Dune confessed that he became friends with Hammer while filming the box office hit Call Me By Your Name. According to Variety, the two stars became fast friends. They spent a lot of time together, and Chalamet claims the chemistry between him and Hammer was "random luck of the universe."
In the 2017 romance, Chalamet plays Elio and Hammer plays Oliver, two characters who share a passionate relationship over the summer of 1983. The 2017 love story was well-received, generating several nominations for the film, including an Oscar nomination for best actor for Chalamet.
In a 2019 interview on The Tonight Show Starring Jimmy Fallon, Hammer revealed that he and Chalamet stayed in touch and confessed that he had just FaceTimed with "Timmy" that morning. Variety reported in April 2020 that Chalamet and Hammer will return for the Call Me By Your Name sequel. Keep reading to find out more about Hammer and Chalamet's relationship.
Armie Hammer and Timothee Chalamet remain friends years later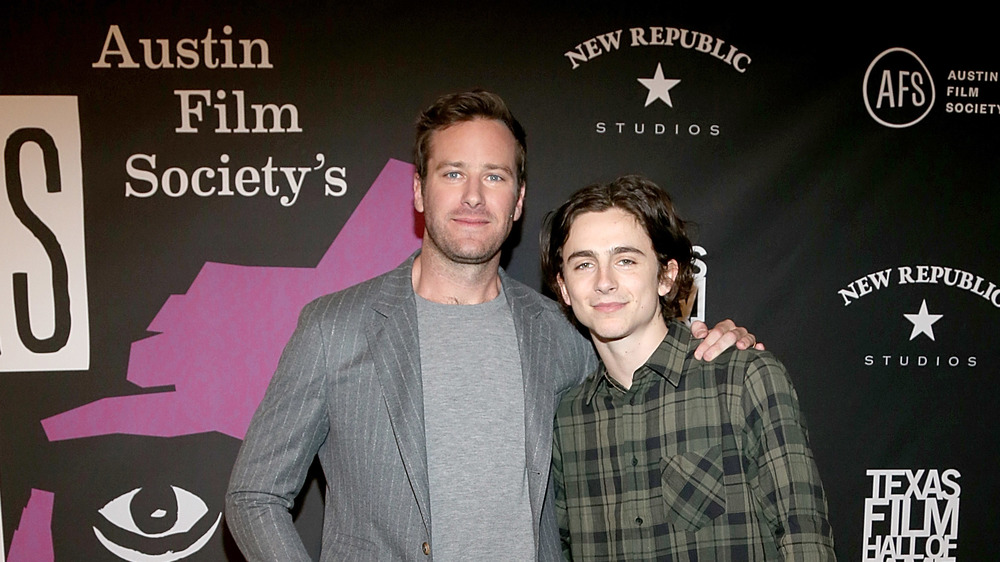 Gary Miller/Getty Images
Watching the Call Me By Your Name costars in interviews and social media, it's safe to assume the two actors remain good friends after filming the movie in 2017. By 2020, however, things had taken a turn for the Social Network star. Armie Hammer and Elizabeth Chambers announced they were separating in July 2020.
Chambers filed for divorce, and the couple made a joint statement on Instagram. "Thirteen years as best friends, soulmates, partners, and then parents. It has been an incredible journey, but together, we've decided to turn the page and move on from our marriage," Hammer wrote. "As we enter into this next chapter, our children and relationship as co-parents and dear friends will remain our priority." 
It appears the divorce has led Hammer to appreciate his friendships even more. In an October 2020 GQ profile, Hammer talked about his friendship with Timothee Chalamet. "You meet someone or interact with someone and go, 'Hey, you're not just a work friend. You're a real friend,' and I like that," the actor revealed. Hammer also gave his younger friend credit for handling his rise to fame. "He's dealt with it better than I would have done at 22, 23. He dealt with it, in many ways, better than I would have done now," Hammer glowed. 
We love to see true friendships between celebrities! It's a rough business and we are glad to hear the two actors remain good friends.