Rachel Lindsay Thinks This Is Why Becca Kufrin Is Staying Single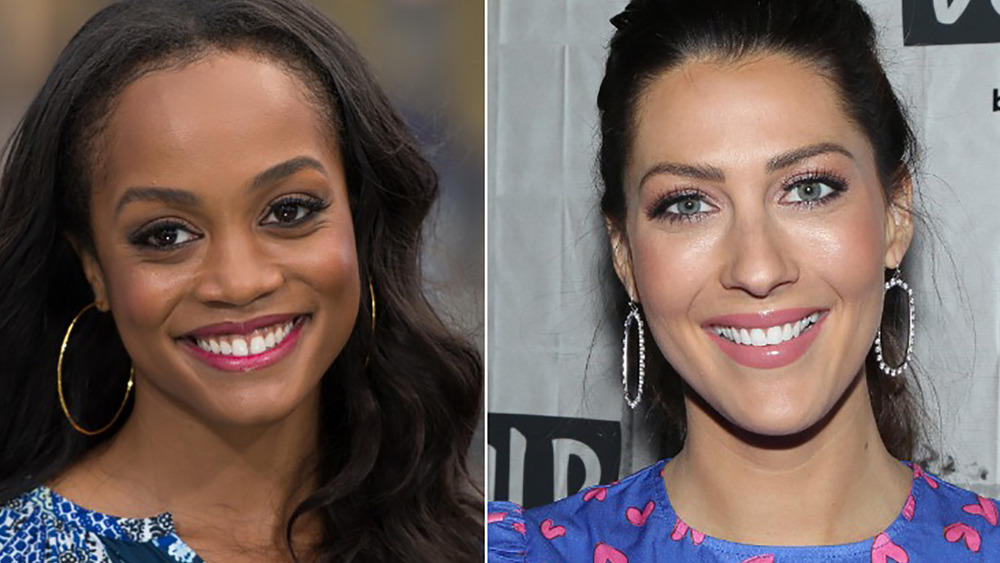 Noel Vasquez, Jim Spellman/Getty Images
Former Bachelorettes Rachel Lindsay and Becca Kufrin became fast friends after their respective seasons ended, with the two co-hosting the Bachelor Happy Hour podcast. Rachel was incredibly supportive of Becca as she navigated her relationship with ex-fiance Garrett Yrigoyen, despite it being difficult due to his problematic views about the Black Lives Matter movement. "I was very honest with her. I said, 'Becca, I never publicly spoke about his problematic social media behavior out of respect for you,'" she noted to Entertainment Tonight's Lauren Zima. "I really like Becca. We have a relationship and I care about her, but seeing what he did with the 'Thin Blue Line' post — which is basically 'Blue Lives Matter' — I was very vocal with how that made me feel."
When Becca finally confirmed the split in September 2020, Rachel was her biggest champion. She told Us Weekly, "I'm glad that she's [Becca] starting a new chapter. She's doing what she needs to do for herself. And she's surrounding herself with a good support system of family and friends who can help her get through this and she'll be stronger and better for it."
Given the nature of the duo's friendship, it's fair to wonder what Rachel thinks of Becca's single status three months after her breakup. The Texas native shared her thoughts on Nov. 30, 2020, a take we reveal after the jump.
Rachel Lindsay is proud of Becca for taking her time
It's safe to say Becca Kufrin has a lot going for her — she moved to Los Angeles, has an adorable dog named Minno, and is expanding her businesses. It's a tired saying at this point, but Becca is no doubt living her best life. So why doesn't the former reality star have a special someone to top off the good fortune? Rachel Lindsay weighed in on the situation to Us Weekly, explaining, "[I think about setting her up] all the time, but I want Becca to do it when she's ready. I know that she is fully enjoying herself in L.A."
Rachel continued, "She's always wanted to be here. And those are sacrifices that you make in a relationship when maybe one partner doesn't. So now that she is not tied down, she can live her best life, which she's doing, And I think Becca is open to start dating again, but obviously coming out of an engagement, she wants to make sure that she takes her time, and she does right, unlike other people.'" Of course, it's fair to assume Rachel was referencing Garrett Yrigoyen, who confirmed his new relationship in October 2020. 
As for Becca's take on her single status, she told former Bachelorette Kaitlyn Bristowe during a December 2020 episode of Off the Vine that she might date dating again in early 2021. Stay tuned!