The Truth About Scarlett Johansson And Chris Evans' Friendship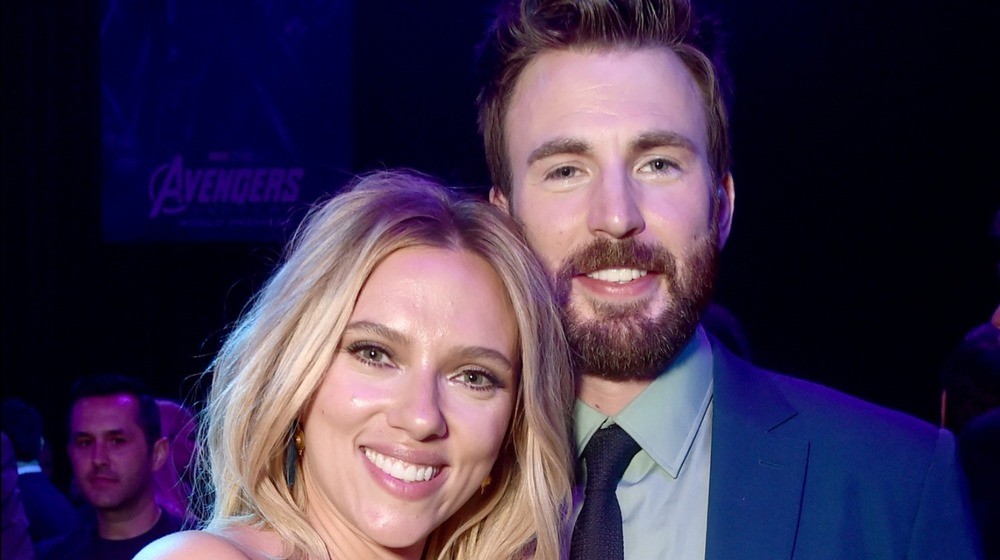 Alberto E. Rodriguez/Getty Images for Disney
Scarlett Johansson and Chris Evans have been friends since they met on the set of The Perfect Score in 2004, according to Variety. While millions of fans ship a romance between Natasha Romanoff and Steve Rodgers, the truth about the two Avengers: Endgame stars' friendship is pretty simple.
Before starring together as Black Widow and Captain America in the Marvel Cinematic Universe movies, Johansson and Evans worked together a second time in the 2007 film, The Nanny Diaries. In the movie, Johansson starred as a nanny working for a rich New York City family, while Evans played a minor role as the "Harvard hottie".
The third time they worked together proved to be the charm. The next time the two friends worked together they played Black Widow and Steve Rogers. In the same Variety interview, Johansson talked about how they both joined the Avengers franchise, and she addressed the fact that Evans was reluctant to join the MCU as Captain America. "I talked to him a little about it, because I had already signed on to do Iron Man," Johansson explained, adding that she was looking out for him from day one. "Of course, the pressure wasn't on my shoulders like it was on Chris's... It was like I was dipping my toe in. He was taking the full brunt of the production on his shoulders."
Keep reading to learn the truth about Scarlett Johansson and Chris Evans' friendship!
Scarlett Johansson and Chris Evans' on-screen chemistry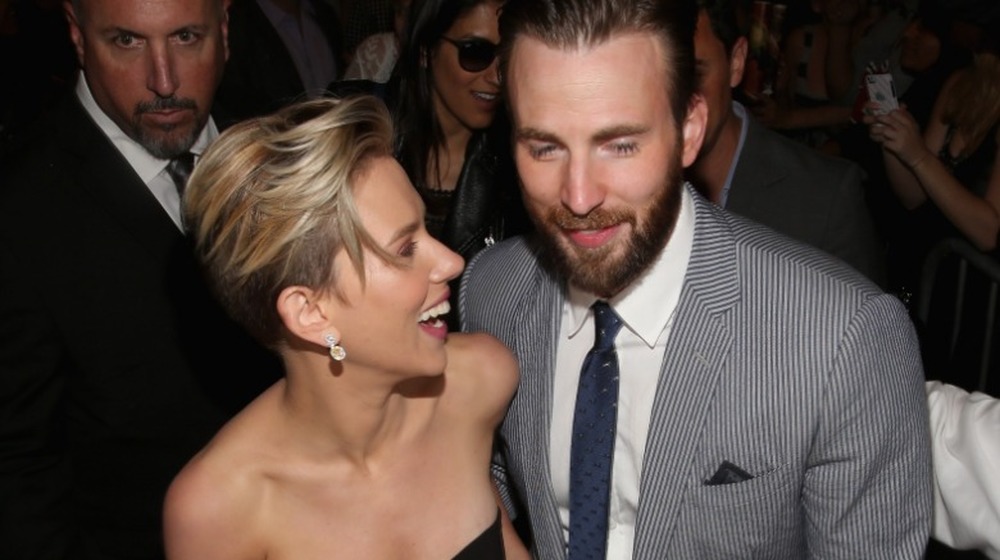 Jesse Grant/Getty Images for Disney
According to the Black Widow star, what fans see on the big screen is not romantic; it's the result of the friendship between Johansson and Evans, as she told Entertainment Weekly. Evans appears to agree with his Avengers: Endgame co-star. In 2013, Evans described a scene where he kissed Johansson in Captain America: The Winter Soldier, telling Star Tribute their kiss was a little awkward because "she's like my sister."
It's not just what Evans says about his friendship with Johansson; if you take a look at his actions, they tell the same story. When the Avengers co-stars presented at the 2020 Golden Globe Awards, Evans was charming. The Captain America star moved the train of Johansson's dress as she walked on stage so that she wouldn't trip over it according to Insider, winning the affection of fans everywhere. 
In 2015, we got to see one of the best indications of Johansson and Evans' friendship. Johansson was the featured guest on The Ellen DeGeneres Show when Evans snuck out on the stage and came up behind her, surprising his co-star. Their reactions after the scare are genuine and priceless, and it's sweet to see the friendship between these two A-list Hollywood stars. The friendship between Scarlett Johansson and Chris Evans goes to show that platonic friendships between men and women are just as powerful and important as any other kind.