The Unreleased Song That Made Cardi B Cry While Recording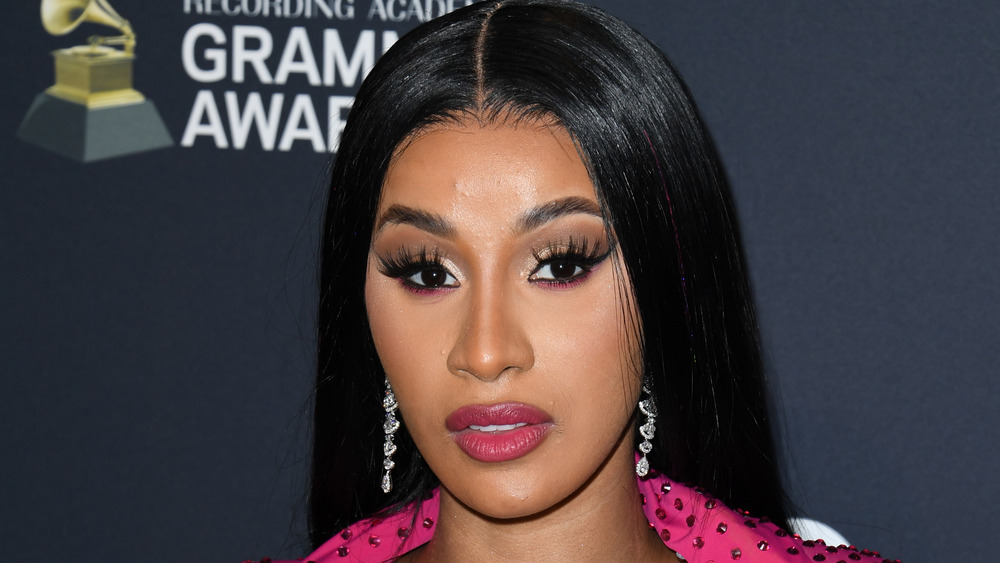 Jon Kopaloff/Getty Images
Cardi B is one of most transparent rap artists on social media. Known for addressing her real-life situations on Twitter and Instagram, the Grammy award-winning rapper bares it all any chance she gets. After getting her start on television with appearances on Love and Hip Hop: New York, Cardi used the show to begin teasing her goal of having a rap career. After two seasons on Love and Hip Hop: New York, the Bronx native released her chart-topping hit "Bodak Yellow" in 2017 and the rest is history. 
Her debut album, Invasion of Privacy, went on to reach the No.1 spot on the Billboard 200 following its April 2018 release, and also broke a streaming record on Apple Music, per Billboard. The success of that album landed Cardi her first Grammy in the notable Best Rap Album category. Songs on the hit album touched on much of her own personal journey, including the track "Be Careful" which many of her fans felt addressed the cheating scandal she and her Migos rapper husband Offset had endured in 2017.
Though Cardi confirmed the song was not about her husband, according to Pitchfork, in 2020, she told Billboard that it's still very hard to perform the emotional song. "When I perform songs like "Be Careful" or "Ring," I usually close my eyes because I get really shy about showing that lovey-dovey side," she shared.
Cardi B's emotional song about her daughter
Rich Fury/Getty Images
As a former exotic dancer, Cardi B has shared how unfiltered she is when it comes to her sexuality. However, when it comes to her home life, Cardi struggles with opening up in the recording studio. "I have one song that is very personal and deep," she told Billboard while discussing her forthcoming second album. "It's with another female artist, but even when I was recording it, I had to take a lot of breaks. I was looking at my engineer and he was looking like, "Yeah, Cardi, I feel you." 
The "WAP" rapper recalled getting emotional in the studio while recording another song about daughter Kulture Kiari Cephus. "The only song that has ever made me tear up hasn't come out, and it was about my daughter." She went on to explain how she felt with the engineers watching her get through the session. "I just felt like, "Can you guys stop looking at me recording this? Matter of fact, stop!'" It turns out, Cardi never released the song and probably never will. "I really wanted to put the song out, but I was pregnant and had a really bad cold, so I didn't sound right. My nose was just too stuffy. Putting it out now [would just be] weird because I'm not pregnant anymore." 
Maybe she can re-record it in the event that she makes Kulture a big sister.