Lil Nas X Says This Was His Best Fashion Moment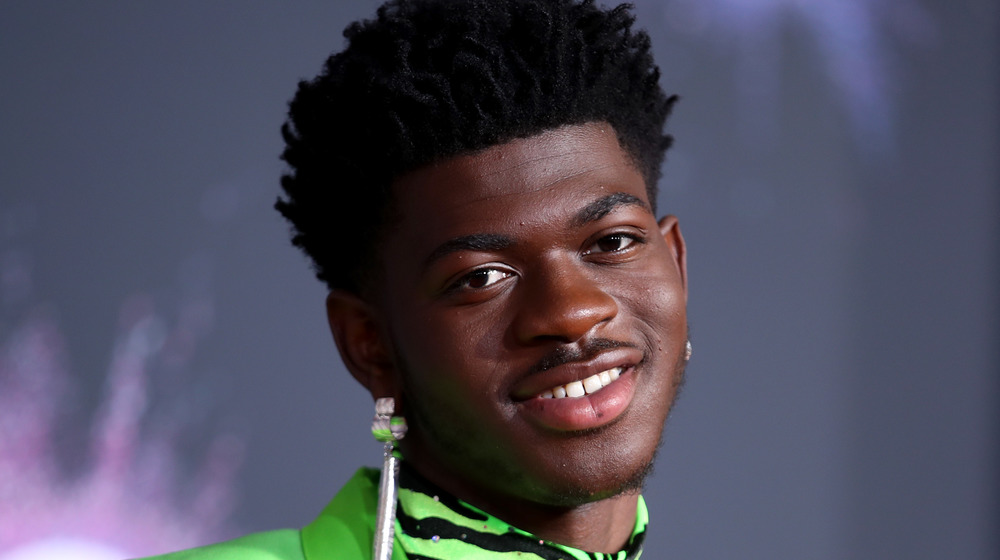 Rich Fury/Getty Images
Nothing feels "old" about "Old Town Road" rapper Lil Nas X's incredible fashion sense! Whether he's breaking the record for longest-running No. 1 single, lassoing up Grammys, or going full Nicki Minaj (or "Nas Maraj") for Halloween, Lil Nas X is regularly dressed to the nines. Or to the 4x4, we should say. 
The rapper, who is 20 years old as of this writing, spent most of 2019 iconically nodding to cowboy music greats before him, rocking a truly "Yee Haw"-influenced style. He was essentially never seen without a cowboy hat and glammed-up cowboy boots. You could say he even "spurred" a trend, with celebrities like Miley Cyrus jumping on the bandwagon, or covered wagon, you could say. "Cowboy hat from @gucci literally @LilNasX," Cyrus captioned a 2019 country-influenced selfie on Twitter.
Yup, while he's donned a Kris Kringle-meets-wizard vibe for his new single, "Holiday," and zoomed into the future in the video for "Panini," it's hard not to picture the LGTBQ-identifying rapper in a giant designer cowboy hat, looking fantastic. Lil Nas X commits to the concepts of his songs, not just releasing tracks but embodying them. So is he a walking billboard of eccentricity or a marketing genius? "Old Town Road" points to the latter. And if the singer does take on a new persona for every epic song he rolls out, there will be many Lil Nas X style transformations to come. But for now, scroll down for what Lil Nas X has now said was his favorite look to date.
Lil Nas X's favorite outfit is this Grammys look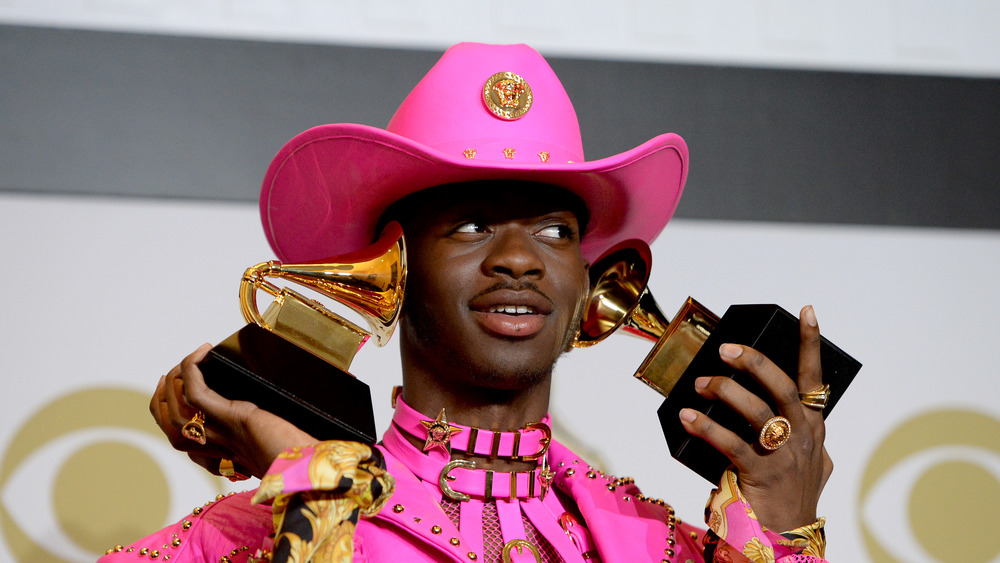 Amanda Edwards/Getty Images
So what's Lil Nas X's favorite outfit to date? Though there many to choose from, that would be his all-pink 2020 Grammys cowboy getup. "The pink one at the Grammys, the pink one at the Grammys was great," the rapper said (with a hot wing in hand) in November 2020 during an appearance on the YouTube series Hot Ones. When asked about his favorite awards show look so far, the star was quick to bring up the iconic pink outfit. Per Billboard, the ensemble was a custom Versace suit with studded gold details. And for extra edginess, Lil Nas X also rocked a bold harness and matching mesh shirt underneath his blazer. The star topped the look off with Versace medusa earrings. 
"With my career, it's guess it's like, how cowboys don't give too many f***s about what other people are gonna say about what they're gonna do...or whatever," Lil Nas X told Hot Ones on his embrace of the cowboy look. "And having to be super headstrong about that." 
Additionally, the rapper is releasing (yes) an illustrated children's book, C is For Country, in 2021. "Join superstar Lil Nas X—who boasts the longest-running #1 song in history—and Panini the pony on a joyous journey through the alphabet from sunup to sundown," its description reads. So while there will be plenty of varying fashion moments to come, maybe cowboy Lil Nas X is, in some ways, here to stay!