Inside Julie Bowen And Sofia Vergara's Rumored Feud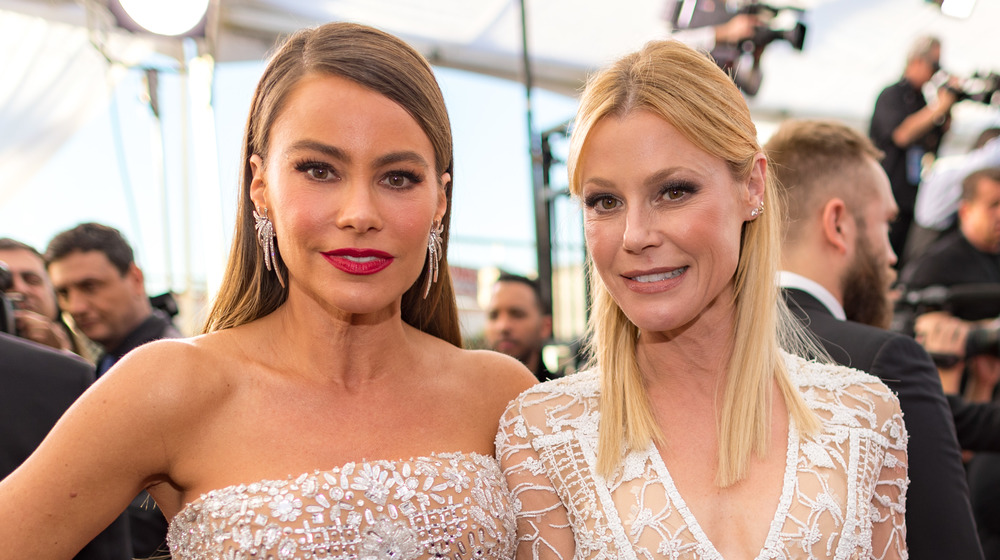 Christopher Polk/Getty Images
Oftentimes, co-stars describe each other as family: Just look at the Friends cast or Charlie's Angels stars Cameron Diaz and Drew Barrymore. However, there have been some truly dramatic feuds between castmates. In fact, many co-stars literally cannot stand each other even though viewers truly believe they're best friends or lovers on television or the big screen. However, it turns out, co-star feuds are some of Hollywood's best-kept secrets. Sometimes, though, it's a whole lot of baseless gossip, which is the case for Modern Family stars Julie Bowen and Sofia Vergara. 
Although the pair are actually good friends and get along very well, they've been at the center of feud rumors for years — and despite how many times Bowen has shut down the gossip, tabloids have always assumed there's a rivalry on the set. Back in 2013, Bowen told Yahoo!'s now-defunct Omg!, "You can't have two females on a show without wondering if there's some sort of rivalry." She added, "Everybody wanted to think [at the beginning of the show], I imagine, that she must be a handful because of the way she looks, and she's not a handful except for a handful of delight."
So what sparked these rumors in the first place? We examine the root of the drama below.
Julie Bowen was supposedly jealous of Sofia Vergera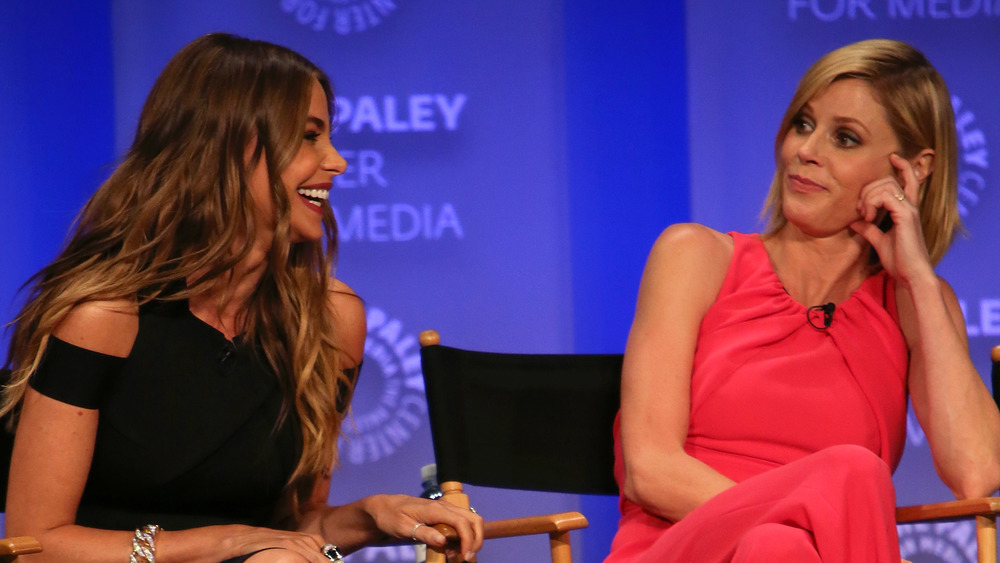 David Livingston/Getty Images
There's no doubt that Sofia Vergara is one of TV's biggest stars. According to Forbes, she has made the list of the world's highest-paid actors for nearly a decade. Just in 2020 alone, she reportedly earned $43 million thanks to TV roles such as Modern Family (she made $500,000 per episode) and America's Got Talent. However, that doesn't mean Vergara's co-stars are jealous of her rise to fame. Despite feud rumors, Julie Bowen set the record straight, confirming the pair are great friends. "Every now and again I get a call or you get an email that says, 'Well, so and so trash mag will be running a story that you — and this week it was — are icy to Sofia Vergara because you're jealous of her fame,'" Bowen told Ellen DeGeneres in 2016.
She went on to explain how she handles the baseless rumors, adding, "So I email her last night and then we talk and I'm like, 'What should I say?' because we're friends. I'm like, 'What should I say? You're funny." Vergara's answer? "Please, just borrow my blouse," Bowen said in her the actor's signature Colombian accent. "So, I'm borrowing her blouse." (During her Ellen appearance, the star did, in fact, wear Vergara's blouse.)
The constant negative speculation surrounding her friendship with Vergara does get Bowen down from time to time. "You don't have to have the truth anymore, you just have to have the internet. You can just make up anything," she said.