90 Day Fiance: How Larissa Responded To Elizabeth And Andrei's OnlyFans Announcement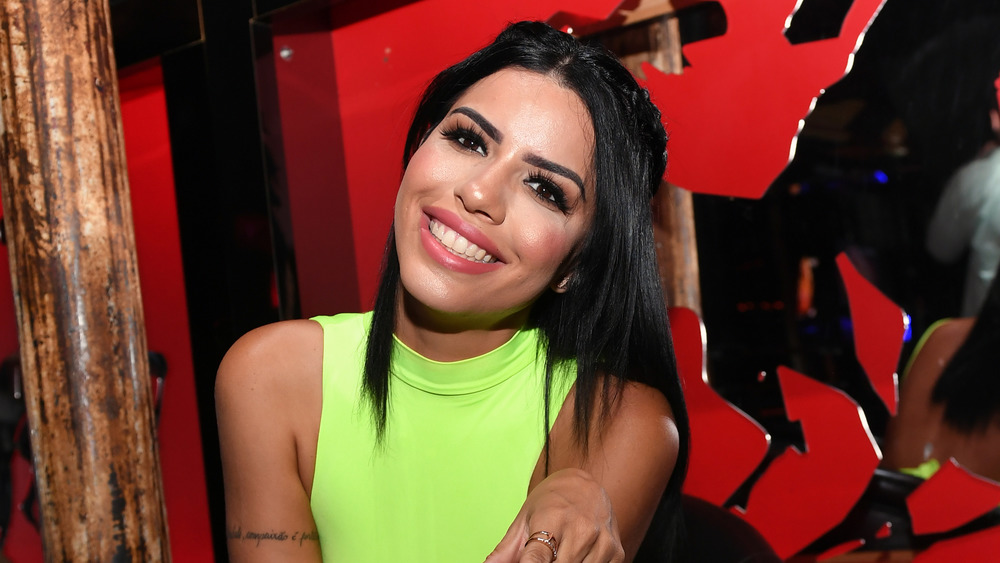 Bryan Steffy/Getty Images
Larissa Dos Santos Lima has been a major player on TLC's 90 Day Fiancé as the reality series chronicled her relationship journey. She split from then-husband, Colt Johnson, and started a new relationship with Eric Nichols after they met on a dating app. While things seemed to be moving in the right direction, fans had a hunch that Larissa and Eric might also be done. In fact, Eric confirmed their split in the most eyebrow-raising way possible.
But Larissa doesn't need a relationship to be an appealing star to watch. She's made headlines on her own for her drastic transformation on the show. Larissa also wound up getting fired from the TLC show for her work on the site CamSoda, and according to TMZ, her hour-long lingerie show made $100,000 for the site. Larissa also has an OnlyFans account, which isn't necessarily an explicit site, but can be used for adult-only content, according to BBC.
So with Larissa finding alternative modes of income, two other 90 Day Fiancé stars — Elizabeth Potthast Castravet and Andrei Castravet — shamed her for her work. On a 90 Day Fiancé reunion episode, Elizabeth called Larissa a stripper and Andrei said her face is constantly changing, according to Showbiz CheatSheet. Now, in seemingly the most hypocritical twist, both Elizabeth and Andrei have opened OnlyFans accounts and Larissa had some shade for them.
Elizabeth and Andrei get majorly called out
In late November 2020, both Elizabeth Potthast Castravet and Andrei Castravet announced they were joining OnlyFans after criticizing fellow 90 Day Fiancé star Larissa Dos Santos Lima for using the same platform. Hypocritical much? Elizabeth charges $20.99 per month for her account, while Andrei charges $14 for his.
There is the possibility, according to Showbiz CheatSheet, that Elizabeth and Andrei might keep their OnlyFans content in the category of a tease rather than full nudes, but the double standards are not lost on fans or Larissa. In fact, in a Q&A session on Instagram, Larissa responded to this, according to the outlet, when a fan asked her, "Elizabeth called you a stripper, now she's on OnlyFans. Anything to say?"
Larissa used Offset and Cardi B's song "Clout" to speak for her and quoted the following lyrics (via Showbiz CheatSheet): "They know I'm the bomb, they ticking me off/ Saying anything to get a response/ I know that mean they traffic is low/ Somebody just gotta practice to launch/ So f**k being tame, I'd rather be wild/ B***hes is Brandy, they wanna be down/ Soon as these b***hes got something to sell/ They say my name, say my name, Destiny Child."
That's a pretty decent dig, honestly! Good for Larissa, standing her ground and showing that this kind of hypocrisy just ain't going to fly.