The Detail Hidden In The Office's Timeline That Most Fans Missed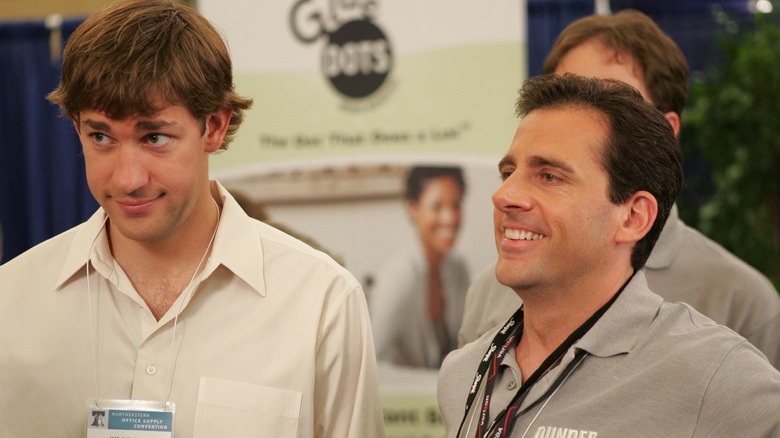 NBCUniversal
If one TV series could get a "Dundee" for the internet's favorite sitcom, it would be The Office. Though fans said goodbye to Dunder Mifflin Paper Company in 2013 after nine beloved and Emmy-winning seasons (albeit only seven with Steve Carell's iconic Michael Scott at the Scranton helm), its hilarity and escapism are more relevant than ever. The Office is a Netflix staple today, from Jim and Pam's will-they-won't-they (spoiler: they will) romance to the secretive exploits of "Agent Michael Scarn." Nearly all of us have cozied up to the cult-favorite show during at least one, if not multiple, winters. And we're not just saying that; according to The Wall Street Journal, The Office accounted for nearly 3 percent of Netflix's total U.S. viewing in 2018, amounting to 52 billion total minutes. People love the show almost as much as Michael loves making "that's what she said" jokes!
Sadly, according to The Hollywood Reporter, some higher-ups are taking notice. The Office is expected to leave Netflix and will be exclusively available on NBCUniversal's newest streaming platform Peacock, which launched in July 2020. That said, in April 2020, Netflix tweeted that The Office would remain on Netflix until "at least" 2021, so it seems NBC was getting a little eager in their poaching. Rewatch it while you can, Netflix-heads. 
Meanwhile, die-hard fans are still finding new continuity easter eggs years later. Scroll down to see the missed details one Reddit user pointed out that has The Office fans' heads spinning. 
One fan noticed some fishy details about The Office
So what hidden details on The Office are now just emerging? One Redditor attested to seeing things other fans haven't after watching the show multiple times, and you probably missed these details too. 
Remember when the Scranton office got their copy machine replaced? In the hilarious (if too realistic) fire drill set up by Dwight to test the employees' "emergency preparedness," in Season 5, the office's old copier is used as a battering ram and put out of its misery. Yet, several episodes later, as the user pointed out, the same copier is stuffed into the corner in the short-lived competitor office, Michael Scott Paper Company. The word "TRASH" is written on it in black Sharpie, signaling that it is indeed the same machine. What a catch!
Another new(ish) detail lies in the fishbowl on Michael's desk. As several fans have pointed out over the years, across the three episodes chronicling the failed Michael Scott Paper Company, Michael has three different fish in his fishbowl. There's a bright orange goldfish, a taupe-brown fish, and a black fish. Of course, the joke here is that Michael Scott can't even take care of fish as he is trying to establish his own paper company, but many fans may have missed the subtly switched out swimmers.
These are just small details, but leave it to obsessed The Office fans to continue finding new hidden treasures!