The Surprising Rapper Who Influenced Lizzo's Fashion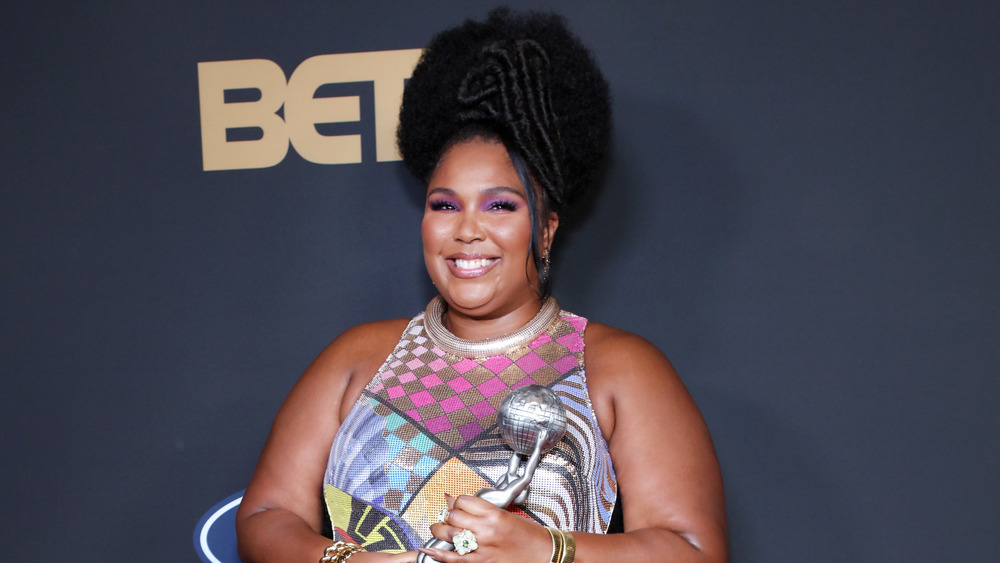 Robin L Marshall/Getty Images
This truth doesn't hurt: Lizzo's musical talents aren't the only thing impressive about her. The Minneapolis singer has a grand sense of style that is quite impossible to forget. From indulging our sweet tooths with a chocolate bar-inspired gown at the 2020 Brit Awards to her angelic white gown at the 2020 Grammy Awards, Lizzo's fashions are always a must-see.
As a proud advocate of body normativity, Lizzo seeks to redefine the movement to normalize her body type. "I think it's lazy for me to just say I'm body positive at this point," Lizzo told Vogue. "It's easy. I would like to be body-normative. I want to normalize my body." She also argued that body positivity is becoming a commercialized and appropriated concept, as it is beginning to be deemed socially acceptable and "cool" for social media. "What I don't like is how the people that this term was created for are not benefiting from it," the "Juice" artist explained. "Girls with back fat, girls with bellies that hang, girls with thighs that aren't separated, that overlap. Girls with stretch marks. You know, girls who are in the 18-plus club."
Today, the "Truth Hurts" crooner is known for her glamorous, unique style, but Lizzo explained that growing up, it was hard to find clothes that fit her that she liked. Believe it or not, her style was inspired by a fellow female rapper. Read on to find out who inspired Lizzo's "Supa Dupa Fly" style.
Lizzo says Missy Elliott inspired her career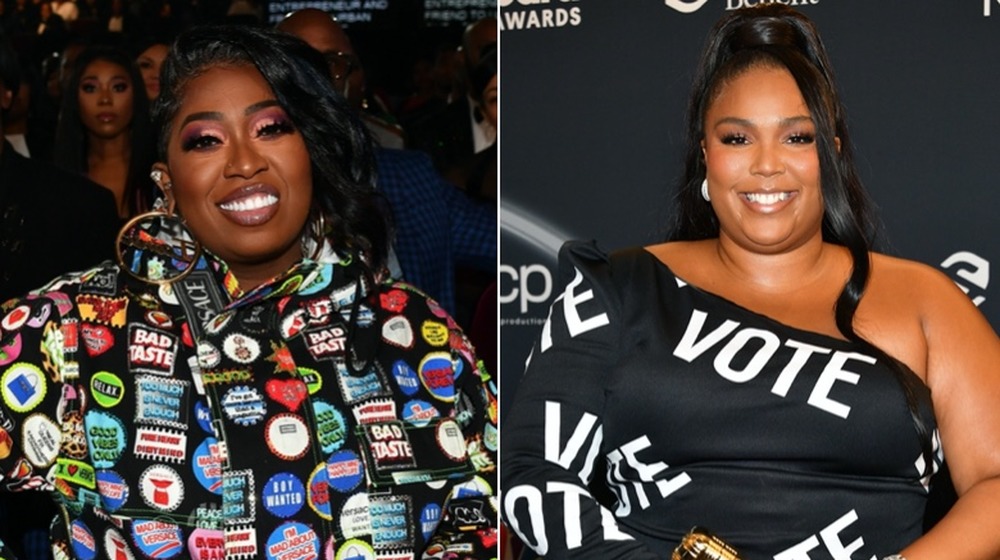 Paras Griffin, Amy Sussman/bbma2020/Getty Images
Lizzo's style is one of a kind, but it makes sense that she'd pull inspiration from one of rap's all-time style gurus: Missy Elliott. In a December 2020 interview with Jeremy Scott for Vogue, Lizzo said the "Get Ur Freak On" rapper inspired her to get creative with her looks when she was in school. "Fashion was not available for, like, my body type. I had to get creative," the singer explained. She also recalled ordering Gucci T-shirts from eBay to achieve her looks. "I would order it and then I would do the Missy Elliott and try to cut the top open and I would tie it in a little knot around my little belly and stuff."
Missy's style isn't the only thing that inspired Lizzo. In an interview with The Breakfast Club, the singer explained how the "Sock It 2 Me" rapper influenced her career from an early age. "Musically Missy Elliott was huge for me," Lizzo said. "When I was little and I was watching Missy Elliott do her thing and win Grammys. Not only be a writer and producer and performer and style icon, but she was winning Grammys and at the top of the charts. And for me, that gave me the belief in myself. I was like, 'She can do it. She's a weird black girl, I'm a weird black girl.'"
Fortunately for Lizzo, she got to live out her earliest dreams and collaborate with Missy on "Tempo."