Is The Bachelorette's Ben Smith Going To Return And Fight For Tayshia?
Fans saw Ben Smith get his heart broken on the Dec. 15, 2020 episode of The Bachelorette after Tayshia Adams gave her final three roses to Zac Clark, Ivan Hall, and Brendan Morais.
Ben's exit was difficult for many fans to watch, as Tayshia pleaded with him to say something for some sort of closure as she walked him out. Tayshia was quite upset with the lack of response she received, and even wondered if anything from the prior few weeks was special to Ben. "I'm not asking for this grand gesture, but the fact he couldn't give me one ounce of emotion was extremely disappointing," she said, via Entertainment Tonight.
While he was too nervous to say anything to Tayshia, Ben admitted to both his family during the hometown date and to cameras on his way out of the resort that he was in love with Tayshia, and he seemed to deeply regret his lack of action. "Maybe she loved me and thought I didn't love her back," he contemplated, adding that he really messed up if that was the case.
The end of the episode showed Tayshia accepting what had just happened and returning to her three remaining suitors. The following week's promo then showed everything from love and passion to drama and heartache. Now, there is a new sneak peek that gives more insight into what goes down during Season 16's finale, and it has us wondering: Is Ben Smith going to return and fight for Tayshia?
Tayshia gets an unexpected visit during finale week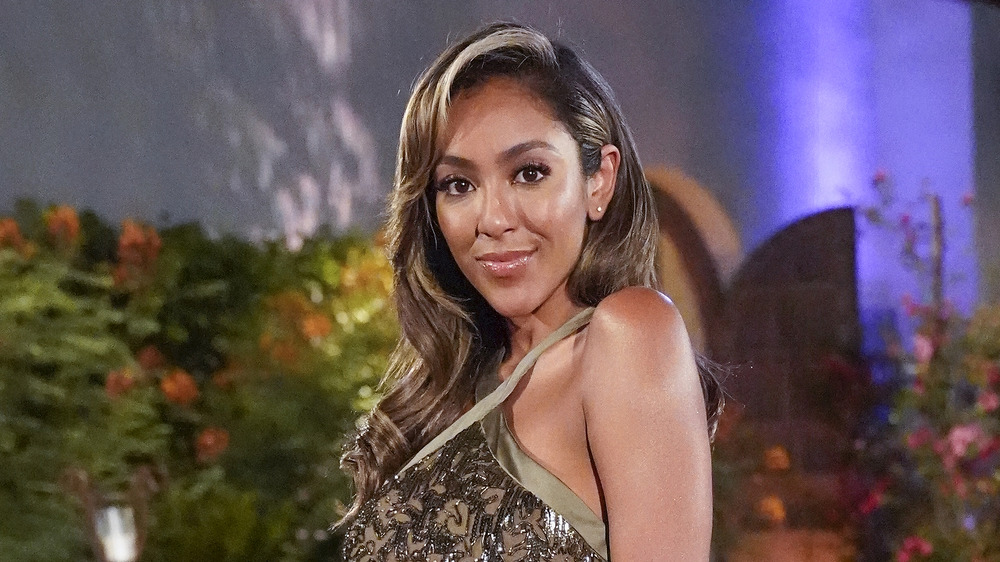 ABC/Craig Sjodin
The new promo of The Bachelorette's finale, via Entertainment Tonight, starts with Tayshia Adams looking stressed, saying, "This is the biggest decision of my life, and I have no idea what I'm going to do." This confession is followed by Zac Clark, Ivan Hall, and Brendan Morais all sharing how important Tayshia is to them.
Then, Tayshia gets a knock on her door by a surprise visitor. "What?" she asks, completely shocked. "You just want to cry. What do I do with that?" The distressed Bachelorette is next shown sitting down with her father, who warns her not to make the "biggest mistake" of her life. She then stands at what looks like the proposal spot, crying uncontrollably.
While the surprise guest will remain a mystery until the finale, many are wondering if it could be Ben Smith returning to finally share how he truly feels for Tayshia. This wouldn't be the first time someone Tayshia didn't give a rose to has shown up at her door. Bennett Jordan did just that when Tayshia chose Noah Erb to stay over him after getting to the bottom of drama between the two. 
Fans will have to wait until Dec. 21 and 22, 2020 to see how the drama plays out — but we do know Tayshia is happy with how her season ends, as she confirmed that on a December 2020 interview with Ellen DeGeneres. "I'm a happy girl and I'm really blessed," she said.