Why Taylor Swift Is Obsessed With Law And Order: SVU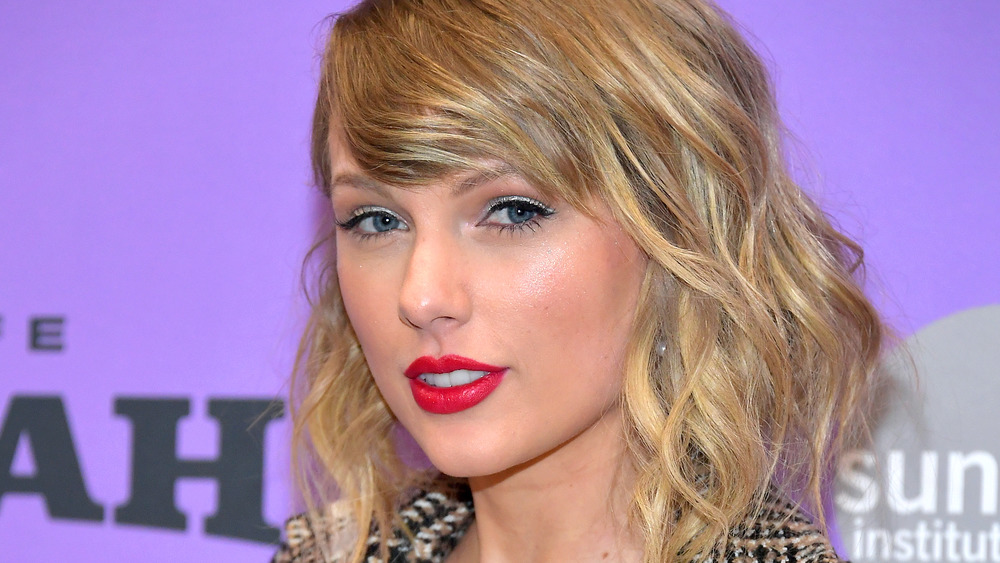 Neilson Barnard/Getty Images
There's no doubt that Taylor Swift is one of the most relatable pop stars. She has earned a reputation for being hardworking, approachable, and supportive of her fans and peers in the music industry. The singer, who released her ninth studio album "Evermore" in December 2020, loves to connect with fans whenever she can, sharing herself through song lyrics, personalized notes, or Easter eggs. Swift's openness is a major part of what makes her seem so down-to-earth. 
But there's another relatable quality about Taylor Swift: she loves watching television. That's right — when Swift isn't recording music or touring the world, she stays busy as a diehard television junkie. She has even had songs featured in some famous shows, which caused her to freak out. Swift is especially obsessed with Law and Order: Special Victims Unit. Here's a closer look into why Swift loves the show and what she has done to commemorate it.
Taylor Swift named her cat after Law and Order: SVU
Dimitrios Kambouris/Getty Images
Nothing says love more than naming your pet after someone. This is exactly what Taylor Swift did when she named one of her cats "Olivia Benson" after Mariska Hargitay's character on the long-running drama, Law and Order: Special Victims Unit. "Her name is 'Detective Olivia Benson'," Swift told Ellen DeGeneres in 2014. "She was named after my favorite character on Law and Order: SVU, but it's very confusing for me cause since I named the cat 'Detective Olivia Benson' — she has since been promoted on the show as 'Sergeant Olivia Benson' — it's very confusing for the cat."
It's unsurprising that Swift loves Olivia Benson, as she's a character who seeks justice for the "special victims" she works with, often sexual assault survivors. Swift herself won a case against a DJ who allegedly groped her in 2015, per Time. Following her court victory, Swift donated a "generous" sum of money to Hargitay's Joyful Heart Foundation, which aims to prevent child abuse, domestic abuse, and sexual assault.
Per EW, Hargitay said of Swift's donation: "I hope that Taylor's very public experience – and her decision to speak out – not only helps empower other victims to speak up and take action, but offers them solidarity. I'm honored by her dedication and commitment to these issues, and I'm deeply grateful for her support of the Joyful Heart Foundation."
However, that's not where Swift's relationship with Law and Order: SVU ends.
Will Taylor Swift guest star on Law and Order: SVU?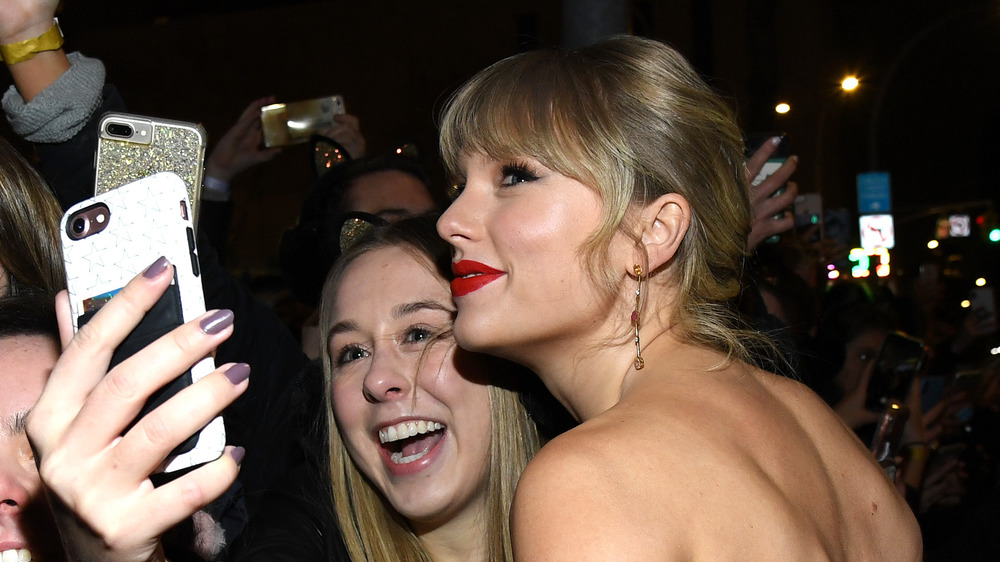 Kevin Mazur/Getty Images
As much as Taylor Swift is a big fan of Law and Order: Special Victims Unit, it turns out that the show is also a big fan of hers. It all started when a Swiftie, Madison White, launched a petition and took to Twitter to get the singer on the popular show, according to Billboard. An SVU producer and writer, Warren Light, replied with "cosign," while the official SVU Writers Room account also retweeted and asked if Swift would be down for it.
Although, as of this writing, Swift has yet to respond to the tweet or petition (which went up around the same time as her birthday, when she was likely spending time with loved ones), we wouldn't be surprised to see her welcome a guest-starring role, given her obsession with the show. She also welcomed Hargitay into her girl squad a few years ago, so she'd definitely be a natural on the series!