Why Melania Trump's Children's Hospital Visit Is Causing A Stir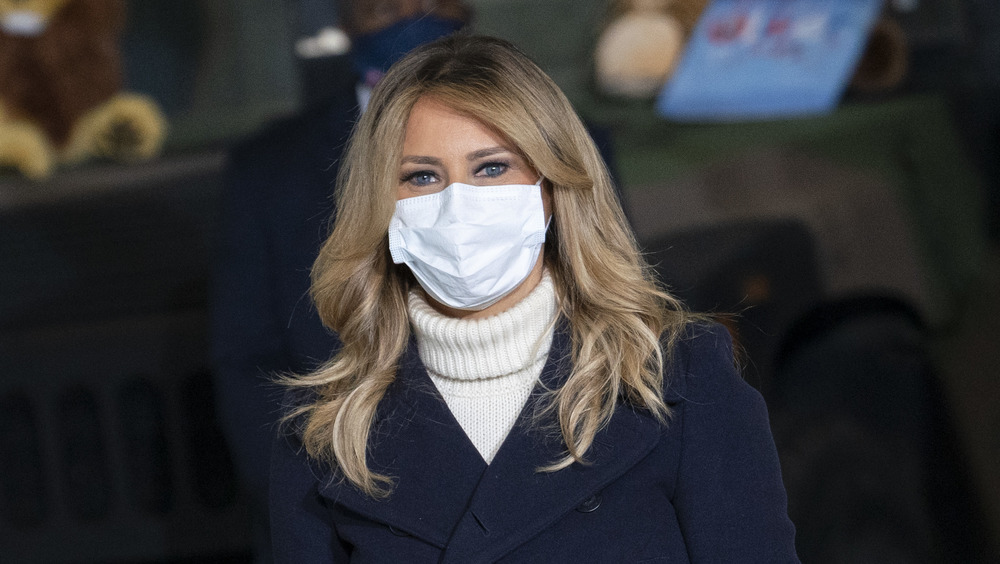 Drew Angerer/Getty Images
No good deed goes unpunished... or at least that's probably what first lady Melania Trump is thinking right about now.   Just as she's done each year during her time as first lady Melania continued her Christmas tradition and paid a visit to Children's National Hospital in Washington, D.C., on Dec. 15, 2020. And just like every year before, she read a Christmas book to the patients while there.
This year Melania opted to read Oliver the Ornament Meets Marley & Joan and Abbey, as reported by CNN. And before starting her annual reading, she addressed all of the hospital patients and even gave a special shout-out to one of them. "Hello to the patients in the rooms that they're watching us, and a special hello to Kellan and I hope you're feeling well — stay strong and keep fighting," Melania said (via People).
But here's the catch — she did it maskless. During a pandemic. At a hospital. With a policy that states that everyone must wear a mask. It is worth noting, however, that the first lady arrived to the hospital wearing a mask, but once she sat down to read the book, she promptly removed it. As one can imagine, the backlash swiftly ensued. 
But what did the hospital say about the first lady bending the hospital rules? And what about the White House? What did they have to say? Keep reading to find out!
Children's National Hospital said that Melania Trump followed D.C. health regulations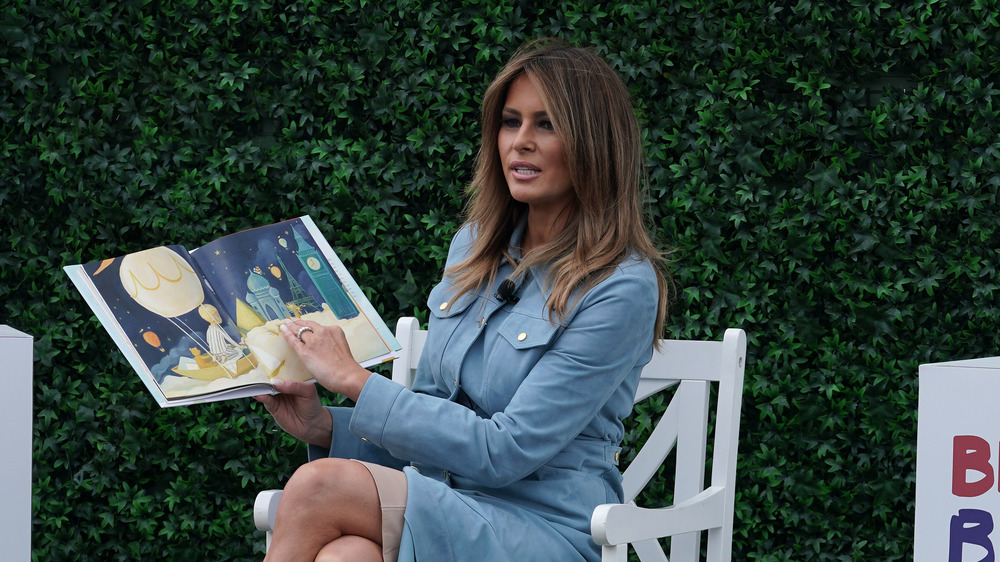 Alex Wong/Getty Images
As it turns out, model-turned-first-lady Melania Trump has the support of Children's National Hospital following the scandal and possibly even had their permission to remove the mask in the first place.
Diana Troese, a Children's National Hospital spokesperson, delivered a statement to CNN that read, "Our number one priority at Children's National Hospital is the safety of our patients, families and employees. Under DC Health regulations, wearing a mask is not required when a person is giving a speech for broadcast or an audience, provided no one is within six feet of the speaker," Troese explained. "In the case of today's visit which was broadcast to our 325 patients, while the First Lady did remove her mask while she read a story, she was more than 12 feet away from others in our large atrium. All other people in that space were wearing masks. The remainder of her visit, she wore a mask."
And while the first lady's office did not immediately respond to CNN's request for comment, they did appear to offer up an explanation of sorts sometime after the visit took place, echoing the hospital spokesperson's sentiments. In the readout, they said, "Throughout the holiday program, the First Lady was more than twelve feet away from others in the four-story atrium" and that her visit, "broadcast to 325 inpatient hospital rooms," followed the guidelines. And there ya have it, folks.
Melania Trump previously got COVID and recovered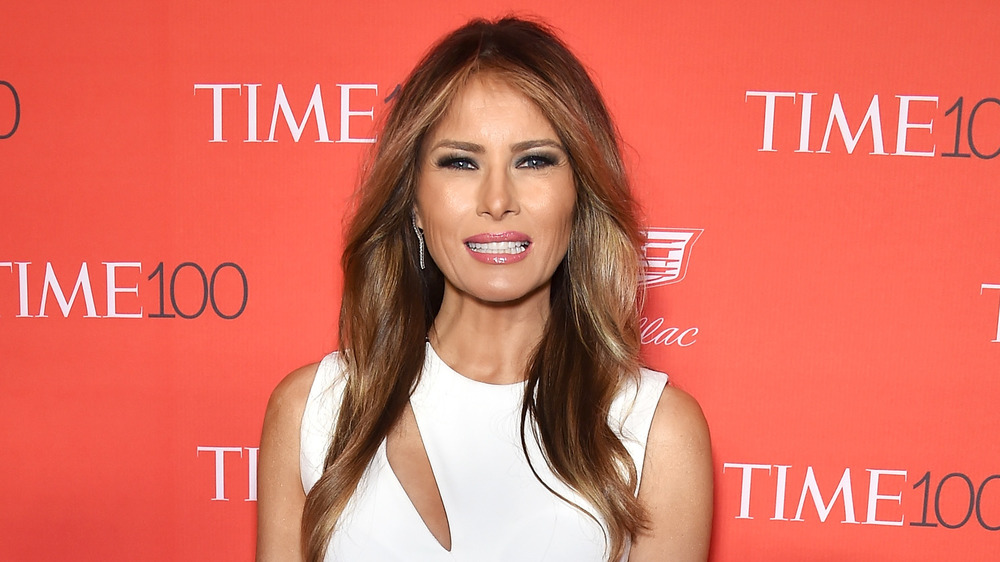 Dimitrios Kambouris/Getty Images
As you'll recall, both first lady Melania Trump and her husband, POTUS Donald Trump, contracted COVID-19 in October 2020, as reported by CNN. This happened after attending what some (including top infectious disease expert, Dr. Fauci) referred to as a "superspreader event." President Trump first delivered the news in a confident tweet in the wee hours of the morning on Oct. 2, 2020. "Tonight, @FLOTUS and I tested positive for COVID-19. We will begin our quarantine and recovery process immediately. We will get through this TOGETHER," he wrote. 
Since then, however, Melania has come forward and discussed both her son Barron's subsequent COVID-19 diagnosis and the symptoms she experienced with the virus in an essay for the White House website. "Naturally my mind went immediately to our son," she penned. "To our great relief he tested negative, but again, as so many parents have thought over the past several months, I couldn't help but think 'what about tomorrow or the next day?' My fear came true when he was tested again and it came up positive. Luckily he is a strong teenager and exhibited no symptoms."
The mother-of-one continued, "I was very fortunate as my diagnosis came with minimal symptoms, though they hit me all at once and it seemed to be a roller coaster of symptoms in the days after. I experienced body aches, a cough and headaches, and felt extremely tired most of the time." But what does Melania attribute to her recovery? According to the first lady, it was a combination of a team of "wonderful caretakers," along with her holistic approach to medicine.