Inside Mary Elizabeth Winstead And Ewan McGregor's Relationship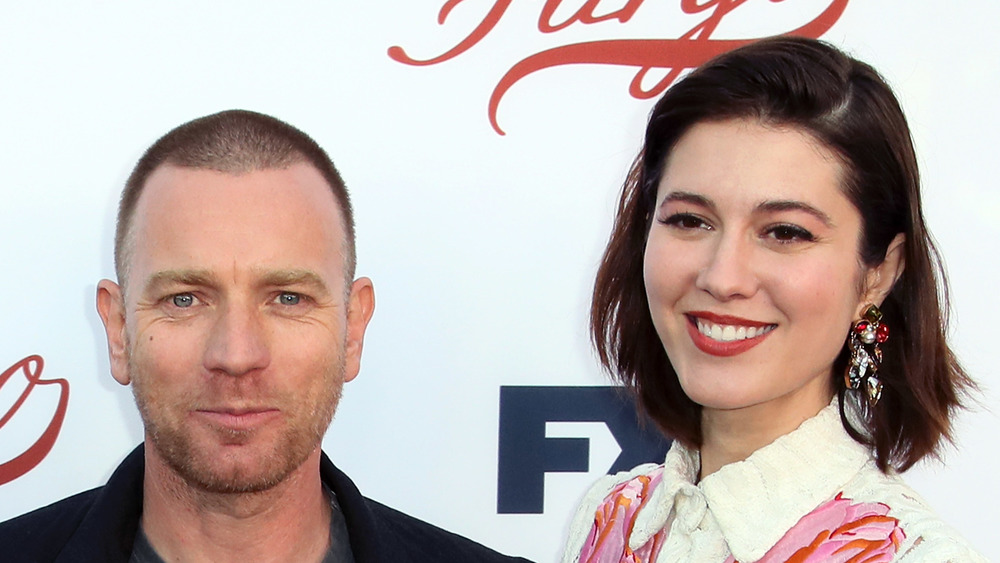 David Livingston/Getty Images
Ewan McGregor confessed he is happy with his girlfriend, Mary Elizabeth Winstead, after his divorce from Eve Mavrakis. His current romantic bliss, however, took a few years to achieve, according to an interview in Men's Journal. 
After 22 years of marriage to Mavrakis, McGregor filed for divorce in 2017. The couple share four daughters, Clara, Anouk, Esther, and Jamyan. Just three months after filing for divorce, the news broke that McGregor had been cheating on his wife with Winstead, his Fargo co-star. According to The Mirror, the actor's wife and family found out about the affair in a brutal way: photos of McGregor kissing his co-star emerged in October 2017, on their daughter Esther's birthday.
McGregor's daughter Clara eventually went public about her unhappiness about her father's affair, when she publicly called Winstead a "piece of trash" in an Instagram comment in July 2018.
Clara McGregor walked back her negative comment about her dad's girlfriend in August 2018. "It wasn't the most mature way to go about things, but I was angry and upset," Clara told The Times. "There had been a lot building up to it and a lot to deal with — not to make excuses or anything — but, yeah, it wasn't my finest moment."
Did the disapproval of McGregor's family change his relationship with Winstead? Keep reading to find out the inside scoop.
Ewan McGregor and Mary Elizabeth Winstead's is blissful
Frederick M. Brown/Getty Images
Despite his divorce and relationships making headlines, Ewan McGregor told Men's Journal in a 2019 interview, "I am better. I am happier." McGregor's relationship with Mary Elizabeth Winstead seems to be going well and they are still together. Winstead explained to Glamour UK in January 2020 that "Accepting that change is a good thing and that it's OK not to know where that change is going to take you" was a "big turning point."
Meanwhile, McGregor's career is booming, and he is preparing to return as Obi-Wan Kenobi in the upcoming Star Wars TV series. The actor told Men's Journal exactly how he felt to finally be able to speak about his Star Wars role after years of keeping it a secret. "It's a f***ing massive relief... Because for four years, I've been having to lie to people about it."
Another bit of good news: it seems that McGregor's relationship with daughter his Clara is on the mend!  Hello! Magazine reported in September 2020 that the father-daughter duo was working together on a movie, The Birthday Cake. After a tense couple of years, Ewan McGregor and Mary Elizabeth Winstead are moving forward together.