Why Emily Blunt Was Terrified Of This Scene With Jamie Dornan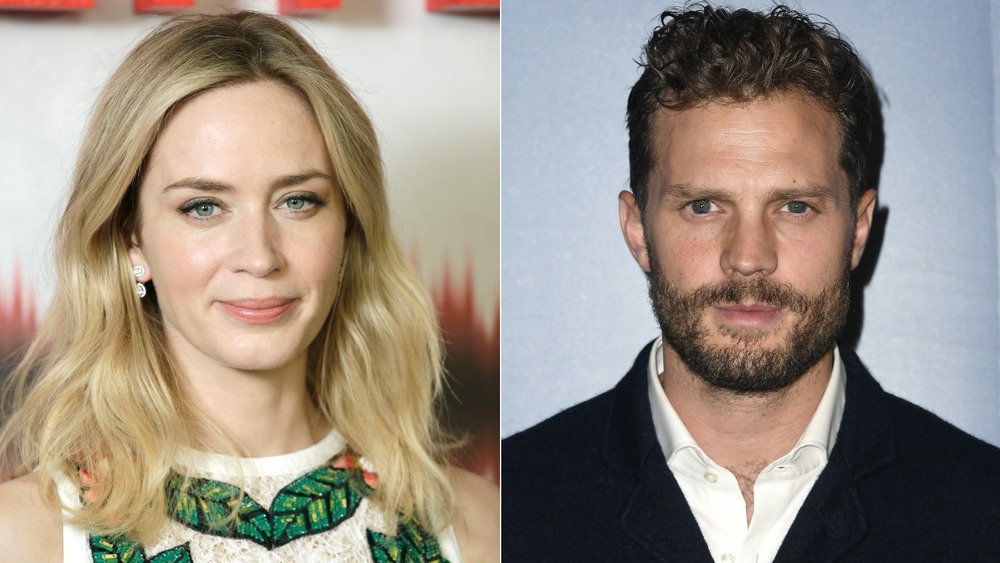 John Phillips, Frazer Harrison/Getty Images
Emily Blunt and Jamie Dornan star in the movie Wild Mountain Thyme, which IMBd describes as a story involving "a pair of star-crossed lovers in Ireland [who] get caught up in their family's land dispute." Blunt plays Rosemary Muldoon who has "quietly swooned" over her neighbor, Anthony Reilley, her entire life, per The Hollywood Reporter, and has her heart set on winning his love. "The problem is, Anthony seems to have inherited a family curse, and remains oblivious to his beautiful admirer," according the film's synopsis, as he tries not to disappoint his widowed father (Christopher Walken).
It turns out, the rom-com put Blunt and Dornan in some pretty uncomfortable scenarios. For starters, the actors — who filmed Wild Mountain Thyme in rural parts of Ireland — had to navigate filming through whirlwind weather in the Irish countryside. "It was almost like it wasn't quite raining enough, so they just put on this tsunami-like rain machine to add to the passion," the A Quiet Place star recalled to the NY Daily News. "But it certainly helped. It kind of swept you away. Literally, you couldn't see straight because you had so much rain in your face, but you didn't have any time to strategize anything."
Blunt also had to overcome the embarrassment of singing a duet with Dornan in front of her other co-stars even though she famously starred in the musical film Mary Poppins Returns in 2018. Keep scrolling to find out why it was a "terrifying" experience for her.
Emily Blunt's 'knees [were] knocking' ahead of her duet
In December 2020, Emily Blunt discussed her role in the film Wild Mountain Thyme, touching on her live duet with co-star Jamie Dornan. She opened up about what it was like to sing in front of her other cast mates — including Christopher Walken and Jon Hamm — and why the experience was "quite terrifying" for both her and Dornan. 
Blunt told E! News: "It was day one, it was the first scene we got to do together. It's quite terrifying. I think we both felt quite terrified to sing in front of people. Even after doing musicals, I still feel very scared, knees knocking, to sing in front of people, especially Christopher Walken. But, I mean, I think we were just kind of thrown into the deep end of it. It's much easier to sing with Jamie up with me on that stage than it was alone."
The actress added, "We did a pre-record of it, but [director] John Patrick Shenley just wound up using the live version however imperfect it sounded because I think that's what I love about this film. It is terribly human and awkward and the characters are imperfect. So it was all part of that same world really." Thankfully, Blunt and the Fifty Shades of Grey actor had each other to get through the singing scene smoothly.