Why Jackie Cruz And Kourtney Kardashian Aren't Friends Anymore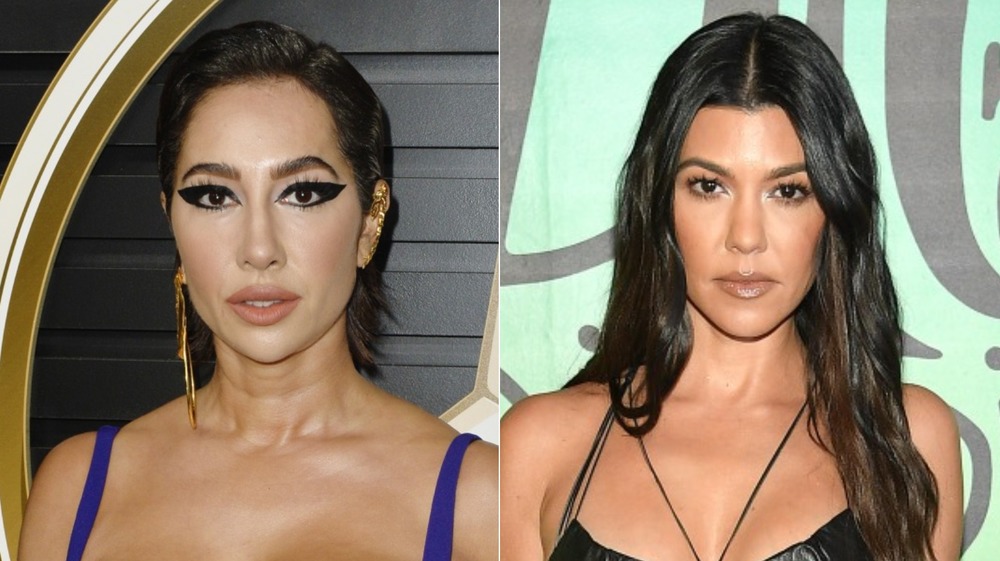 Jerod Harris, Dimitrios Kambouris/Getty Images
Once upon a time, Orange Is the New Black star Jackie Cruz was pretty close with Kourtney Kardashian. O.G. Keeping Up With the Kardashians fans will remember the time the oldest sister sparked a little fling while filming Kourtney & Khloe Take Miami in 2009 and was captured exchanging a kiss with a brunette beauty. While we didn't know it at the time, Kourt's very friendly gal pal, was in fact, the actress and songstress. Although we once knew Jackie as the girl that Kourtney met in art class, and later Kourt's hot tub lover (who Scott Disick flashed), fans are dying to know more about their relationship now that Jackie has public recognition.
Years after their make-out session, Kourtney said she still has a lot of respect for the actress, especially now that she is thriving. "Jackie is carefree and fun," Kourt said in 2014 while talking with Us Weekly. "She just kind of like gets you and has this spell almost," she added. However, in a 2018 interview, Jackie said the ladies aren't as close as they once were. Keep scrolling for more details about what went down between Kourtney and Jackie.
Kourtney and Jackie are on different pages
Years after Kourtney Kardashian and Jackie Cruz made out, Kourtney thinks things got awkward when the private moment aired on television (pictured above). "I'm so embarrassed. I can never talk to this girl again," Kourtney told Us Weekly in 2014. "Jackie is calling me non-stop and I'm so embarrassed I made out with her — I did not mean to lead her on." However, she did praise Jackie's character while dishing on their relationship.
For Jackie's part, she sees things differently but revealed she does not keep up with the Kardashians in a 2018 interview with People. "I honestly don't keep up because I don't have time... I'm trying to work, do my own thing," she explained. Although they lost touch, Jackie still applauds her old pal. "I love Kourtney, she's always — when we worked together she was a sweetheart."
While we're intrigued Jackie said they "worked" together, she previously confirmed her appearance on the show wasn't scripted or auditioned for in a 2014 interview, around the same time when Kourtney said she couldn't shake the actress. "Kourtney is such a sweet person, and yes we are still friends. Now and then we text each other to see how we are both doing," Jackie said, per Bustle. Regardless of Kourt's previously harsh remarks, they seemed to be on good, yet distant terms, in Jackie's 2018 update. "She continues to be a sweetheart," Jackie said, "I just haven't — we haven't reconnected, but call me, girl."