27% Of People Would Choose This Actor To Make A Run For President
Alex Wong/Getty Images
If you were to choose one actor to ascend from the big screen right to the Oval Office, who would it be? National treasure Keanu Reeves? Entertainment powerhouse Oprah Winfrey? In a new Nicki Swift poll, a large percentage of people would "Cast Away" their vote for the same person, so to speak. Know who it is yet?
Let's not mince words: the divisive Donald Trump presidency has definitely soured some people on the concept of a celebrity going into politics (not to mention Kanye West's 2020 presidential run). But look at America's track record. From Arnold Schwarzenegger's stint as California governor to Ronald Reagan, who was originally an actor and president of the Screen Actor's Guild before he was sworn in as U.S. president, entertainment and politics aren't exactly oil and water. At the end of the day, having Washington D.C experience is probably most helpful in becoming president, but it's not a requirement. And being a strong public speaker and knowing how to handle pressure is something actors do well. Plus, stars are already, well, stars. For better or worse, they have a built-in fan base when it comes to 2024 and beyond.
Nicki Swift asked 607 people around the country which actor they would pick to run for president, and one star stood tall. Who did people envision the best candidate of the Hollywood bunch would be? The answer is...
People think Tom Hanks has what it takes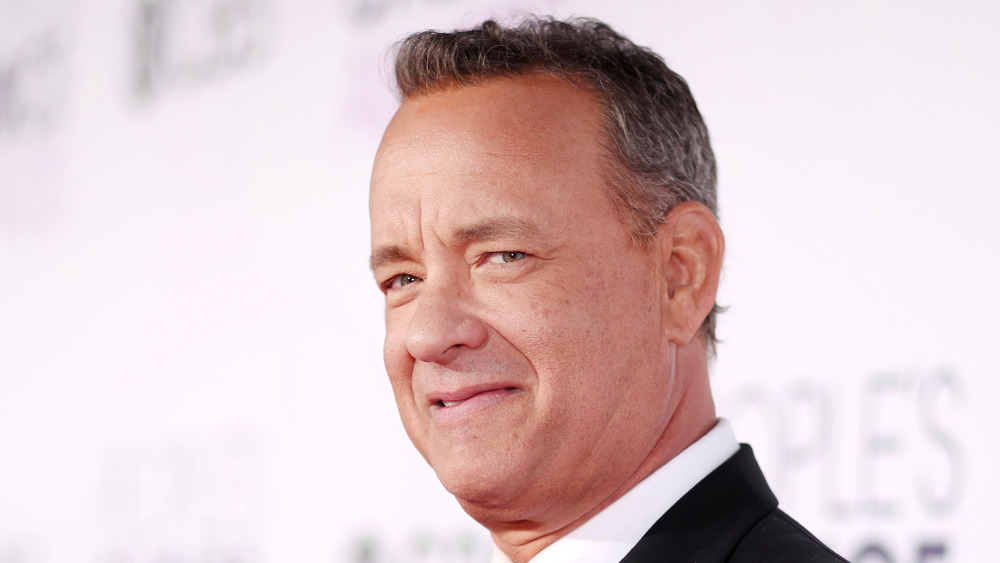 Christopher Polk/Getty Images
...Tom Hanks! Yup, of the 607 people surveyed by Nicki Swift, 27.51% said they would choose the Forrest Gump actor to run all the way to the White House. That's 167 votes! In second place was Oprah at 18.62%, and 17.13% of people thought Dwayne Johnson would "Rock" the vote. Beyoncé got a mere 4.78% of the vote, and Robert Downey Jr. also made the cut with 8.9%. Lastly, Ellen DeGeneres earned 3.46%.
That said, in the "other" category (in which 19.6% percent of respondents chose to write in their picks), nearly one-third of people wrote a variation on "none" — in other words, they think politics should be left to politicians. "We already tried that, look what happened," one person wrote in. Curiously, Joaquin Phoenix got more than one write-in. Hmm...
But why Tom Hanks? Well, the lovable actor does have a friendship with Barack Obama, and he was awarded a Medal of Freedom from the 45th president in 2016. "Tom Hanks is one of the Nation's finest actors and filmmakers... Hanks has advocated for social and environmental justice, and for our veterans and their families," the official White House announcement said. It also mentioned Hanks' most iconic film roles, saying they "have left an indelible mark on American film." 
That said, Tom Hanks has expressed disinterest in running. In 2019, when The Hill asked the actor if he'd want to run for office, he summed up his stance simply. "I do not," he said. "Can you imagine doing that? You'd be in a permanent press conference for the rest of your life."