Snoop Dogg Seemingly Responds To Eminem's Zeus Diss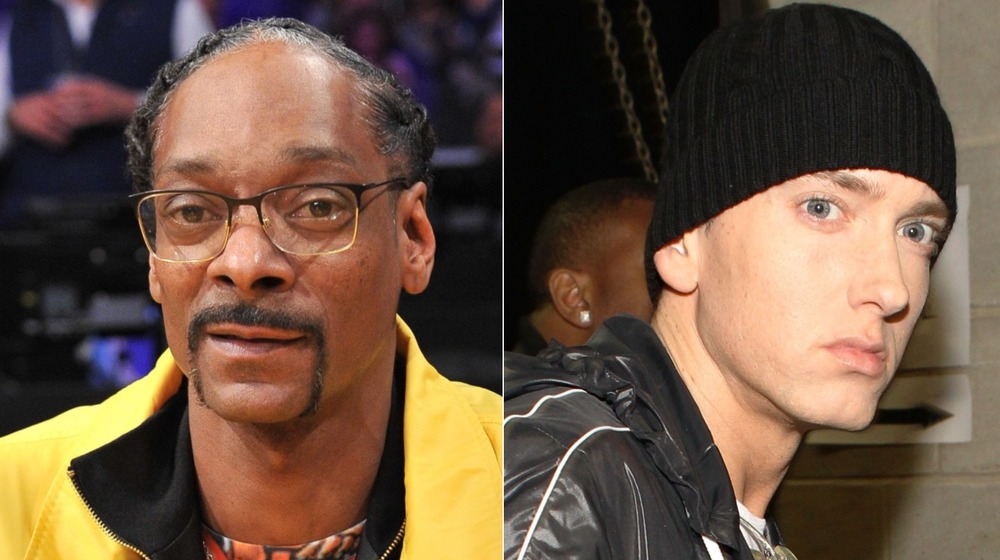 Allen Berezovsky, Christopher Polk/Getty Images
Shots fired? It looks like Snoop Dogg may have responded to Eminem after the rapper dissed the hip-hop icon in his new track "Zeus" featured on his surprise album Music to Be Murdered By – Side B, which was released on Dec. 18, 2020. The lyrics to "Zeus" read: "As far as squashing beef I'm used to people knocking me / But just not in my camp / And diplomatic as I'm tryin' to be last thing I need is Snoop doggin' me." The lyrics continue: "Man, Dogg, you was like a damn god to me / man not really, I had 'dog' backwards."
Eminem's remarks come months after Snoop appeared on The Breakfast Club in July 2020 to dish on Dr. Dre's achievements, including discovering the "Stan" rapper. "[Dre] has probably put Eminem in the position where he would be labeled as one of the Top 10 rappers ever. I don't think so, but The Game feels like that he's Top 10 lyricists and all that that comes with it."
While some were shocked Snoop didn't have Eminem on a pedestal, he explained, "There's some n****s in the '80s that [Eminem] can't f*** with ... it is what it is." Despite his remarks, Snoop affirmed Eminem is "one of my teammates, one of my brothers ... But when you're talking about this hip-hop s*** that I can't live without, I can live without that." From the look of "Zeus," it seems like Eminem didn't appreciate D-O-double-G's POV. See Snoop's response below.
Snoop Dogg threw shade back at Eminem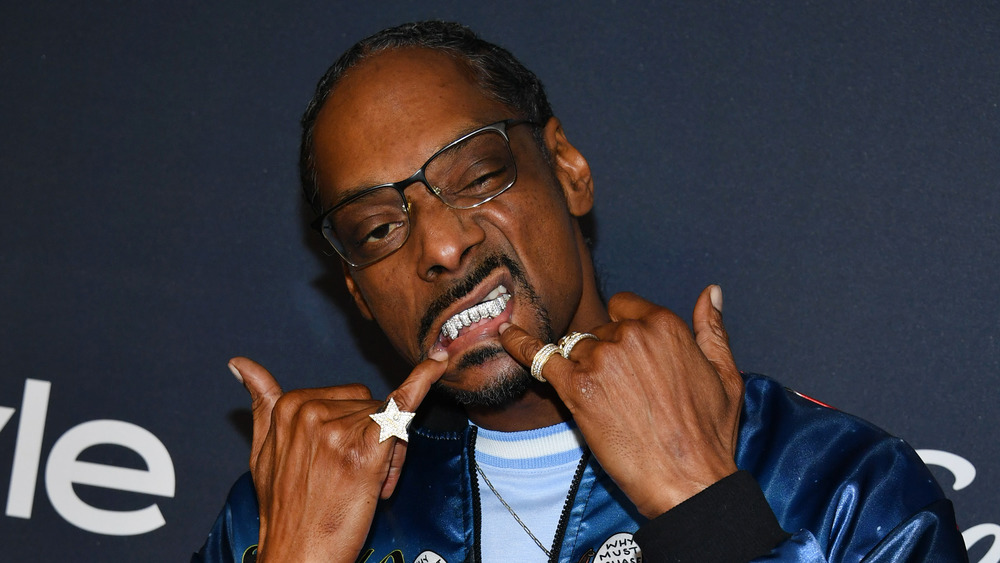 Amy Sussman/Getty Images
When Snoop Dogg criticized Eminem, he made sure to add that there were no hard feelings between the two — but it seems like their alliance has come to an end following the release of Eminem's clapback in "Zeus." The same day the "Lose Yourself" rapper dropped his surprise album in December 2020, Snoop took to Instagram to seemingly address his mention in the now-highly talked about track. 
"People who can't communicate think everything's an argument," read a quote posted to his grid. He later posted another quote reading, "Back in the day, if someone hated you, it meant you did something WRONG. Now a days, it means you did something RIGHT," along with the caption, "Carry on," with a straightforward fist emoji and a "boom" emoji. However, it doesn't seem like Snoop harped on Eminem's shade for too long. Following his cryptic posts after the release of "Zeus," Snoop shared a photo of himself doing what he does best ... aside from rapping. It looks like there may be some benefits to "Smoke Weed Every Day," as he and Dre once rapped.