Why Tayshia Adams Broke Up With Ben Smith Before He Proposed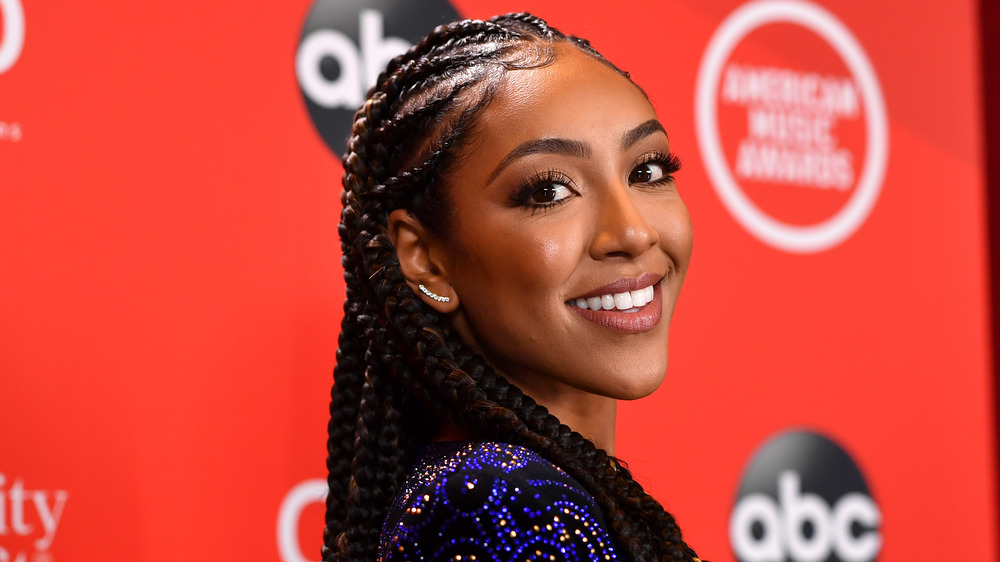 Emma Mcintyre /ama2020/Getty Images
The Bachelorette's Ben Smith was on his way to having the redemption story of his dreams when Tayshia Adams allowed him back on the show. Tayshia had previously sent Ben home after he failed to articulate his feelings for the phlebotomist-turned-influencer, admitting to cameras that he "blew it" as he was driven away. Ben was absolutely aghast when Tayshia sent him home, and after an awkward yet emotional exit, he knew he had to do something to prove his love.
In true Bennett Jordan fashion, Ben showed up at Tayshia's doorstep and apologized to her for the way things went down. "I know you sent me home already, but the way that that ended, I was so completely caught off guard, I just didn't even know what to do or say. And I'm sorry for that," he said before finally telling her that he had fallen in love with her. Tayshia told Ben he could come to the upcoming rose ceremony, but cautioned that she had a lot to think about. 
Tayshia ended up sending Ivan home due to religious differences, giving Ben the chance to propose to her — or so he thought. The California native decided to break up with Ben yet again before they could even go on a final date. While this is not usually how things happen, Tayshia had been very clear about her decisions, sending home men as she felt appropriate. So why did Tayshia break up with Ben Smith before he proposed?
Tayshia Adams broke up with Ben Smith for one reason
While Tayshia Adams previously gushed about how happy she was with Ben Smith, it simply wasn't enough for her to see a life with him. So, in a confessional to cameras, she said she had to end it. "I know what my heart wants, and it's not Ben," Tayshia said after a serious conversation with her father about his concern that she could make the "biggest mistake" of her life, per Entertainment Tonight. "I wish my heart was with him, but it's just not," she said.
This time, it was Tayshia who ended up at Ben's door to deliver some news. "Through this whole week, all I've been thinking about is the entire journey here," she started. "And that starts with us, really. I remember seeing you ... you were someone I wanted to continue to get to know," she said, adding that he really "set the bar" on the show. "It's a really heavy week, and I care about you so much. I just feel like my heart is with somebody else," she declared to a shocked Ben.
Tayshia tried to console Ben by restating that everything they experienced together was real. Even though he was heartbroken, he simply wished her the best. "I saw it going differently, but when you love somebody, you want them to be happy," he said. Tayshia ended her run as The Bachelorette by accepting a proposal from New Jersey native Zac Clark.