Tom Hanks And Bruce Springsteen Have Been Friends Longer Than You Think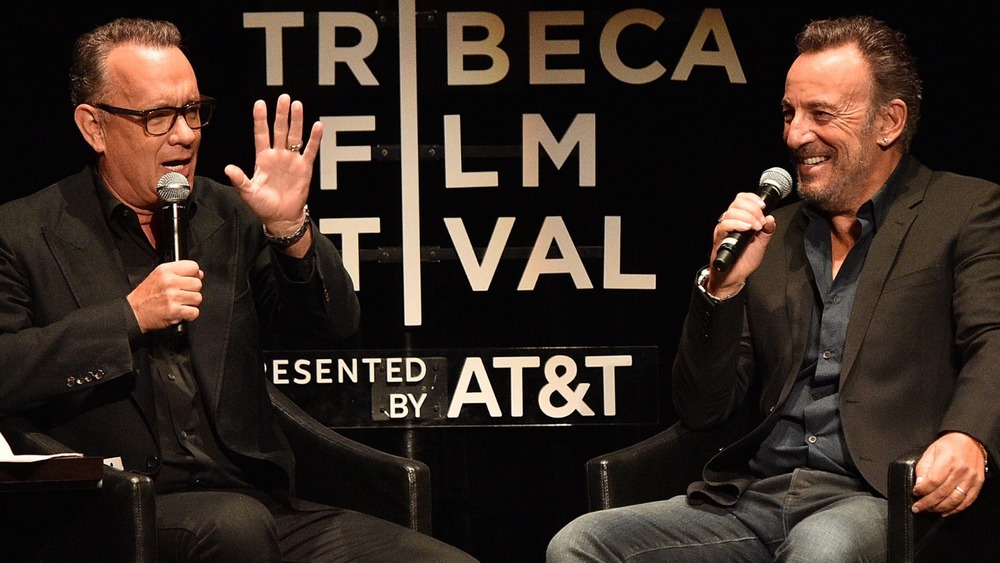 Kevin Mazur/Getty Images
Tom Hanks and Bruce Springsteen are beloved by many fans. In 2017, the AV Club called the two stars "America's Movie Dad and America's Music Dad." Millions cherish Hanks for his work as an actor, and Springsteen is so famous for his working-class anthems that he's called The Boss.
In 2017, fans went wild when People reported Barack and Michelle Obama, Tom Hanks, Oprah, and Bruce Springsteen all took a vacation together. The famous group of friends relaxed together on billionaire David Geffen's 450-foot yacht off Tahiti's coast. But Springsteen and Hanks' friendship goes further back than their renowned vacation.
The Daily Mail reported the two American icons met in 1993 when they worked on the movie Philadelphia. Hanks and Springsteen each received an Oscar for the film in 1994. Hanks received the award for his role as attorney Andrew Beckett, and The Boss won for the film's song, "Streets of Philadelphia." The two talked about their time working on Philadelphia at the 2017 Tribeca Film Festival. On the Tribeca stage, the two friends paid tribute to the director of the Oscar-winning film Jonathan Demme, who died that year. Springsteen said, "[Demme] was such an inspirational guy. If there's no Jonathan Demme, there's no Philadelphia."
According to The Daily Mail, Hanks and Springsteen even go on double dates with their wives Rita Wilson and Patti Scialfa. Clearly the two famous couples are close friends. Keep reading to learn more about the bond between Hanks and The Boss.
Tom Hanks and Bruce Springsteen received Presidential Medals of Freedom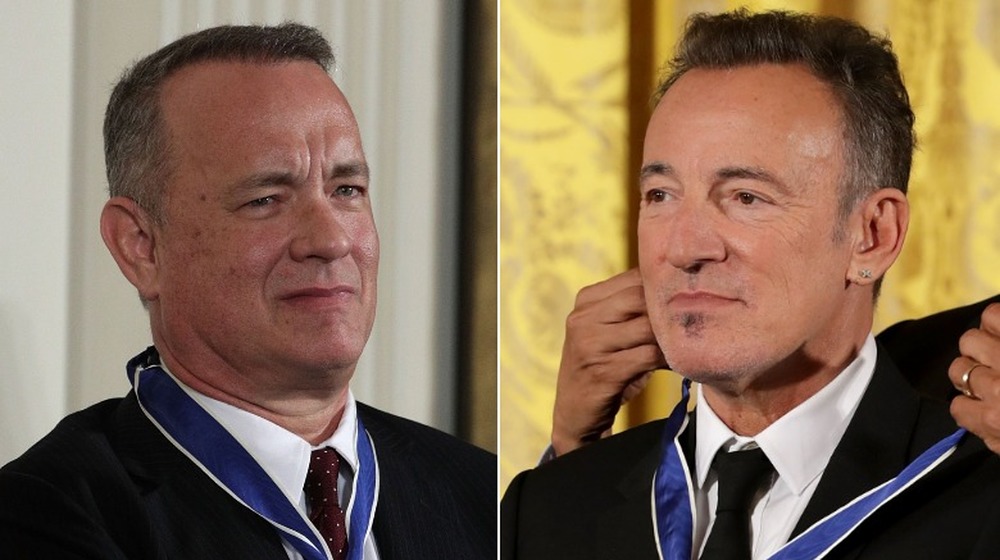 Alex Wong and Chip Somodevilla/Getty Images
Tom Hanks and Bruce Springsteen are adored by tons of fans, and they have both received one of the biggest American honors. Hanks and Springsteen were awarded the Presidential Medal of Freedom in 2016 by then-President Barack Obama. In the White House's announcement, President Obama explained why the award is such an honor. He said, "The Presidential Medal of Freedom is not just our nation's highest civilian honor—it's a tribute to the idea that all of us, no matter where we come from, have the opportunity to change this country for the better."
The Obama White House website shared information about the 2016 Presidential Medal of Freedom recipients. Springsteen was awarded the honor because his work "helped shape American music and have challenged us to realize the American dream." The Obama White House website explained Hanks was given the award for his work as an actor, and because "Hanks has advocated for social and environmental justice, and for our veterans and their families."
Both Hanks and Springsteen are humble artists, which is why so many fans adore them both. We look forward to hearing more about the friendship between the Forrest Gump star and The Boss.