The Truth About LeAnn Rimes And Brandi Glanville Today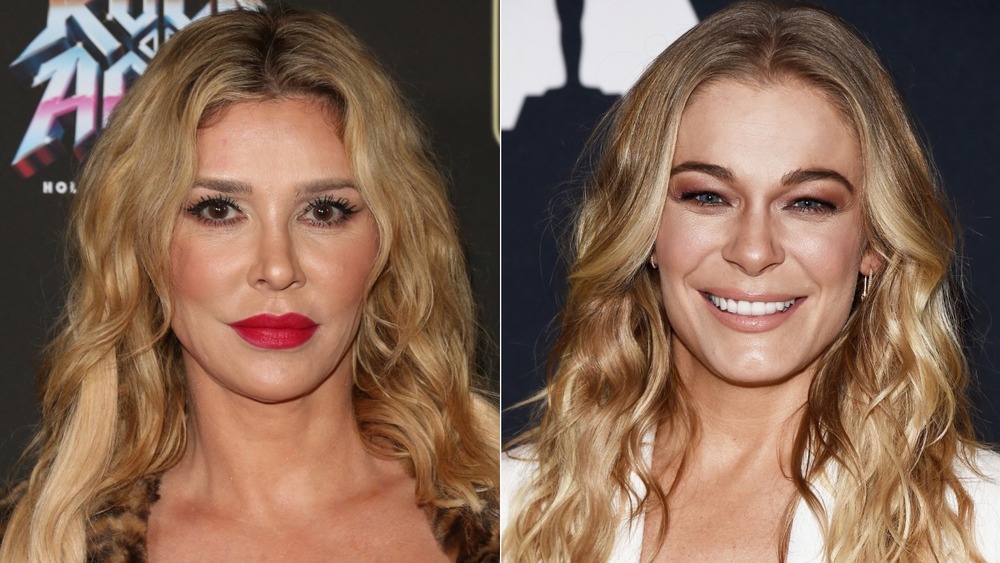 Paul Archuleta, Amanda Edwards/Getty Images
When Brandi Glanville joined the cast of The Real Housewives of Beverly Hills in 2011, her storyline revolved around her painful divorce from Eddie Cibrian. Before Brandi made her Bravo debut, she was a happily married mother who shared two sons with her actor husband. However, by the time she joined RHOBH, Brandi wasn't a housewife, she was a former housewife.
In 2009, tabloids started reporting that Cibrian was carrying on an affair with country singer LeAnn Rimes. Rimes and Cibrian reportedly met on the set of a Lifetime movie they were working on at the time, per Us Weekly. When they met on set, Rimes was married to Dean Sheremet and Cibrian was married to Brandi. The whole thing was very public and very messy, and it eventually became too much for Brandi. She left Cibrian when she discovered that he'd also had a long-term affair with Vanderpump Rules star Scheana Marie. Flash forward a few years, and Cibrian and Rimes were happily married – a bitter pill for Brandi to swallow.
She talked about Rimes and her failed marriage quite a bit on RHOBH (usually not kindly) before leaving the series in 2015, only to return as a friend/pot-stirrer in a later season. So, what is her relationship with Rimes like today? Read on to find out.
Brandi Glanville and LeAnn Rimes are committed to their family
There was definitely some bad blood when Eddie Cibrian publicly left Brandi Glanville for LeAnn Rimes in 2009. Per The Washington Post, Brandi "lashed out with two memoirs that explicitly detailed her failed marriage ... [and] slashed Cibrian's motorcycle tires ... " It took some time, but Brandi and Rimes eventually decided to put their differences aside for the kids — Brandi shares two sons, Mason and Jake, with Cibrian. 
In 2018, Brandi opened up about how she and Rimes were able to move forward for the sake of their family. Brandi appeared on the Make Speidi Famous Again podcast and claimed that she and Rimes got into an intense discussion about their past differences at a birthday party. "We just kind of had it out about what is right, what is wrong, what's better for the kids, and what bothered me and what bothered her," she explained.
It's seemingly been smooth — or at least, smoother — sailing since then. These days, Brandi, Rimes and Cibrian spend holidays and family time together. Case in point? In December 2020, Brandi shared a sweet selfie (pictured above) of herself and Rimes on Christmas Day. She captioned the photo, "Hanging with the best masked singer of all time leannrimes."