The Untold Truth Of Jared Goff's Father
Sports fanatics surely know the name Jared Goff. He is an American football player and quarterback who was selected by the Los Angeles Rams as the first overall pick during the 2016 NFL Draft. He also starred in Season 11 and Season 15 of HBO's Emmy-winning sports documentary show Hard Knocks when the Rams were the featured team. The show explores the inner lives of pro athletes and through it, fans got to learn a little bit more about Goff, especially during Season 11 as it chronicled his first year in the NFL.
Jared has been playing football for most of his life. He played college football for the University of California, Berkeley and had a very successful collegiate career. After his junior year, he decided to forgo his senior season to enter the 2016 NFL Draft. He clearly made the right choice as he was picked up by the Rams and his dream of becoming a professional football player came true. Following a difficult rookie year, he rebounded and led the Rams to their first winning season in 14 years. In 2019, he appeared in his first-ever Super Bowl against the New England Patriots.
Through all of his successes and failures, he's had his supportive parents by his side. In fact, it may surprise people to know that his father, Jerry Goff, was a professional athlete himself. Perhaps that fact contributes to Jared's obvious athleticism and talent. Keep reading to learn more about Jared's father.
Jared Goff's father was a professional baseball player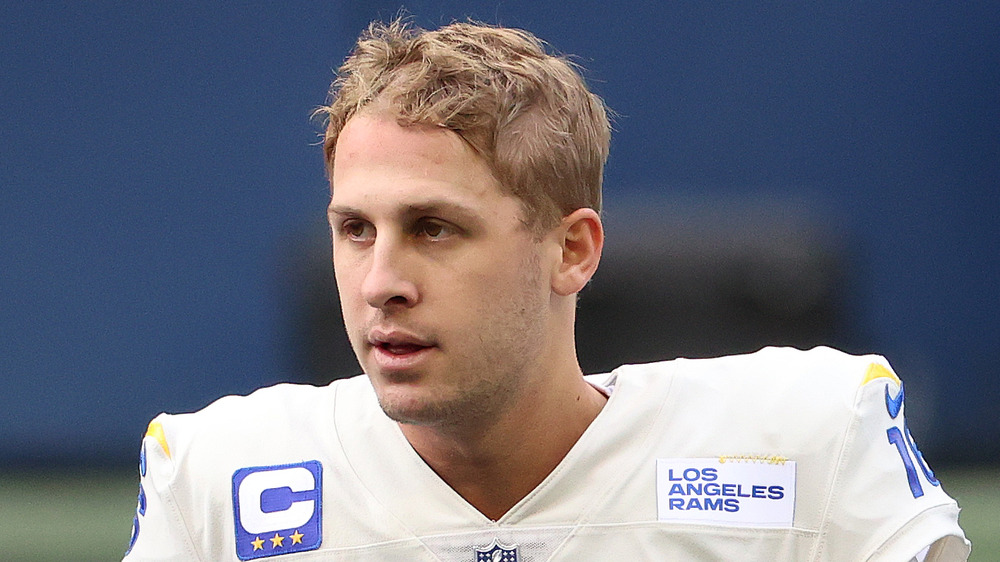 Abbie Parr/Getty Images
While football may be Jared Goff's forte, his father, Jerry Goff, was skilled more in baseball. Similar to his son, Jerry was an incredibly talented athlete from a young age. He was drafted right out of high school by the Oakland Athletics and the New York Yankees, per Heavy. He decided to forgo going pro at the time, though, and instead went to University of California, Berkeley to play ball.
Eventually, he did decide to go pro and in 1986 he was picked in the third round of the Major League Baseball Draft by the Seattle Mariners. He struggled through Seattle's minor league system before being picked up by the Montreal Expos and making his MLB debut in 1990, per Fox Sports. He went on to have a successful six-season career in the MLB, playing for the Pittsburgh Pirates and Houston Astros as well.
Jared has clearly followed in his father's footsteps, albeit for a different sport, with attending his alma mater and also making the jump to the pro level. Jerry could not be prouder of his son, too.
"He's a lot better than I ever thought about being, I'll tell you that, in his sport for sure," he told CBS's KPIX 5 in San Francisco in an interview ahead of Jared's first Super Bowl appearance. "Proud as can be. To see the progression he's made over the last couple years and throughout the course of his career. We're just happy for him more so than anything."