Lindsey Pelas' Interview With Eric Andre Was The Weirdest Thing That's Ever Happened To Her - Exclusive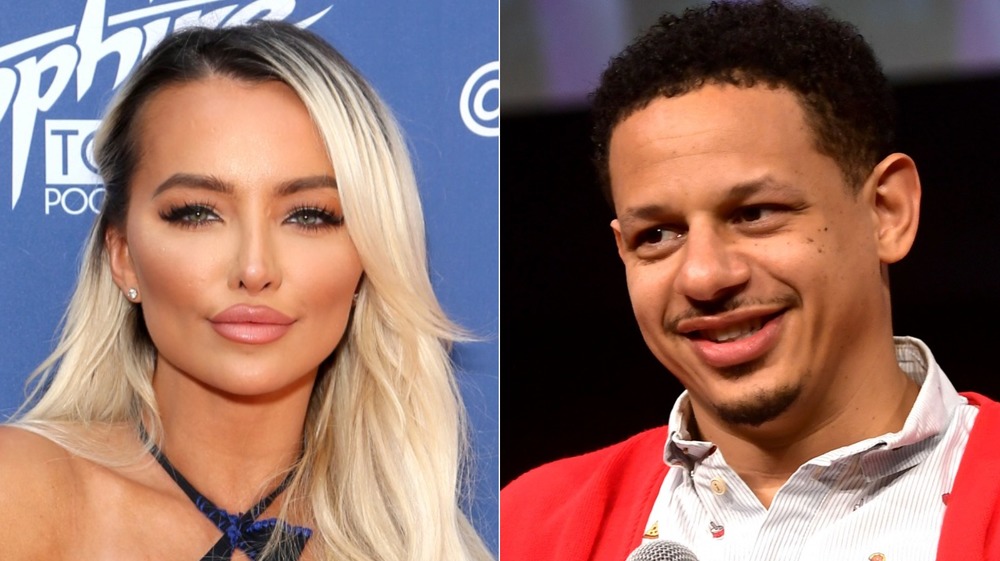 Gabe Ginsberg, Matt Winkelmeyer/Getty Images
With more than eight million Instagram followers and a successful stint on The Hills: New Beginnings behind her, it's safe to say that Lindsey Pelas is comfortable in the spotlight. However, during her 2017 appearance on The Eric Andre Show, Pelas found herself in a pretty awkward — and downright strange — position. The model and influencer appeared on a special episode called "Eric Andre Interviews the Hot Babes of Instagram," and the host definitely made sure that Pelas felt the heat during her hilarious segment on the show.
Andre started out by asking Pelas, "Now you take selfies of yourself, over and over again, on Instagram. Have you ever seen a psychiatrist?" Understandably, Pelas was left a bit speechless by the question. He subsequently asked her, "What's it like to be Instagram's number one 'it' girl?" Luckily, the "Eyes Up Here" podcast host had the perfect response to that question and replied, "Um ... I don't know, your battery has, like, a low charge all the time." However, things only got weirder from there. 
From Andre holding a beating heart in his hands to the comedian climbing under the table to make rude jokes about the Instagram star, Pelas' appearance on The Eric Andre Show must've been more than a little intimidating to film. In an exclusive interview with Nicki Swift, Lindsey Pelas revealed why her interview with Eric Andre was the weirdest thing that's ever happened to her.
Lindsey Pelas got a lot more rice than she bargained for
Discussing her wild interview with Eric Andre, Pelas told Nicki Swift: "That is the weirdest thing that's ever happened to me in my entire life, I can solidly say. It was so weird." That being said, the Sugar Taco investor noted that she had an inkling that her appearance on The Eric Andre Show might be a little unexpected. "I knew going on the show that the guests, everyone kind of sided with the guests in the discomfort of the show, you felt you're there every time you watched the guests," she explained. "So I was like, 'Whatever, it's an experience.'"
As for the moment that shocked her the most during her appearance on the show, Pelas said, "I don't know if you saw, but did you see they dumped rice on my head at the end?" Anyone who has watched the episode will remember Andre announcing that he was going to play "The Price Is Rice" with Pelas, after which a truckload of rice started falling from the ceiling on to the model's head. Pelas told Nicki Swift, "Afterwards, I had to get in an Uber and I was covered in rice and I was like, 'You don't know what I've just been through.'"
Basically, Pelas was pretty brave to appear on The Eric Andre Show, especially as she didn't know in advance what was going to happen to her. You can relive the hilarious moment now, if you dare.