The Real Meaning Behind Sarah Paulson's Tattoos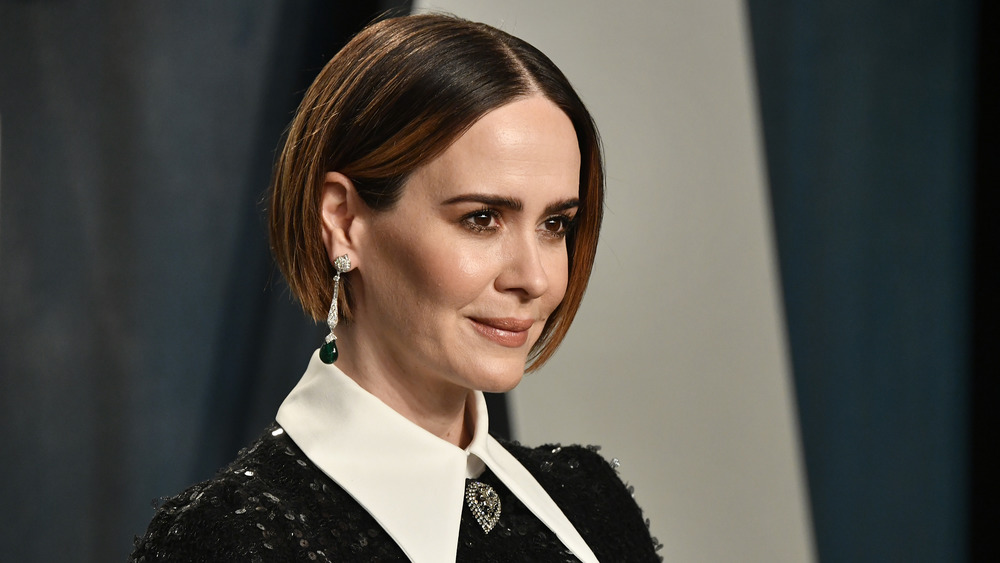 Frazer Harrison/Getty Images
Once upon a time, you'd be hard-pressed to find an award-winning actress with an impressive collection of tattoos. But times have changed — and so has Hollywood. And we're 100% here for it.
Leading lady Sarah Paulson is a prime example of the tattoo trend. The American Horror Story star has a lovely array of pieces from head to toe. And, since she doesn't seem the type to get some random ink without meaning behind it, we decided to take a closer look at the Emmy winner's tattoos. Her most recent ink seems to be an inner arm piece that she had done for her 45th birthday in December 2019, according to The Daily Mail. In a delicate script on her right arm, it quotes the Stephen Sondheim song "Move On" from the musical Sunday in the Park With George: "Anything you do / let it come from you / then it will be new."
The nod to a classic Broadway musical is a no-brainer for the actress — who has starred in two plays on the Great White Way — and the lyrics speak to Paulson's authenticity and originality. On Instagram, she thanked Los Angeles tattoo artist Winter Stone for his work. Now, let's take a look at the rest of her ink.
Sarah Paulson's tats pay homage to those she loves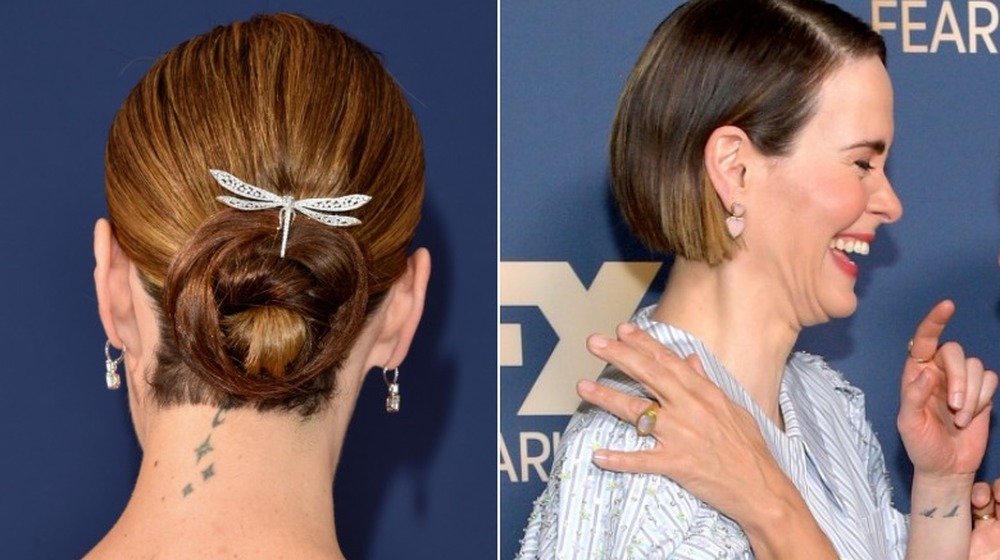 John Shearer, Matt Winkelmeyer/Getty Images
Two of Sarah Paulson's tattoos are related to those near and dear to her heart. At the nape of her neck, three stars are topped with the letter C, reportedly a tribute to her mother, Catherine Paulson. (Could she be signifying that her mother is her guiding star in life?)
An aspiring writer, Catherine raised the actress and her sister solo after divorcing her husband and moving her young daughters from Tampa to New York City, according to The New York Times. In a cast bio for the 2005 film, Swimmers, Paulson talked about her mother's strength: "My mom was 27 years old. She didn't know a single person in New York City. She got a job at Sardi's Restaurant. We lived in Queens briefly on a mattress on the floor, and then we moved to Gramercy Park."
Now, onto her wrist. In a 2018 interview with Town & Country, Paulson, who's dating fellow actress Holland Taylor, talked about the two initials tattooed on her left wrist in a bold serif font: A. M. The letters stand for two dogs she once owned, Alice and Millie, both Italian-greyhound-Chihuahua mixes.
Two more tats are a mystery — and one she considers embarrassing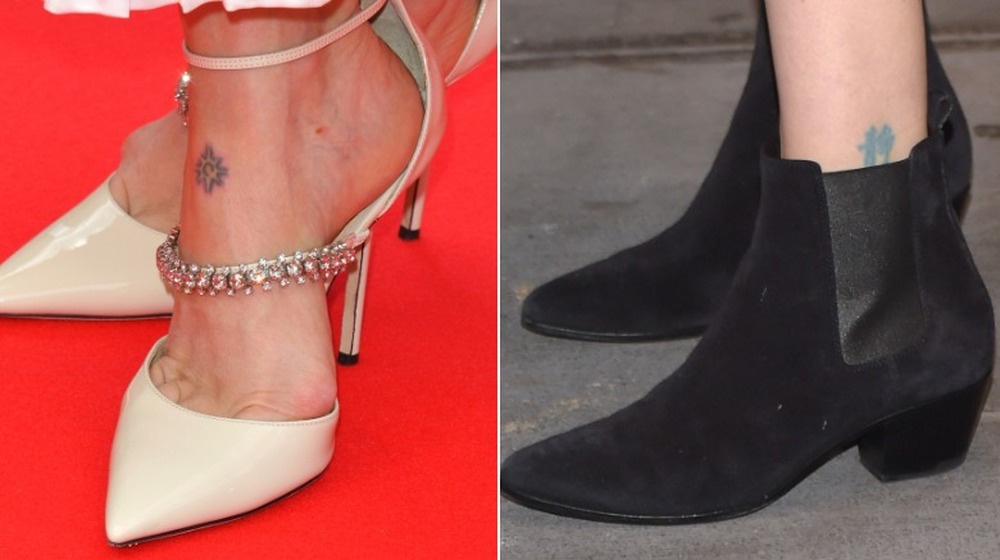 George Pimentel, J. Kempin/Getty Images
Sarah Paulson's remaining two tattoos — a starburst on her right foot and a symbol on her left ankle — are more mysterious as it doesn't seem she's spoken about them.
However, the small colorful starburst does have a C inside. Perhaps this is another nod to her mother, Catherine. Although the significance is up for debate, the starburst generally symbolizes "ambitions, desires, goals, hope, growth, and prosperity," according to Body Art Guru. As for the ankle tat? Some have described it as a Chinese symbol, but the jury is still out.
But that's not all. About seven years ago, Paulson told DuJour that she has one more tat, which she's embarrassed about: the rabbit Thumper from Bambi. Whether it's been removed or not (we couldn't find a photo of it), we love this story. "I was breaking up with my fiancé and he always used to say, 'I love that you're not a girl with 95 tattoos,'" she recalled. "And so we broke up and I was like 'Oh yeah?' (in a taunting voice). A friend of mine has a little, tiny tattoo of Kermit the Frog, but because my eyes are bigger than my stomach I made it double the size of hers and put it on my back. It's hard to remove because of the light blue color so I'm stuck with it." It goes to show that celebs are just like us: We all make mistakes.