Angelina Jolie's Rep Claims Kids Will Remain In Her Custody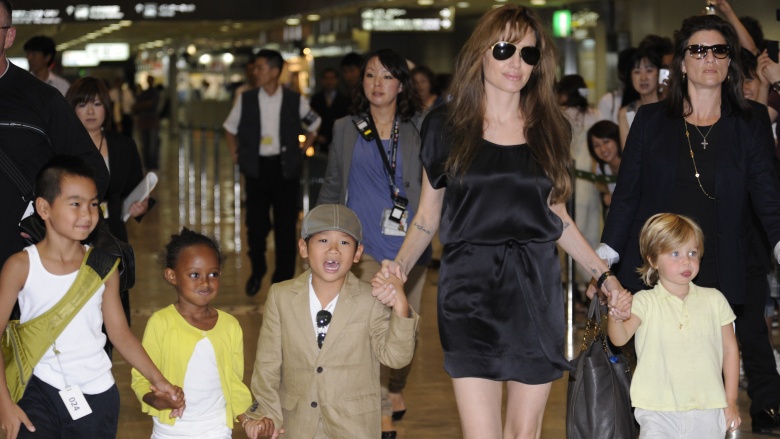 Getty Images
Brad Pitt and Angelina Jolie's divorce remains dramatic and confusing to all involved, as well as to everyone else in the world.
On Monday, Nov. 7, 2016, Jolie's rep issued a statement to the Associated Press claiming that the couple reached a settlement in their split—and quietly alluded once more to Pitt's alleged altercations and abuse.
"We can confirm that child-care professionals have encouraged a legal agreement accepted and signed by both sides over a week ago. In accordance with this agreement, the six children will stay in their mother's custody, and the children will continue therapeutic visits with their father," the statement read. "This has been determined by child-care professionals to be in the children's best interest. We are not in a position to discuss the details. We hope now that it is clear that the events which led to the dissolution filing involved minor children and their well-being, there will be understanding of the sensitivity of the family situation. We believe that all sides are committed to healing the family and ask for your consideration during this difficult time."
However, the entire story, sources later claimed, was bogus. "This doesn't make sense in light of the fact that Brad filed for joint custody on Friday," a legal expert told Us Weekly. "It had to be a temporary extension of the previous voluntary agreement in light of the fact he filed on Friday. His motion was actually filed with the court."
As Nicki Swift previously reported, Pitt, 52, filed for joint custody on Friday, Nov. 4, 2016, in his divorce response to Jolie's original filing from September 2016. Pitt currently has supervised visitation with the couple's six children, Maddox, 15, Pax, 12, Zahara, 11, Shiloh, 10, and twins Knox and Vivienne, 8. Jolie, 41, currently retains sole physical custody of the children pending investigations by the DCFS and the FBI into Pitt's interactions with the family, specifically regarding an alleged in-flight altercation with Maddox.
"There is no expiration date on the agreement," the expert continued. "The only way for this agreement to change is if both parties agree to a change or Brad must file a completely new motion to go to court." Another insider noted, "[Jolie] will retain temporary sole physical custody of the children until the investigations are closed and then they will workout custody from there."
Another source close to Pitt dished, "Brad's filing demonstrates that he's going to fight for the kids. His filing shows that he is going to stand firm on sharing custody of the kids. It's a clear sign that he's going to fight for his right for the kids."