Brad Pitt Fights Angelina Jolie For Custody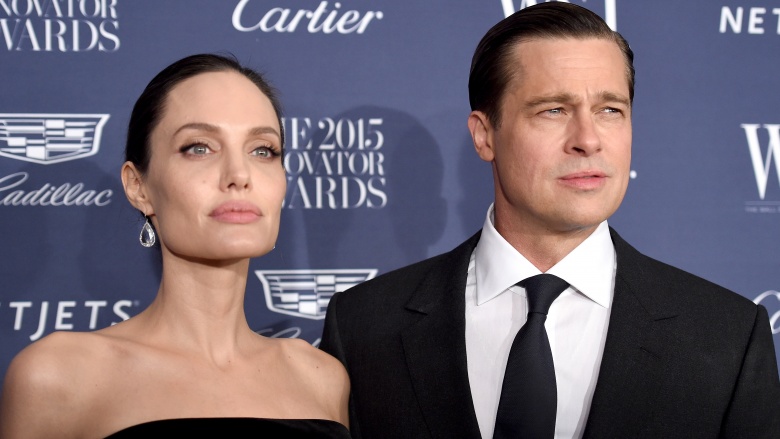 Getty Images
The Brangelina divorce may have just gotten one step closer to court, because Brad Pitt asked for joint custody of the couple's six children in his response to Angelina Jolie's filing.
Jolie's initial filing from September 19, 2016 requested sole physical custody of Maddox, 15, Pax, 12, Zahara, 11, Shiloh, 10, and twins Vivienne and Knox, 8. TMZ reported that Pitt's response to Jolie's divorce petition only takes issue with custody—every other matter, including division of property and date of separation, is not disputed. As Nicki Swift previously reported, Pitt, 52, was reportedly reluctant to rush a response to Jolie's filing for fear of traumatizing their children with a legal battle.
A source told People that Jolie, 41, is taking the move, as well as the entire split, seriously. "The kids are Angie's sole focus. She's cancelled everything else—work, everything," the insider said. "She's been home each day, supporting them, helping them with homework, been there constantly. And no, this isn't with a big staff of nannies and helpers."
Meanwhile, a separate source close to the estranged family explained, "They are still working on issues that they can't agree on. It seems their issues still involve the kids...Brad and Angie haven't had any contact, and it's all being worked out via their teams. It's just a sad situation."
The news comes on the heels of the FBI's interrogation of Jolie and the Los Angeles Department of Children and Family Services' investigation into allegations that Pitt was abusive, particularly during the family's ill-fated flight fight.
Divorce attorney Christopher Melcher, who does not represent Pitt or Jolie, explained to People that Pitt's filing may not necessarily mean the divorce will become contentious. "[Angelina] checked a box for sole custody, he checked a box for joint custody," Melcher said. "It's basically just giving notice to the other party of what their intent is." He added, "If Brad is unhappy with the time Angelina is giving him with the kids, because she is really in control of that right now, then it's on him to go to court and ask for a custody order. You really can't make an agreement without trust and communication," Melcher continued. "I think what Brad is doing is wise because he seems to be following whatever DCFS recommended. He's helping to restore trust, and then hopefully that will lead to communication, and then they can resolve this."
Don't expect Jolie to go down without a fight. Sources told TMZ the Oscar winner is willing to battle it out for sole physical custody of the couple's children "until [Pitt] gets his s**t together," offering Pitt only monitored visitation. Jolie alleged Pitt has "substance abuse and anger issues" that must be dealt with before they can adopt a "normal" co-parenting arrangement, adding, "[It looks like] War of the Roses redux."