What You Didn't Know About Larry King's Ex-Wives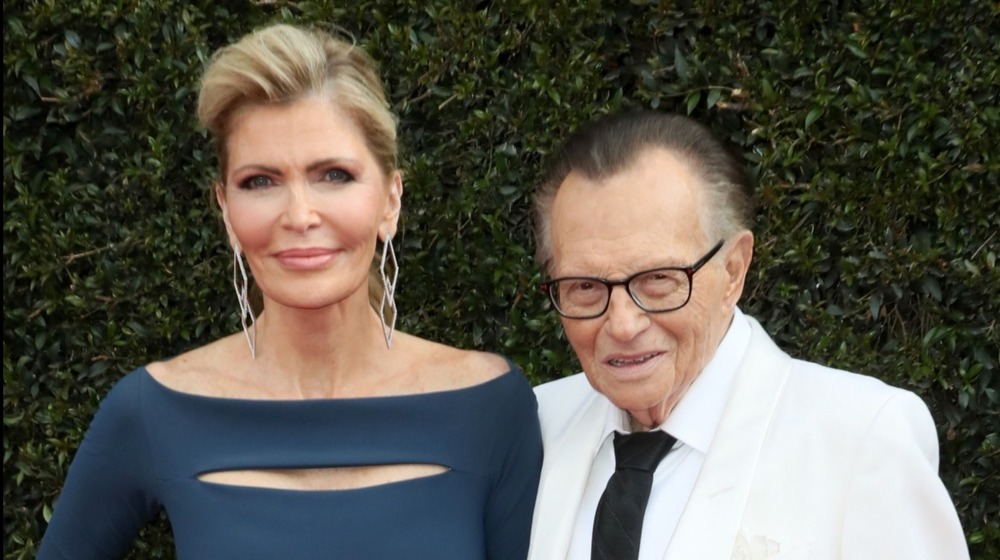 David Livingston/Getty Images
Larry King is making headlines in January 2021 as he battles COVID-19, which also means his personal life has come under the spotlight. What you may not know about King is that he has seven ex-wives and eight marriages. In fact, King and his seventh wife, Shawn Southwick King, are currently estranged and in the process of divorcing. The TV icon filed for divorce after 22 years in 2019. The soon-to-be-divorced couple shares two college-aged sons, and the biggest reason for their split was the big age difference and religion. King is an agnostic atheist and she is a religious Mormon (via People).
According to The Daily Mail, King once claimed to have truly loved only a few of his wives. He admitted in 2009, "In retrospect, I only loved three. The current, of course, and two previous." In King's confession, the talk show host was referring to Southwick King. Meanwhile, King's sixth wife was businesswoman Julie Alexander in 1989. Alexander told Inside Edition in 2010, "We just bumped into each other, and there was a halo, and it was probably as close as possible to cupid throwing an arrow in my heart." Alas, their union lasted three years before they divorced.
The talk show host married production assistant, Sharon Lepore, as his fifth wife in 1976. King and Lapore were married for seven years and there was never a public announcement about the reason for their breakup (via Anomama). And those are just a few of his exes. Buckle in for the rest of the story about King's past wives.
Larry King's love life is pretty complicated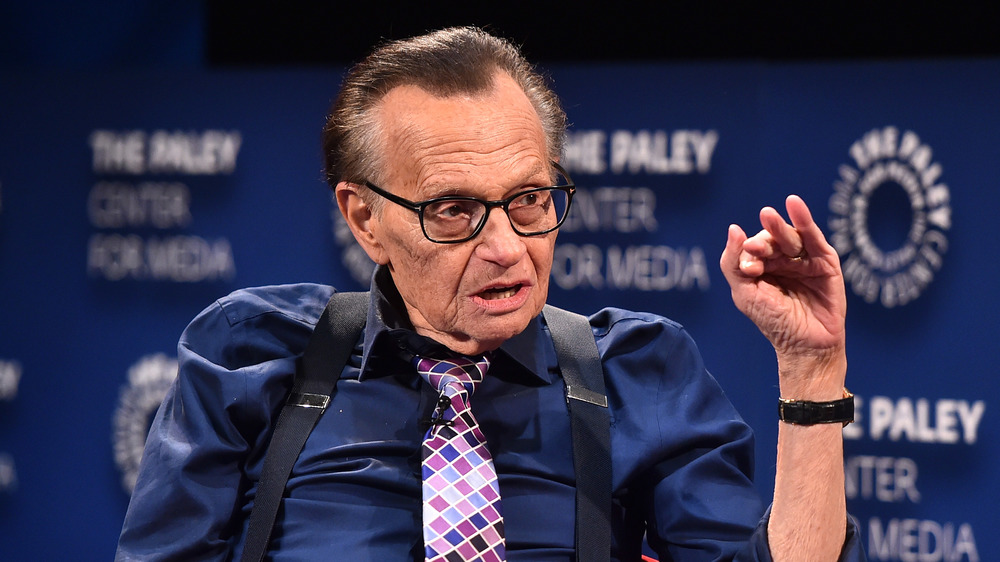 Alberto E. Rodriguez/Getty Images
Larry King is famous for his successful career and for his many ex-wives. King's personal life is complicated — he's the father of five (or six) children. Alene Akins holds the honor of the only wife that King married twice. The first time the Playboy bunny and the talk show host walked down the aisle in 1961, their wedded bliss only lasted two years. However, during Akins and King's first marriage, he adopted Akins' son, Andy, from a previous relationship.
Follow along, because here's where King's love life gets really complicated: After King and Akins divorced, the former host of Larry King Live married Mary Francis "Mickey" Sutphin. According to The Daily Mail, King's marriage to Sutphin lasted four years and the couple apparently shared a daughter Kelly, but the details surrounding King's mysterious daughter are thin. Many biographies about King mention that he's the father of five children, not six. Why is that?
After King and Sutphin (and daughter?) split, the talk show icon married Alene Akins again. Their second walk down the aisle in 1969 resulted in their daughter Chaia, but the two spent only three years in blissful matrimony the second time around. Page Six reported that when Akins' died in 2017, King tweeted about his former wife, "So very saddened over the passing of Alene Akins, who died peacefully with our children Chaia and Andy by her side. She was a grand lady."
Larry King's life could be a reality show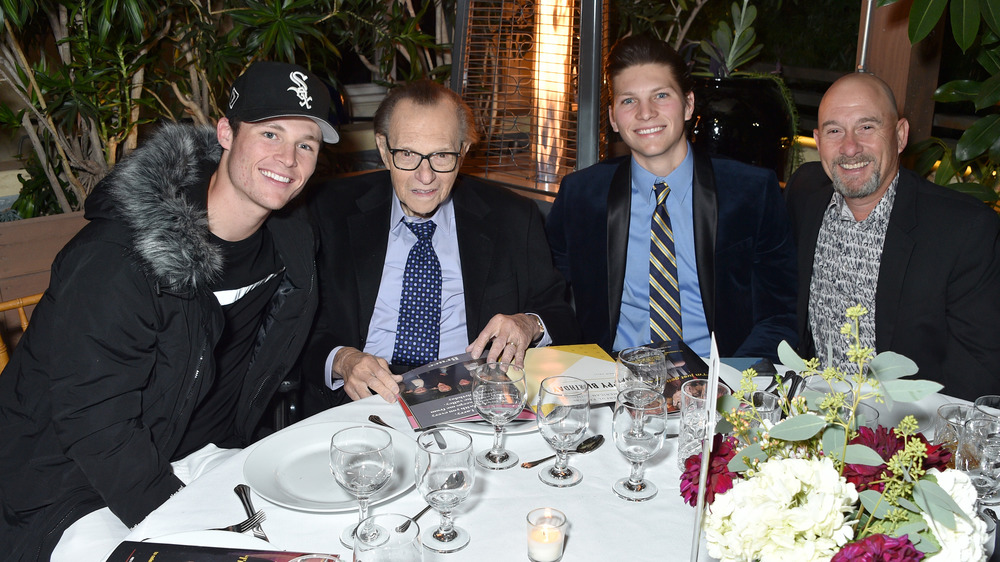 Gregg Deguire/Getty Images
Now that we've outlined some of the details of TV legend Larry King's love life, it's pretty clear that with King's seven wives, eight divorces, and all his children (some pictured above), it's like a real-life reality show. The first time King walked down the aisle, he married Freda Miller in 1952. The talk show legend was only 18 years old. Miller and King were only together one year, and their marriage was annulled (via People).
Annette Kaye was Larry King's second bride in 1961. King and Kay shared a short marriage, but they had a son during their union. The New York Post reported that King didn't meet his son Larry Jr. until over 30 years later when Kay was battling terminal cancer and his ex-wife confessed they shared a son. 
The drama of King has endured over the last few years has seemingly taken a toll, and 87-year-old King has faced his share of health struggles, including his current fight against COVID-19. According to The Daily Mail, "King has had numerous health issues, including a heart attack, prostate and lung cancer, and type two diabetes." In 2019, the host had a near-fatal stroke and initiated a divorce. The year 2020 was his worst year yet, because King lost two children. His son Andy died of a heart attack; just weeks later his daughter Chaia died from lung cancer. 
Tons of fans are wishing King well as he battles COVID-19.