Dr. Dre's Net Worth: The Music Mogul Is Worth A Ton Of Money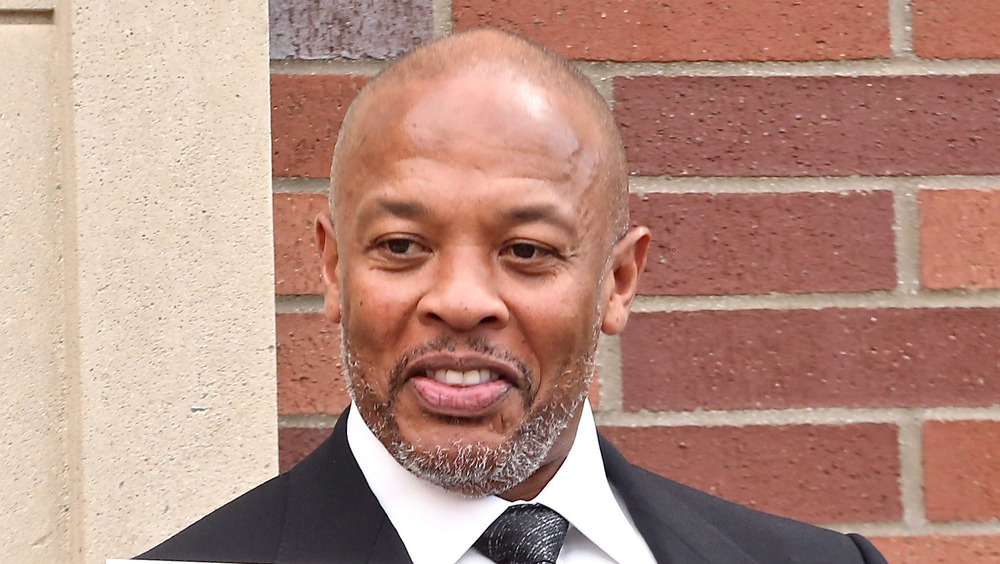 Robin L Marshall/Getty Images
Dr. Dre — who's been going through a contentious divorce with his estranged wife — suffered a brain aneurysm on Jan. 4, 2020 and was rushed to Cedars-Sinai Medical Center in Los Angeles (via TMZ). The following day, he posted a message on his Instagram account thanking the medical team that saved his life, writing, "Thanks to my family, friends and fans for their interest and well wishes. I'm doing great and getting excellent care from my medical team. I will be out of the hospital and back home soon. Shout out to all the great medical professionals at Cedars. One Love!!"
The rapper and producer first came into public consciousness in the '80s as a founding member of N.W.A, the gangster rap group. In 1992, he released an album as a solo artist called The Chronic and is celebrated as one the most influential of the era (via Washington Post). In 2020, the Library of Congress selected Dre's first solo album to be preserved for the National Recording Registry.
In other words, his impact on music is undeniable. So, how does that success translate to his bank account?
Where does Dr. Dre get all his money?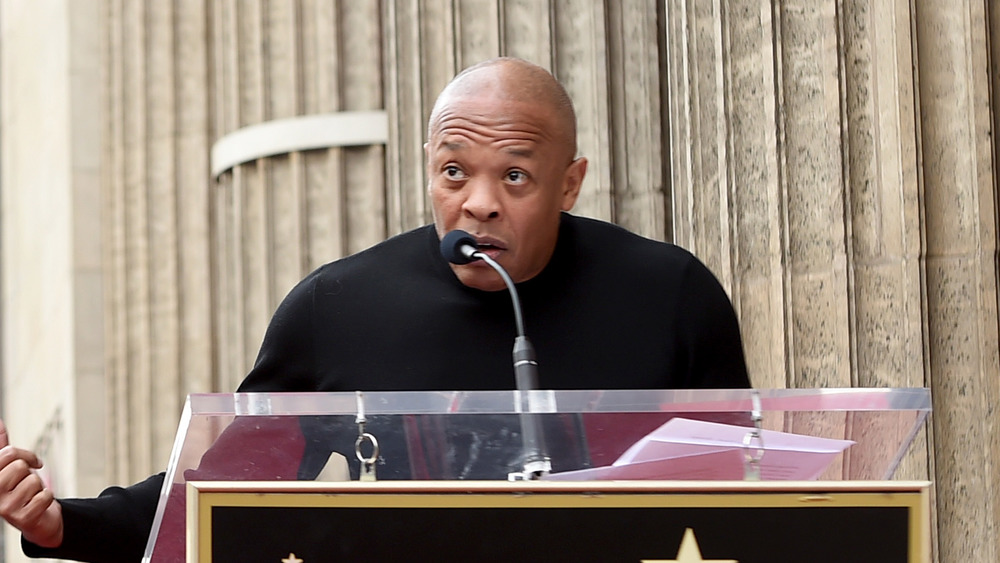 Kevin Winter/Getty Images
According to Forbes, Dr. Dre's net worth in 2019 was $800 million, up from $35 million in 2018. That put him at number two on Forbes' list of Richest Rappers in 2019, only beat out by Jay-Z. He's helped launch the careers of some of music's most celebrated artists, including Eminem, Snoop Dogg, 50 Cent, Kendrick Lamar, and Anderson .Paak (via Hot New Hip Hop). The six-time Grammy winner also produced Straight Outta Compton, a movie about the rise and fall of his rap group N.W.A, which was nominated for Best Original Screenplay at the Oscars (via IMDb).
Aside from his extensive backlog of music that keeps his pockets lined, Apple bought the hip-hop producer's Beats by Dr. Dre headphone line for $3 billion in 2014. At the time he owned 20-25% of the company, per Forbes. Apple paid $2.6 billion in cash upfront, $295 million was assigned to cover debt payments, leaving Dre with over $500 million, Forbes reported.
Despite Dre's self-proclaimed billionaire status, Forbes does not declare him a billionaire just yet due to some of his past purchases which include Tom Brady and Gisele Bundchen's $40 million L.A. home (via the Los Angeles Times). The rapper is also extremely charitable — he gave $70 million to the University of Southern California to start a new academy (via USC).
While the "No Diggity" rapper hasn't crossed the billionaire threshold yet, he is well on his way.