The Truth About Dr. Dre And Snoop Dogg's Relationship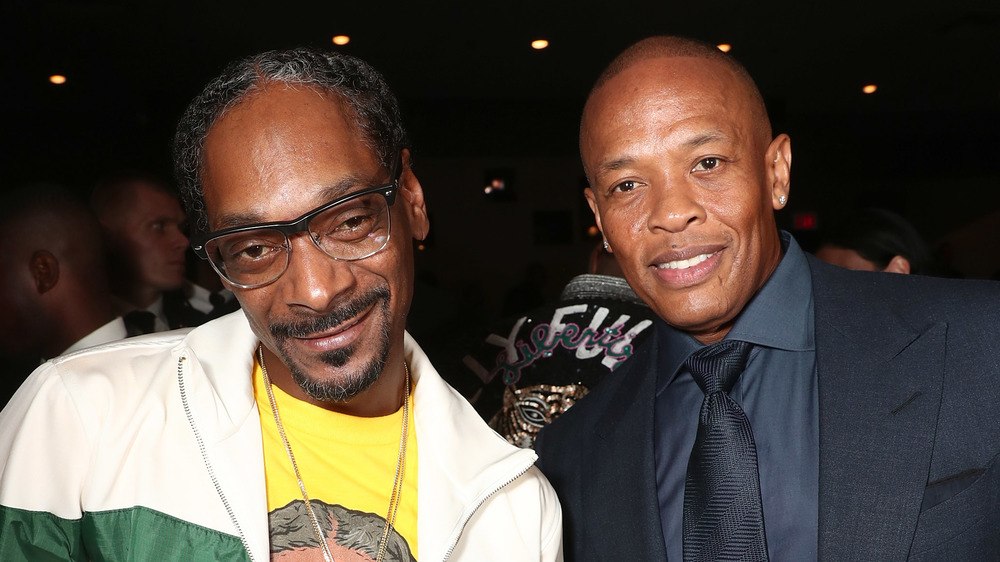 Todd Williamson/Getty Images
In January 2021, Dr. Dre was admitted to the hospital following a brain aneurysm, per TMZ. When that news became public, Dr. Dre's longtime friend and protégé, Snoop Dogg, posted a video of them performing and wrote, "GET WELL DR DRE WE NEED U CUZ." While Dr. Dre recovers in the care of doctors and nurses, he knows that he has Snoop Dogg in his corner, which has been the case for over 30 years. The rappers have been collaborators and close friends ever since they worked together on Dr. Dre's debut solo album, The Chronic, which got released in 1992, per Billboard.
Although they proved to be the perfect pair working on The Chronic, it wasn't actually that easy to get the two of them together. Snoop Dogg thought he was getting prank called when his eventual mentor initially reached out, according to NME. In the HBO documentary The Defiant Ones, Snoop said he hung up in disbelief that it was actually Dr. Dre on the phone. Then he called back, and the two met in the studio that following Monday.
Snoop shared more details during an interview with Club Shay Shay in October 2020, giving Dre's half brother Warren G credit for bringing the two of them together. At a bachelor party, the music cut out, and Warren G put on some music he made with Snoop and Nate Dogg. Dre liked the tape, so he reached out to Snoop, and the rest was history.
Snoop Dogg sees Dr. Dre as 'the perfect father figure'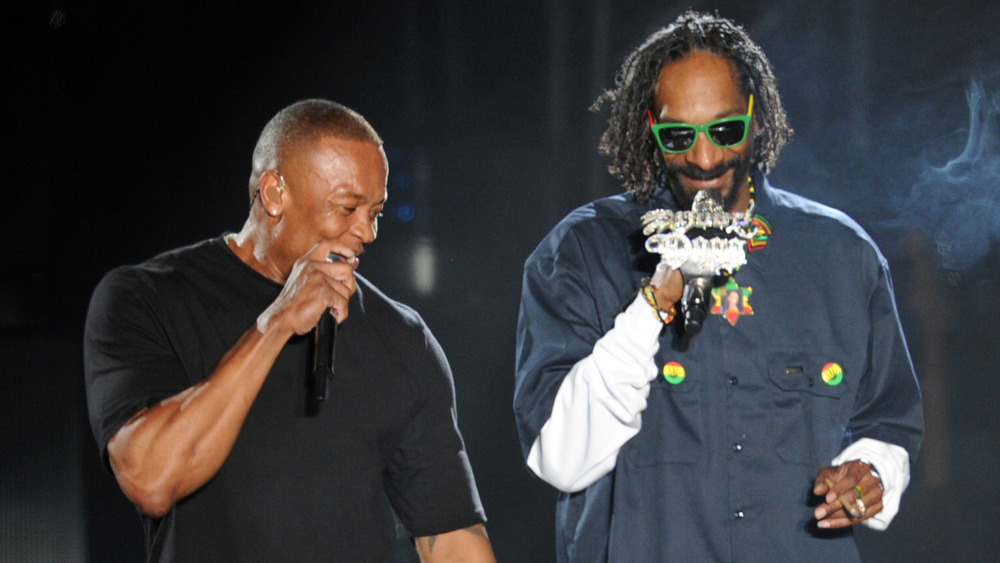 Kevin Winter/Getty Images
Snoop Dogg was not always the superstar that the world knows today. In fact, he actually credits Dr. Dre as "the one who seen the rock in the corner that could become a diamond," which he conveyed during a Club Shay Shay interview in 2020. He compared his mentor to famed New England Patriots coach Bill Belichick because he's able to "bring out the best" in him. Snoop said, " [Dre] showed me how to find me so that way when I stepped away from him I was able to grow and continue to be me and always keep that love for him to where we always got that open, close relationship where there's never an argument between me and him."
Snoop Dogg even described Dr. Dre as "perfect father figure, role model, mentor, and producer" when he appeared on Windy City Live in 2018. The "Drop It Like It's Hot" rapper recounted, "At the time because I was young, I was wrong, but I needed direction and I needed some... sculpting and he was able to shape me and mold me and teach me the right way of how to do it." Snoop added, "I've always respected the fact that he was willing to teach me when I was not who I am today." Once again, he compared himself to a rock, emphasizing that Dr. Dre saw "the diamond in" him before anyone else ever did.
Dr. Dre and Snoop Dogg became 'family'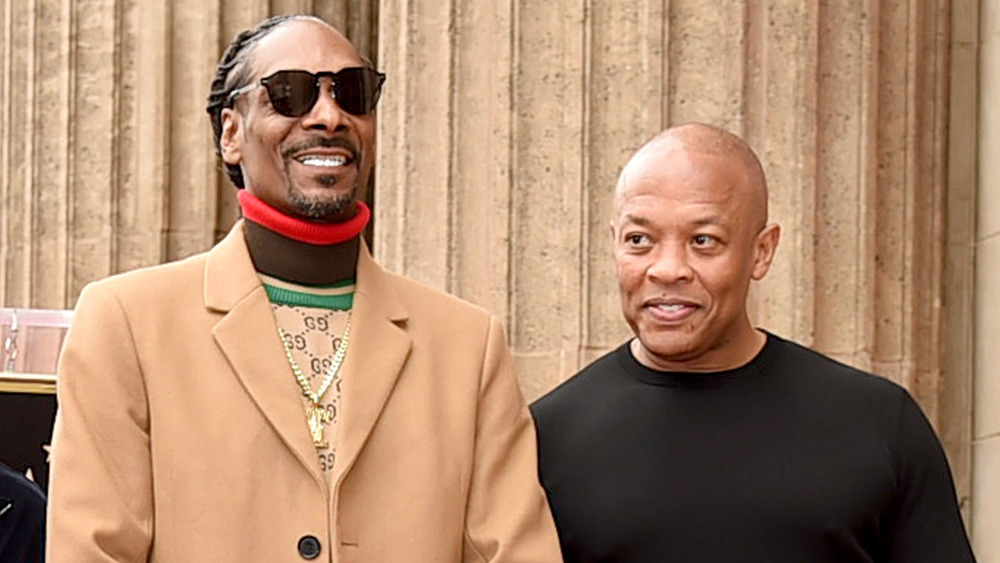 Kevin Winter/Getty Images
In 2018, Snoop Dogg received a star on the Hollywood Walk of Fame. When he received the honor, Dr. Dre was on hand to speak about his history with the rapper. He recalled, "Back in the day, Snoop came to me at a very low point in my life," admitting, "I had no money for food. I didn't even have furniture in my house." At that point, he had to "start completely over from scratch," admitting that creating his album The Chronic was a "make it or break it moment" in his life. Like Snoop has in many interviews, Dre described Snoop as a "true diamond in the rough."
The NWA alum shared, "Snoop is always there for me, ready to work, and constantly motivating and pushing me and making me believe I could do it. I mean, I could always hear his voice in my head." He even remarked, "I cannot imagine where I'd be in my life if I had not collaborated with Snoop," acknowledging that the two of them "became family." 
He shared that a cornerstone of their relationship is that neither of them has ever told each other "no," explaining, "We always show up for each other no matter what that is. Just imagine having a person like that in your life for almost 30 years." The two of them have been there for each other both personally and professionally for decades, which is truly special.