The Real Reason Shia LaBeouf And Margaret Qualley Split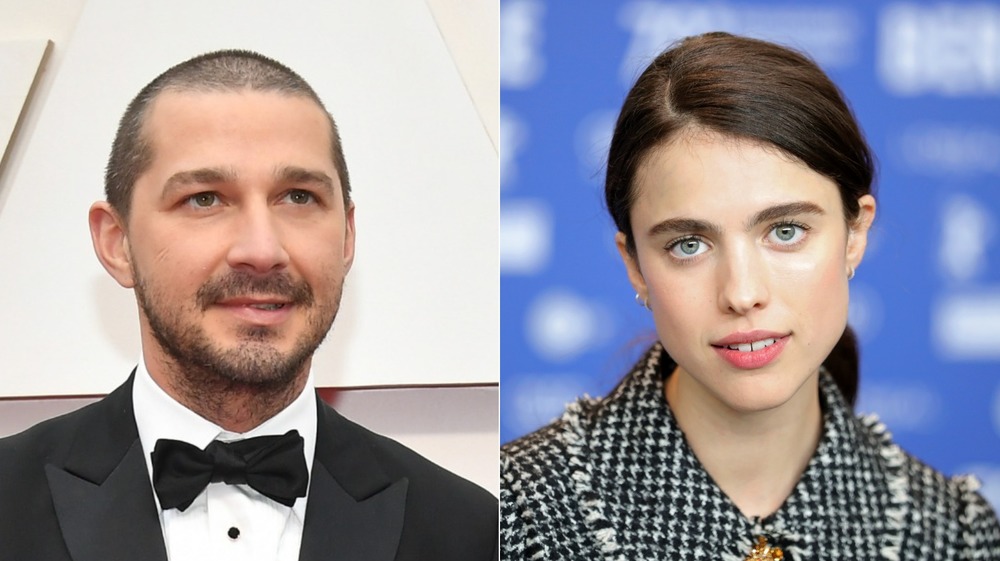 Amy Sussman, Andreas Rentz/Getty Images
On Jan. 5, 2021 Daily Mail shared photos of Margaret Qualley "gazing adoringly" at Shia LaBeouf, which is typically a normal sighting for a couple. However, LaBeouf is in the midst of some very public legal drama; his ex FKA twigs accused him of sexual and physical assault in a lawsuit that she filed in December 2020. After going public with her claims, Sia publicly supported FKA twigs and shared similar claims about her own relationship with LaBeouf. Meanwhile, LaBeouf and Qualley appeared to be going strong in their own romantic relationship. 
People reported that Qualley and LaBeouf were photographed holding each other's hands while they hiked in Los Angeles, California on the day after Christmas. The outlet also shared that LaBeouf was seen picking up the actress at the LAX airport in December 2020 in addition to other public displays of affection. This led to some backlash on social media, with one Twitter user sharing, "I always thought Margaret Qualley was cool. Why tf is she making out with Shia LaBeouf days after the abuse allegations?" Another person tweeted, "margaret qualley dating shia labeouf now she seriously needs professional help." 
In addition to the social media posts from strangers, a source told Us Weekly that Qualley's mother Andie MacDowell has been "keeping an extremely close watch on" her relationship with LaBeouf. Apparently, there's no need for that anymore, as People reported that the relationship is over while he's in the midst of scandal. Here's what we know. 
Did Margaret Qualley dump Shia LaBeouf in response to backlash?
Amy Sussman, Albert L. Ortega/Getty Image
On Jan. 7, 2021, People claimed that Shia LaBeouf and Margaret Qualley split up, with an inside source telling the magazine that they actually called it quits on Jan. 2, 2021. This same person claimed, "They're just in different places in their lives." A different source claimed that Qualley knew about the backlash against LaBeouf resulting from the allegations made by FKA twigs, but it's unclear how that lawsuit may have factored into their breakup.
Nevertheless, the actress is reportedly shifting her focus to professional life instead of her love life since she is apparently "ready to get back to work," which includes filming a movie with Margot Robbie in Canada. As of this moment, Qualley herself hasn't publicly acknowledged her relationship with LaBeouf while they were together, let alone after they split up. Even as there are plenty of people invested in following this case against him, don't count on Qualley having too much to say about it, at least publicly.