The Truth About Tucker Carlson And Donald Trump's Relationship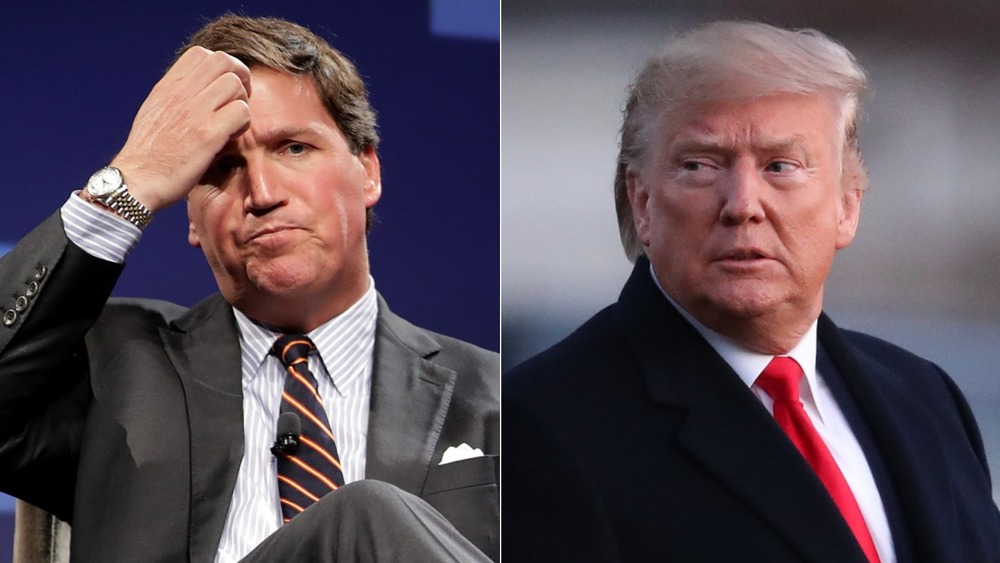 Chip Somodevilla, Mark Wilson/Getty Images
In the days following Jan. 6, 2021, in which thousands of rioters loyal to President Donald Trump stormed the Capitol building in an attempt to prevent Congress from certifying the 2020 election results, a number of Trump's closest allies have finally broken rank after the lame-duck president failed to quell what many have called a de facto coup on American democracy, as per Politico. Only a day after the violent events, which left four rioters and one Capitol police officer dead, according to CNN, Tucker Carlson used his Jan. 7, 2020 broadcast on Fox News (via The Hill) to resign — but only to a point.
Carlson, who has frequently defended the actions of Trump and his administration ever since he assumed office in 2016, seemingly called out the president's behavior towards the rioters — behavior which many have argued Trump himself directly caused in a rally he held shortly before the insurrectionists broke into the Capitol building. But while Carlson accused Trump of "recklessly [encouraging]" the rioters, was Carlson's call-out actually sincere? And how will it affect any future relationship with Trump? Read on after the jump to find out.
Tucker Carlson called Trump's behavior 'reckless'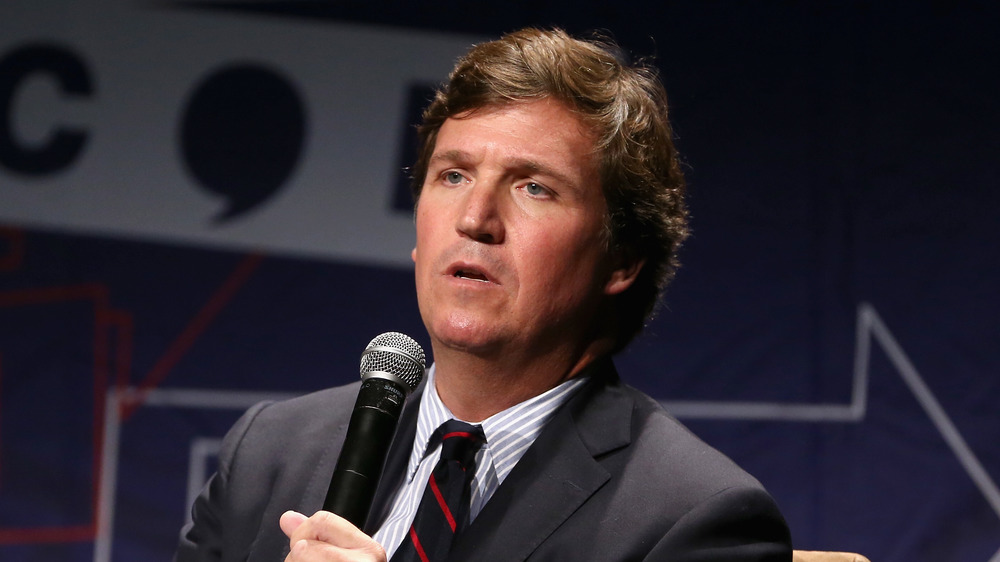 Rich Polk/Getty Images
While Tucker Carlson's condemnation of Donald Trump's failure to halt — and his decision to stoke — the stream of rioters who stormed the Capitol building on Jan. 6, 2021 might have seemed like a general disavowal, many took it as only a surface-level attempt at back-tracking. The reason? While Carlson called Trump's behavior "reckless," he also expressed what some thought was an alignment with the rioters, categorizing the event as a "political protest" that "got out of hand."
"The Trump protests...[are] being used as a pretext for an unprecedented crackdown on civil liberties," Carlson contended (via The Hill). He then went on to claim that "people in positions of power and authority [are] demand[ing] that those who support Donald Trump should no longer be allowed to publish books or use the internet or fly on airplanes." Carlson also allowed a guest on his program to speculate that the rioters, which were identified (and self-identified) as far-right Trump supporters, were actually Antifa protestors in disguise — a notion which was thoroughly debunked by fact-checkers.
Despite Carlson's own condemnation of Trump, the pundit seemingly deflected his own statements by criticizing the public at large for "putting all of [the country's] energy" on "denouncing Donald Trump as a terrorist and a murderer" with regards to the Capitol riots. Whether or not this will be enough for Carlson to retain a relationship with Trump has yet to be seen — but a look at their overall relationship might provide answers.
Tucker Carlson defended Donald Trump's supporters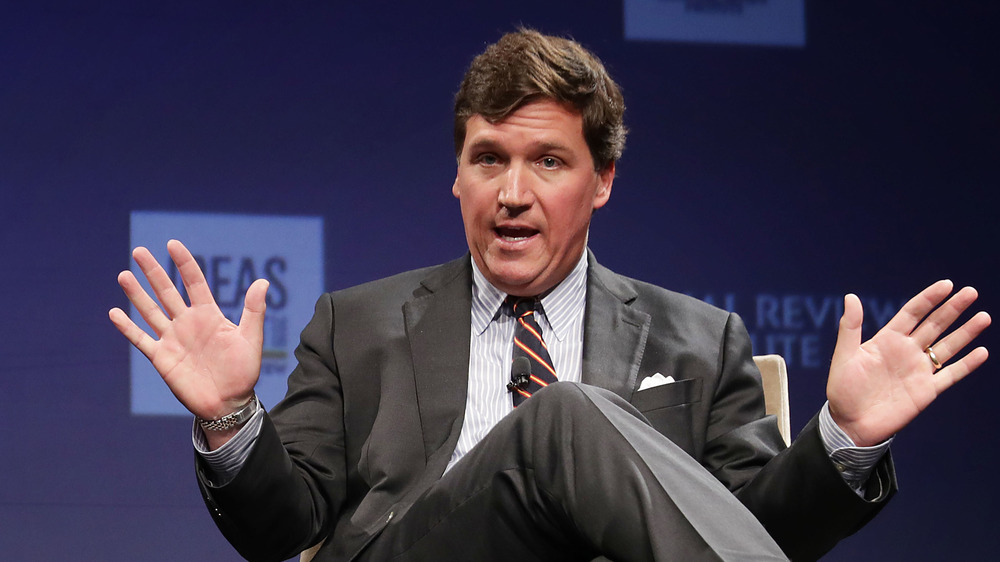 Chip Somodevilla/Getty Images
While the actions of President Donald Trump on Jan. 6, 2021 have largely been castigated by members of the American public on both the right and the left — and might seemingly be a major factor in Trump purportedly considering to pardon himself before leaving office – it doesn't mean that Trump loyalists will abandon him completely.  
Though Trump's relationship with the conservative network Fox News has been strained ever since losing his bid for reelection to President-elect Joe Biden, comments made by Tucker Carlson during his Jan. 7, 2021 broadcast of Tucker Carlson Tonight might indicate that the conservative host isn't necessarily severing ties to the outgoing president. And while Trump and Carlson might share ideological similarities, it might just come down to a numbers game.
As The Guardian noted in a July 2020 write-up of Carlson's ongoing relationship with Trump — specifically, his loyalty to him throughout the four years of his presidency — part of the relationship might have to do with Carlson's overall television ratings, which at the time had "topped previous records" on the Fox News network, and with Carlson averaging an audience of 4.3 million viewers per night, many of whom are Trump supporters themselves. So while Carlson's latest comments on Trump's conduct might have been less than glowing, it seems that, in the end, it might just be an incidental outlier for both the host and the outgoing president.