The Real Meaning Behind All About That Bass By Meghan Trainor
Noam Galai/Getty Images
When it comes to upbeat pop music, Meghan Trainor is truly a voice of her own. The Massachusetts native really came to national attention when her hit song "All The Bass" debuted in 2014. 
"Yeah it's pretty clear, I ain't no size two / But I can shake it, shake it like I'm supposed to do / 'Cause I got that boom boom that all the boys chase / All the right junk in all the right places," she sweetly sang. "I see them magazines workin' that photoshop / We know that s**t ain't real / Come on now, make it stop." 
The song went on to win two Billboard Awards in 2015 for Top Hot 100 Song and Top Digital Song, but while the song was a huge success, its backstory isn't necessarily a happy one for the singer. On the surface, the song is about embracing body positivity, but the track came out of a challenging period in Trainor's life. Keep scrolling after the jump for the real meaning behind the popular song and why it carries a bittersweet memory for the songwriter. 
All About That Bass is all about that body positivity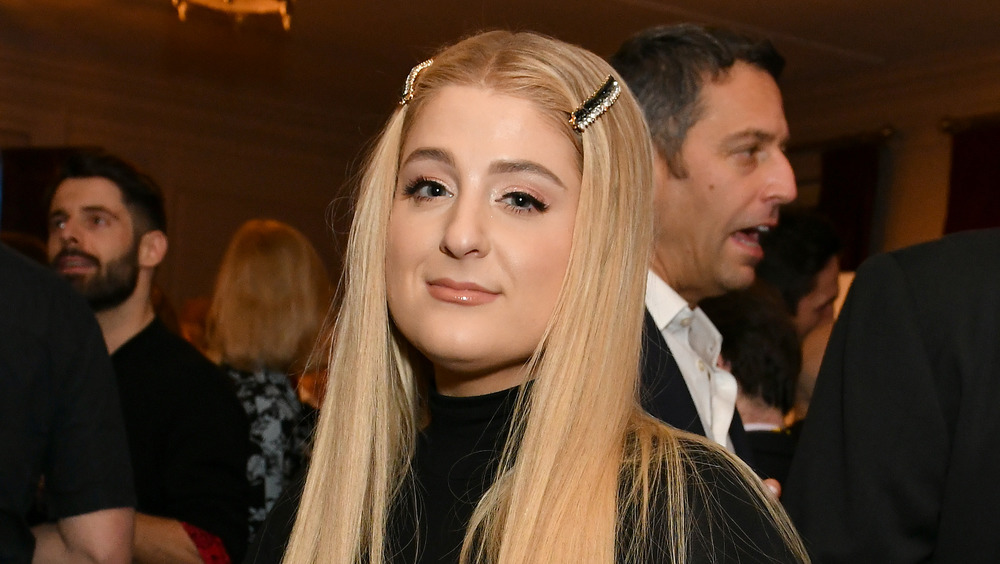 David M. Benett/Getty Images
Even though the lyrics are pretty clear on the messaging behind the upbeat song "All About That Bass," there's a bit more behind it. In an interview with Billboard, per Vulture, Meghan Trainor explained, "You know how the bass guitar in a song is like its 'thickness,' the 'bottom'? I kind of related a body to that."  
While the track has attracted criticism from feminists for a variety of reasons, Trainor also had some criticisms about her own writing process. During a December 2020 interview on the Getting Curious with Jonathan Van Ness, the soon-to-be new mom explained what it was like recording the song. 
"I was just so insecure. Like, the lyrics of 'All About That Bass' are so opposite of what I was feeling at the time," she revealed. "Because people would look at me and they would say... 'You're a great songwriter' and I'd be like, 'So you don't see me on stage? Like, you don't see me as a performer?' And I would make jokes, shame jokes about myself. I was like, 'I know, I'll get my body right by 26, and then I'll go be a pop star.'"
Trainor's first hit proved to be the song that changed everything. "'All About The Bass' dragged me out of that," Trainor said. "Because they blindly said, 'Well, whoever's singing this song, go get her.'" Not only was the song a confidence boost for its listeners, but it also helped Meghan Trainor in the exact same way.