The Real Meaning Behind Work By Rihanna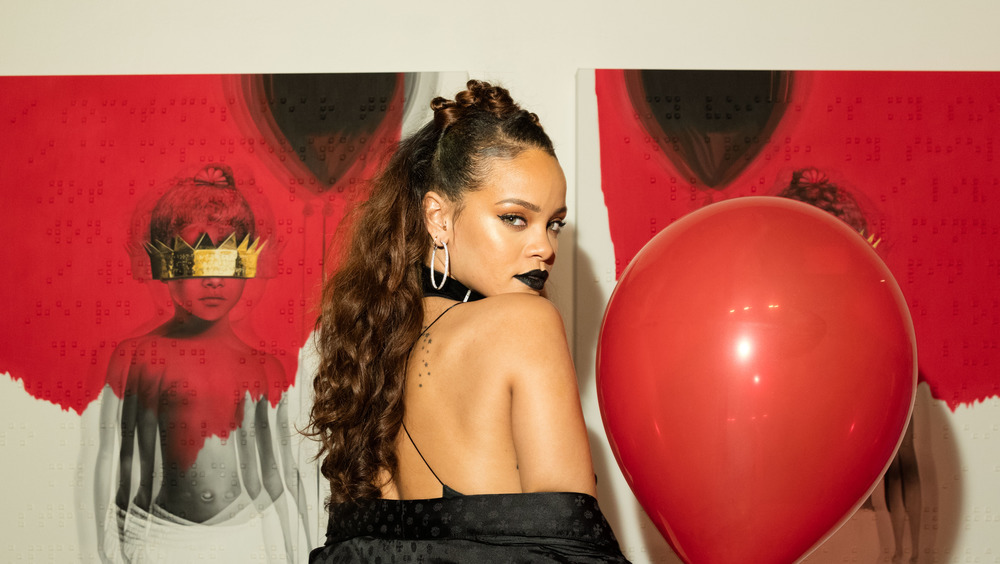 Christopher Polk/Getty Images
As Rihanna stays busy with her many successful business ventures, it seems that releasing new music has fallen further and further down her list of priorities — the singer hasn't released a studio album since 2016, and her last release was a feature on PARTYNEXTDOOR's March 2020 single "Believe It." Luckily for those who love Rih's music, she's already released eight chart-topping albums that have totally stood the test of time. One of Rihanna's most timeless singles is "Work," featuring Drake. The song appeared on her 2016 album Anti and came alongside a sultry music video, and it's remained in rotation over the years as a perfectly danceable party song.
The dancehall single was a return to Rih's Caribbean roots, as showcased in many of the lyrics, including the chorus: "He said me haffi work / He see me do me dirt / So me put in work / When you ah go learn / Me nuh care if him hurt." At first, some listeners in the U.S. could barely make sense of certain lines in the song, accusing the singer of singing in "gibberish." Far from nonsensical, the lyrics are actually written in Jamaican patois, and Rih puts a perfectly Barbadian flair on her enunciation. "You get what I'm saying, but it's not all the way perfect," Rihanna told Vogue by way of explanation in 2016. "Because that's how we speak in the Caribbean." Here's the true meaning of Rihanna's "Work."
Rihanna sings about being bored with her lover
While Rihanna is from Barbados, her song "Work" is in Jamaican patois. Several of the writers and producers on the track are Jamaican-Canadians, per Billboard. With some parsing, even those who don't understand patois can understand the song's relatable lyrics.
The title of the song, "Work," is Jamaican patois for "sex." Per Genius, the chorus translates to: "He said I have to work / He saw me doing my dirt / So I better work / When are you going to learn / I don't care if he's hurting." Like many dance songs, the song is ultimately about romance and sex. Rihanna plays the role of a carefree woman who's not afraid to express desire and couldn't care less about her lovers' feelings.
In the first verse, Rihanna sings, "Dry! Me a desert him / Nuh time to have you lurking." The word "dry" means boring, and Rih is basically expressing that she's unimpressed with her man, and that she's ready to leave him (which might have something to do with all that "dirt" she's doing). She goes on to sing, "Nuh badda text me in a crisis" which means, "Don't bother texting me in a crisis." Harsh! But the rest of the song has a bit more softness to it.
Rihanna has some mixed feelings too
Also in the first verse of "Work," Rihanna sings lines like, "You took my heart and my keys and my patience / You took my heart on my sleeve for decoration." It seems the song is also about feeling used and being taken for granted by a partner.
By the second verse, Rihanna seemingly is having mixed feelings and admitting to her own carelessness. She sings: "Baby don't you leave" and "If I get another chance to / I will never, no, never neglect you / I mean who am I to hold your past against you." Perhaps she was too hard on this guy after all.
Meanwhile, Drake plays the role of Rih's ex-lover in his guest verse. He straightforwardly pleads for another shot, rapping, "If you had a twin, I would still choose you" and "We just need a face to face / You could pick the time and place." Hey, many relationship struggles can be worked through with communication!
See? No "gibberish" here. Patois aside, Rihanna's pronunciation isn't exactly crisp, but that was intentional. For her part, Rih told Vogue of the song, "I felt like if I enunciated the words too perfectly, it would just not be the same attitude or the same sass... This song is definitely a song that represents my culture, and so I had to put a little twist on my delivery."